"Allez Jeunesse! Allez Jeunesse!" A group of young players cheer for their elder teammates from the sidelines. They have Belgian flags painted on their cheeks. The "Jeunesse Molenbeek Academie" also known as "Projet Foot," is playing against TUFF FC from London. Both youth clubs grew out the fight against discrimination and radicalization, and both are committed to integration and tolerance. But on the pitch they give it their all.
The match is taking place at "Stade du Sippelberg," a small amateur soccer pitch situated between high-rises and elevated train tracks in Brussels' Molenbeek neighborhood. Sadly, Molenbeek became infamous in the wake of terror attacks in Paris and Brussels. A number of perpetrators and their accomplices lived in the area. TV crews filmed Belgian police arresting one terror suspect at the Osseghem Metro Station, not far from the Sippelberg pitch, on the day after the Paris attacks. The images were broadcast around the world.
Lack of financial support in Molenbeek
"We are finally getting some recognition! Look around: There are journalists here from England and the whole of Europe. People will finally see what we are doing here and how much talent there is," says Mohamed Tabakkalt excitedly. He has been fighting for his Molenbeek hopefuls for 15 years now. He started when parents complained to him that their children were being discriminated against at soccer practice because of their Moroccan roots. Tabakkalt soon founded his own youth team, the "Jeunesse Molenbeek Academie."
Soon, one team wasn't enough. More and more boys and girls from immigrant families began showing up to play. Practice and training is financed by the parents alone. Despite a lot of effort, there are no sponsors or subsidies for the program. "After what happened here in Molenbeek we need more money and more personnel," bemoans Tabakkalt, referring to the terror attacks in Paris and Brussels. "That has a psychological effect on the kids. But we can't offer them any help on that front because we don't have the budget for it." Tabakkalt hopes that the English team's visit will bring the attention needed to finally garner financial support for his club.
Attempts to radicalize on the sidelines
In just a few short years London's TUFF FC was able to achieve something that Mohamed Tabakkalt is still dreaming about. The London club offers soccer training, psychological counseling and integration courses to some 600 boys and girls. It was started by Anna Prior. The former art dealer began her commitment by organizing intercultural street festivals after the London terror attacks in 2005. At one of those festivals, she found out that children in her neighborhood could only play soccer on the concrete squares between apartment buildings. Local soccer pitches were simply too expensive to rent. Prior then began collecting donations for pitch time and volunteered to be a trainer - that was the start of TUFF FC.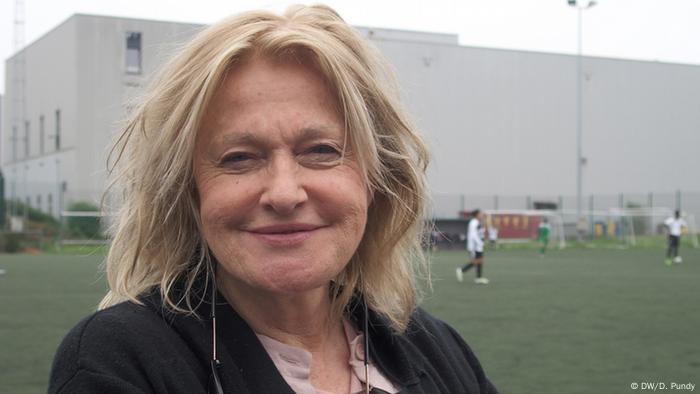 "I'm surprised at everything team sport can accomplish," says TUFF FC founder Anna Prior
Despite providing good supervision, the club cannot shield its kids from radical influences. "A few months ago, players showed me messages that they had received on their smartphones. They were recruiting mails from IS," says Shamender Talwar. He is one of the co-founders of the London club. Thanks to generous donations, his association can afford psychologists who regularly attend practice. Talwar's colleagues spoke to the kids about the messages from the so-called "Islamic State." And they were successful: none of the youths answered the recruiting attempts.
"Five years ago, people here in Molenbeek approached me. They wanted me to go to Syria," says Azzedine, a coach at "Projet Foot." "At the time there wasn't much media focus on the subject, I didn't know much about it. My parents and my imam convinced me to stay." Manager Tabakkalt regrets that he cannot always be there to help his players: "If we had the budget and enough personnel, we could deal with such situations. But right now we can only offer the kids soccer."
An alternative to the street
Mohamed Tabakkalt is proud of his athletes' success. Two talented kids from Molenbeek have been discovered at the national soccer academy and are now practicing with Belgium's youth squad.
The first game ends in a haze of Belgian drizzle. London TUFF FC wins 2:1. The young Molenbeek fans on the sidelines cheer the victorious visitors. Players from both sides shake hands after the final whistle. Now it's time for the girls' teams.
"I myself am very surprised at just how positive the influence of team sports is on kids," says Anna Prior of TUFF FC. "They learn how to work toward a common goal, and how to be there for one another. Beyond that, they know that they have to be at practice on time and they learn about discipline. That is the best antidote to the negative influence of street gangs."
"The best thing about soccer is that I have something to do in my free time," says Mohammed, a young Molenbeek player. "Even kids my age just hang out on the street all afternoon," the boy says. Now he is back on the sidelines cheering the girls' team.
'Soccer is a safe haven'
"We want to make a statement with our visit. We want to show that terror cannot tear us apart," says Iqra. She plays for the TUFF FC girls' squad. "For some kids soccer is a safe haven that keeps them out of trouble."
Iqra and her team are victorious, that means two losses for the "Jeunesse Molenbeek Academie" today. But coach Mohamed Tabakkalt isn't dissappointed. "If we are invited to London for a rematch I'll be happy," chuckles Tabakkalt. "Maybe we'll even get a little money from the city."