Bavaria's Administrative High Court signaled mounting judicial unrest Monday over politicians who ignore court rulings, just days after Chancellor Angela Merkel reiterated that within democracy "independent courts" must be protected.
Munich ranks - alongside Stuttgart and Cologne - as top offender among 65 Germany cities for illegal and unhealthy vehicle emissions blamed largely on diesel vehicles.
But the Merkel-allied Christian Social Union (CSU), who are seeking re-election in a regional vote on 14 October, have so far ignored court directives obtained by a lobby group, German Environmental Relief (DUH) to devise an anti-pollution plan for Munich.
Read more: Merkel adopts anti-pollution initiative
The DUH got an initial ruling mandating the plan in 2012. A judicial deadline of late 2017 expired without a scheme to lower exhaust fumes in Munich, the base of carmaker BMW, being implemented.
Luxembourg clearance sought
The court - in a letter made public Tuesday by the Süddeutsche Zeitung newspaper - told Bavaria's government it was seeking European Court of Justice' (ECJ) clearance for [EU member state] national courts to apply "any measure necessary" against office holders to ensure implementation of judicial directives.
"The only promising option, given this backdrop, appears to be compulsory detention of public officials," wrote the Bavarian judges, noting that tens of thousands of euros in fines paid by the state government so far amounted only to a bookkeeping contrivance.
If approved in Luxembourg, contempt of court detentions could be used against top officials of the Munich region's Upper Bavaria administration, Bavaria's environmental ministry, and even Bavarian premier Markus Söder, noted the SZ.
"Imprisonment will come, unless the state government changes course," warned DUH lawyer Remo Klinger, adding that submissions to Luxembourg were due by 28 September with an ECJ ruling likely within three months.
'Great serenity'
Bavarian Interior Minister Florian Herrmann said there were no grounds in German law to use detention to coerce public servants and politicians.
Bavaria's state government saw the administrative court decision with "great serenity," Herrman said, describing it as "incomprehensible and absurd."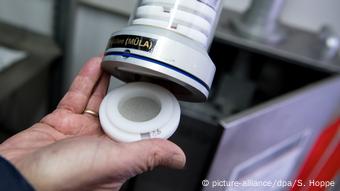 Measuring smog on Munich's Landshuter Allee road
Row over NRW deportation
Bavaria's row follows widespread judicial disquiet in North Rhine-Westphalia (NRW) state over officials who deported an asylum-seeker to Tunisia although NRW's top administrative court in Munster was still deliberating on the case.
Munich health ignored
Interviewed by Bavarian public radio Tuesday, Federal Environment Minister Svenja Schulze of the Social Democrats (SPD), Merkel's grand coalition partner, said it was "unbelievable that the CSU does so little for the health of people."
"At European level pressure is growing more and more [for fine-particle anti-pollution measures)," Schulze said. "We will be prosecuted, if finally nothing happens, and the [Bavarian] government will be force to implement."
ipj/es (dpa, AFP)