Germany's Federal Administrative Court on Thursday, Sept. 27, overruled Munich's city administration in favor of the plaintiff Dieter Janecek in a case where the Munich resident held his local council responsible for the quality of the air he breathes.

Janecek, who lives on the busy Landshuter Allee in the Bavarian capital, began court proceedings against the city of Munich after complaining about the high levels of dust and fuel pollution in the air outside his home on the highly trafficked street.

While the court's decision included a clause that the city of Munich must take pollution analysis samples from outside Janecek's apartment before taking the necessary action, the plaintiff hailed the ruling as a complete victory. "Now every affected person across the country can sue for his right to breathe clean air," Janecek said in a statement outside the court in Leipzig.

The court ruling will force local authorities to draw up action plans to provide clean air and be ready to choose from a number of measures in the case of an inhabitant demanding action.

Possible contributions to healthcare costs

These could range from decreasing, diverting or banning traffic from the affected area, to contributing to the inhabitant's healthcare costs from 2005 onwards, depending on the level of pollution and the effect it has had on the environment and people.

The EU passed a law which set a safe and acceptable level of air pollution for all member states in 2005.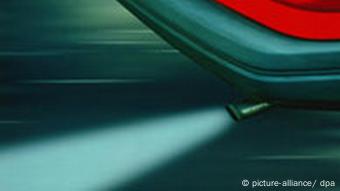 Councils could pay for treatment of pollution-related illnesses

The federal ministry of the environment and other conservation organizations praised the ruling.

"With this decision, the high quality of German air, in principle, is assured," Matthias Machnig, the government's assistant environment secretary, said in Berlin.

Jürgen Resch, the chief of the German Environmental Help Agency, called the decision "a breakthrough in the fight against air pollution."

More bad news for automotive industry?
Meanwhile Richard Mergner of the Alliance for Nature Conservation in Bavaria said that he expected the court's decision to have a knock-on effect in the German automotive industry.

German carmakers already face a potential new EU law which would require new cars to have average CO2 emissions of 120 grams per kilometer.

German carmakers are expected to be hit especially hard by the new regulation: Producers of luxury vehicles, such as Porsche, Daimler, BMW and Audi, far exceed the emissions target and lag behind when it comes to hybrid technology that's been pushed by companies such as Toyota and Honda.

A nationwide spate of cases against local authorities over the quality of air may force the German government to take its own action against polluters to avoid a slide into environmental litigiousness.