An exiled Azeri journalist was wounded and his wife killed on Friday in a shooting in the town of Colomiers near the southern French city of Toulouse, in what the local mayor said was a possible evening of political score-settling.
Journalist Rahim Namazov had been an outspoken critic of the Azeri political leadership and served time in prison before seeking exile in France in 2010.
Read more: Azerbaijan: Investigations from the German 'underground'
Namazov, who has three children, was wounded in the back and fighting for his life, a police source told French news agency AFP. His wife was killed in the attack after being shot in the head at close range, Reuters news agency quoted a police source as saying.
In a video posted on YouTube in December 2010, Namazov said he was jailed in Azerbaijan after he wrote stories about brutality against soldiers in units of the Azeri military. He said he spent six months in solitary confinement.
Azerbaijan is ranked at No. 162 out of 180 countries on the Reporters Without Borders 2017 Press Freedom Index.
'A settling of scores'
"It's the journalistic profession, the father of a family and the freedom of the press that have been attacked today," Colomiers mayor, Karine Michelet-Traval, said in a statement.
"You can't help but think this was a settling of scores," Michelet-Traval said in comments to French newspaper La Depeche.
Read more: Azerbaijan: "There's no freedom of the press"
Michelet-Traval added that the attack had no connection to the terrorist attack that saw four people killed in the Aude region of France last week.
"It will be up to investigators to shed light on this dramatic case that occurred in Colomiers, but it could have taken place anywhere in France," she said.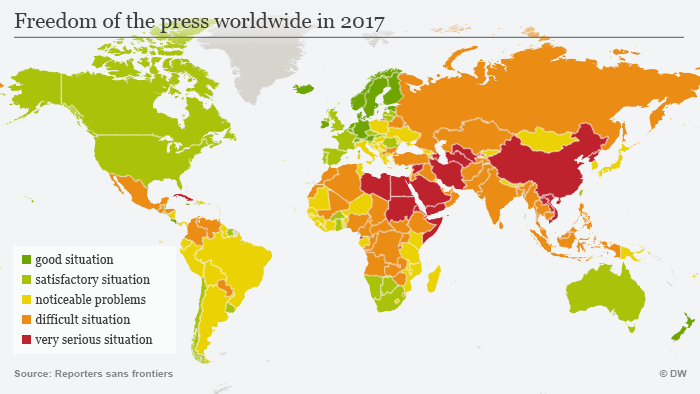 Journalists threatened
Human Rights Watch said last year that the Azeri government continued its crackdown on dissenting voices and that reports of torture persisted.
It also said independent media outlets faced harassment and closure, and journalists who were critical of the government faced threats and intimidation to silence them.
The investigation is being handled by the Toulouse judicial police.
law/sms (AFP, Reuters)