Orkhan Mammad looks straight into the camera, focused and friendly. Twice a week the Azerbaijani journalist presents the program "Senin Sesin" ("Your Voice") on the Berlin-based broadcaster Meydan TV. A topic on today's program: The possibly illegal felling of a number of old trees in a park in the Azerbaijani capital, Baku. A wobbly video, filmed on a smartphone, shows men with chainsaws cutting down the trees.
"The person who made the video and sent it to us believes that someone is felling these mature trees without permission, possibly to build a house," says producer Jamal Ali. "We made inquiries with the environment ministry, and they told us they'd look into it. You're not actually allowed to fell old trees just like that."
Dangerous investigations, from a safe distance
Videos like the one in the park in Baku form the heart of the program "Your Voice." The journalists in Berlin set out to get people in Azerbaijan involved in their reporting. Viewers are encouraged to record injustices or problems in their everyday lives and send their videos to the editors in Germany, who then follow up on the accusations and try to establish what's going on."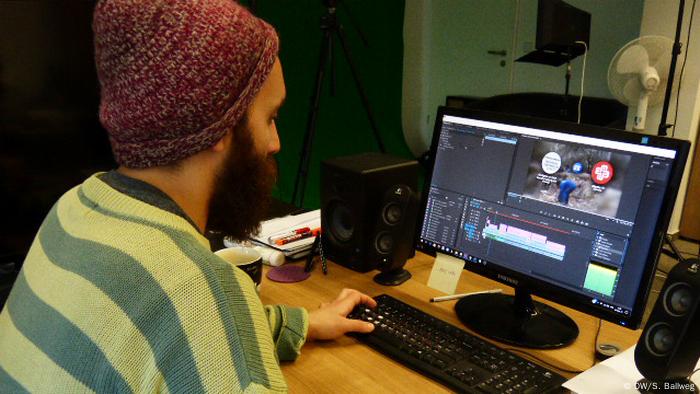 Editing videos from Azerbaijan in Berlin: Producer Jamal Ali
Confronting the authorities in Azerbaijan with critical questions can quickly become dangerous, both for ordinary citizens and for journalists. "They'd risk reprisals, or, in the worst-case scenario, prison," says Emin Milli, the founder of Meydan TV. "Here in Germany, though, our journalists are reasonably safe. So they place calls to Azerbaijan and ask the relevant authorities whether there's any truth in the claims."
Azerbaijan: Lots of oil, lack of human rights
Alongside the video they've been sent, the makers of the program "Your Voice" also publish a recording of their phone conversation with the authorities. "Very often, cases are then solved and cleared up in a matter of days," says producer Jamal Ali. The officials involved are often worried that these cases will start attracting more attention - and that their bosses will get wind of them. This is why they will often then make an effort to clear them up quickly. "For ordinary people in Azerbaijan, of course, that's a good thing," says Emin Milli. "Because this way they do get justice, in individual cases."
Oil-rich Azerbaijan on the Caspian Sea is ruled by the authoritarian leader Ilham Aliyev, an implacable opponent of civil society. Azerbaijan comes 163rd out of 180 countries on the Reporters Without Borders press freedom list. Nine journalists and three bloggers are currently in prison because of their work in Azerbaijan.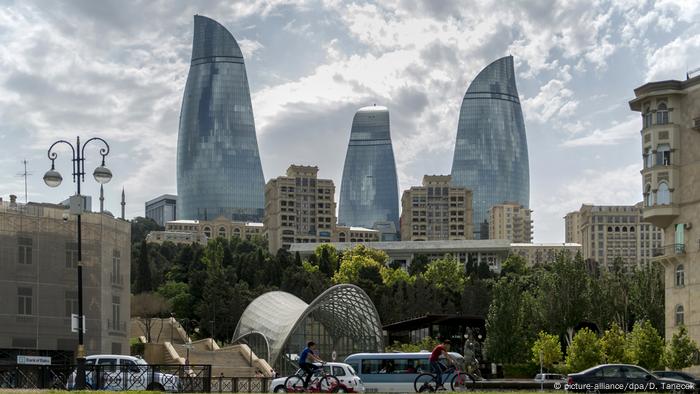 Modern towers in Baku, the capital of Azerbaijan
Independent journalists face jail
Emin Milli has also been incarcerated. Arrested in 2009, he spent a year and a half behind bars. His imprisonment caused a furore in human rights circles. Non-governmental organizations championed this activist and blogger; US President Barack Obama even raised his case at a meeting with President Aliyev. Milli was released prematurely and subsequently fled to Germany. In 2013 he started up Meydan TV from his base in exile in Berlin.
Meydan TV is an online, not television, broadcaster. Almost half a million people follow its Facebook page - that's around five percent of the total population of Azerbaijan. Nearly 70,000 people have subscribed to its YouTube channel.
"The reason we're so popular is that we report on stories the official media don't show," says Emin Milli. "We also offer more context and more background information on many of the news stories the state media do publish; we may ask experts for their opinion." Many people in Azerbaijan trust the channel, he says.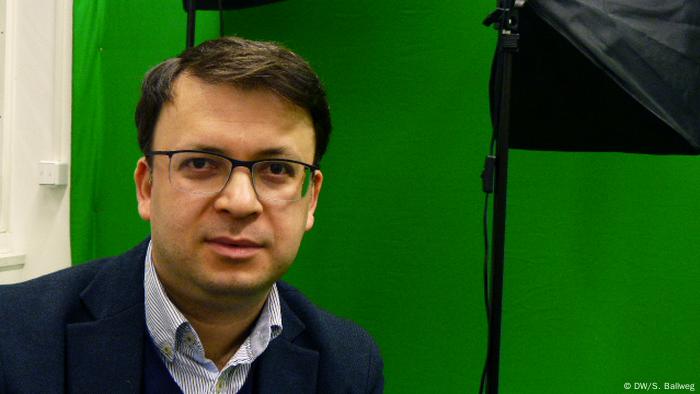 Emin Milli spent a year and a half in prison in Azerbaijan
For example, if the government-controlled media announce a big new construction project, Meydan TV watches out to make sure citizens receive compensation if there are compulsory evictions. Or it checks to see whether victims of accidents in state-owned enterprises are receiving proper medical care.
Colleagues in Azerbaijan remain anonymous
Meydan TV is financed by donation and by money from European foundations. It has about 20 dedicated employees working in Germany, the USA, Georgia - and in Azerbaijan. "That's very dangerous, though," says Zarona Ismailova, the deputy editor-in-chief of Meydan TV. "They're constantly at risk of arrest on account of their work. So we don't have an office in Azerbaijan; our people have to work in various apartments and cafés." In Azerbaijan, Meydan TV could be described as part of the "underground" media.