The first 200 models of the Chinese "Landwind" have arrived in Europe. Before they even hit port in Antwerp, Belgium, the 200 cars were sold.
The sophisticated European car buyer may scoff at the lack of attention to details on the five-door SUV, but one point will certainly attract many consumers -- the price tag.
It's some 30 to 40 percent cheaper than its competitors, said Peter Bijvelds, the sole wholesaler of the "Landwind." The 27-year-old car auto importer has taken a big chance on the model. Bijvelds has signed a contract for the exclusive rights to the car in 27 countries with the manufacturer of the "Landwind," Jiangling. His goal this year alone is to sell 2,000 of Chinese car. Something that doesn't seem far-fetched.
Will the Chinese car hit it big in Europe?
The reactions from the German motoring community are slowly trickling in.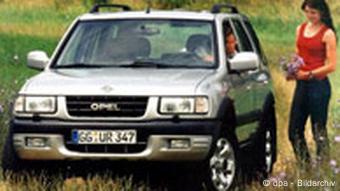 The Landwind's predecessor, the Opel Frontera
"We know that the Landwind is based on the Frontera (an Opel model whose production was stopped last year)." Magnus Geisler, an automobile expert from Germany's largest automobile club ADAC, told DW-RADIO. "It doesn't have the latest technology. Other newer vehicles are further ahead in this respect."
A point that wholesaler Bijvelds freely admits. Yet, the 17,000-euro ($20,400) sticker price is going to win over a market segment that in the past was restricted to looking with envy at the drivers of BMW, Volkswagen or Mercedes sport-utility vehicles.
"All different people, including those who just turned 18 and got their drivers license," he said. "Or people who return a leased car and say they will only drive 20 to 25,000 kilometers per year."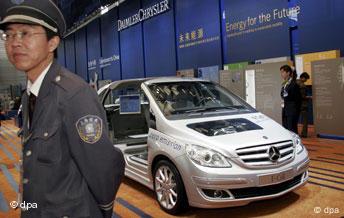 Mercedes in Shanghai
It's obvious that the first "Landwinds" won't win any engineering awards. Yet, it may only be a question of when the Chinese will equal the standards of European car manufacturers -- just like the Japanese in the 1970s or the South Koreans in the past decade.
Globalization at its best
German carmakers were quick to enter the Chinese market and succumb to the demands of Beijing to produce their cars in the far eastern giant. And China naturally didn't idly stand by as foreign manufacturers from almost every industry fought for the large piece of pie in its own country. They were very attentive, in fact and now Germany's automakers, for example, must watch how this technology transfer will be used against them.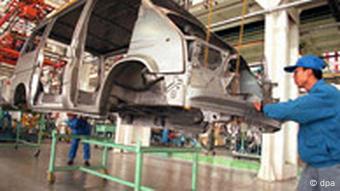 Jianling factory in Nanchang
Can "Landwind" blow away the competition in Europe? With its shop floor employees earning monthly wages of some 40 to 50 euros, Jiangling is unlikely to be going broke anytime soon. Also, probably the most important component of the car, the engine, is built by Mitsubishi. The diesel motor is from General Motors.
Geisler admitted that there is a strong demand for inexpensive cars currently, but the success of the "Landwind" still remains unanswered.