German Foreign Minister Heiko Maas on Monday visited the former Auschwitz concentration camp, a site where more than a million people, mostly Jews, were murdered under the Nazi regime in occupied Poland.
Maas signed the guestbook during his visit, writing: "Hell on Earth — that was a German creation called Auschwitz" and that Germany's "responsibility will never end."
It was the first time a serving German foreign minister had visited the Auschwitz memorial site since 1992.
"This is the most horrible place in the world. Here you have to decide: either you lose faith in humanity, or you find the hope or strength to stand up for the protection of human dignity," Maas said.
"I saw thousands of children's shoes that were taken off them on their way to the gas chamber, tons of human hair that was taken from people before they were sent to the gas chamber," Maas said after visiting the site in the southern Polish city of Oswiecim.
In his inauguration speech as foreign minister in March, Maas said Auschwitz was the reason he had entered politics.
Auschwitz-Birkenau was the largest death camp run by the Nazis in the Second World War. As well as hundreds of thousands of Jews, some 80,000 non-Jewish Poles, 25,000 Sinti and Roma and 20,000 Soviet soldiers met their death there.
The camp was liberated by the Soviet Red Army on January 27, 1945.
Read more: Auschwitz: Evolution of a death camp and Holocaust memorial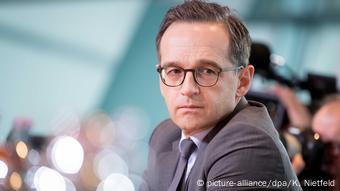 Maas says he entered politics because of Auschwitz
Foreign ministers' meeting
During Maas' visit to Poland, a meeting is also planned with Polish Foreign Minister Jacek Czaputowicz in a Franciscan monastery in the town of Harmeze. Maas already visited Poland in an official capacity shortly after taking office.
"Poland today is not just a neighbor, but a valued friend and important partner in Europe," Maas said in the Foreign Ministry tweet.
The president of the Central Council of Jews in Germany, Josef Schuster, said ahead of Maas' meeting with his Polish counterpart that he expected the German foreign minister to bring up the topic of Poland's Holocaust law during the talks.
The law originally stipulated fines and prison sentences for people who "publicly and in contradiction of facts" gave the Polish state responsibility or co-responsibility for crimes committed by the Nazi regime.
After vehement protest by the Israeli government, Warsaw removed the prison sentence from the law, but Jewish organizations remain critical.
Rewriting history
Schuster told the German news agency DPA that although there was no doubt that the mass murder of European Jews was planned and carried out by Germany, it was just as sure that "quite a lot of Poles" were also complicit in Nazi crimes.
"If the Polish government now wants to try to brush out this part of history and by so doing puts obstacles in the way of properly founded investigation, it is an attempt that must clearly be opposed," Schuster said.
He also criticized the fact that Czaputowicz would not accompany Maas during his visit to the Auschwitz memorial.
Read more: Polish-German relations: The sticking points
tj/jbh/msh (dpa, AFP)
Each evening at 1830 UTC, DW's editors send out a selection of the day's hard news and quality feature journalism. You can sign up to receive it directly here.