The two leaders were eager to confirm their strategic dialogue agreement as they faced the press in the Kremlin on Tuesday.
"Since meeting each other a year and a half ago, we have once again confirmed the importance that Argentina places on this strategic relationship," Macri said after signing the accord with Putin.
Macri said he hoped his initial, two-day visit to Russia would be "the first of many" as "Argentina and Russia share interests" for which they should "strengthen their cooperation."
"We have many things that can be developed," the Argentine president said. "Cooperation that will generate opportunities for many people."
Argentina had returned to the world stage, he said, after his predecessor, President Cristina Fernandez's two terms in power.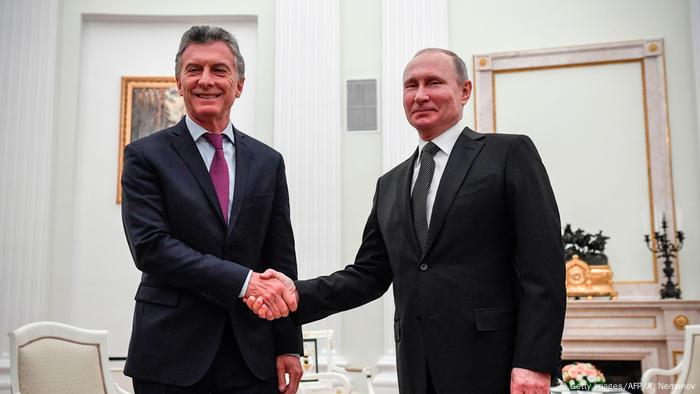 A developing relationship
The two leaders first met on the sidelines of the 2016 G20 summit in China and Putin predicted the G20 would develop its activity under Argentina's presidency in 2018. The men spoke by telephone last November as President Vladimir Putin offered assistance in the search for the Argentine Navy's San Juan submarine which had gone missing in the South Atlantic with 44 people on board.
On Tuesday, Macri publicly thanked Putin for his help: "I would like to use this opportunity to thank you," he said. "After your telephone call, we received Russia's assistance in the search and rescue operation following the loss of the San Juan submarine. It once again proves the love Russia shows to Argentina,"
After the meeting, Macri attended a ceremony to inaugurate the Argentine Republic Square near the country's embassy in Moscow. This followed the naming of a Russian Federation square in Buenos Aires last year.
Macri plans to attend the FIFA World Cup in Moscow in June and Putin plans to attend the G20 summit in Buenos Aires in November.
Food, technology and nuclear power
Macri described the two countries as "complementary" and expressed confidence that Argentina would become a major supplier of food for Russia and also of technology.
Russian President Vladimir Putin said the two countries had close or similar positions on regional and global issues. He said they had agreed at their meeting "to continue promoting bilateral cooperation in all areas."
Among the ideas was a proposal from Russian state nuclear agency Rosatom to build a nuclear power station in Argentina, Putin said.
Also signed on Tuesday was a memorandum of understanding for prospecting and extracting uranium in Argentina. The projects could include investments valued in the region of $250 million (€203 million).
The Russian president had first signed an accord with former President Fernandez during a visit to Buenos Aires in 2014.
Putin also said Russia was prepared to supply rocket engines to Argentina.
This week, Macri is expected to attend the World Economic Forum in Davos, Switzerland and then to visit France.
jm/msh (EFE, Reuters)