Thousands of anti-fascist protesters on Saturday took to the streets to rally against racism in the eastern city of Macerata, where an Italian man earlier this month opened fire on African migrants, injuring six people.
Up to 30,000 demonstrators marched through the streets of Macerata carrying placards and shouting slogans against rising right-wing extremism. Protesters also gathered in Milan and other cities across Italy.
"We are here because we want to be a dam against this mountain of hate which is spreading continuously, a social hate against migrants and, in general, against the poor," Francesco Piobbicchi, a protester, told Reuters news agency.
Read more: German-speaking Italy and the legacy of fascism
Tensions reached a fever-pitch on February 3, when Luca Traini, a 28-year-old who ran as a candidate for the far-right Northern League at local elections, went on a two-hour shooting spree targeting African migrants in Macerata.
Traini reportedly told police he was out to avenge the death of Pamela Mastropietro, an 18-year-old Italian woman who was found dead by police. Authorities arrested a suspected drug dealer with Nigerian origins for the murder of Mastropietro.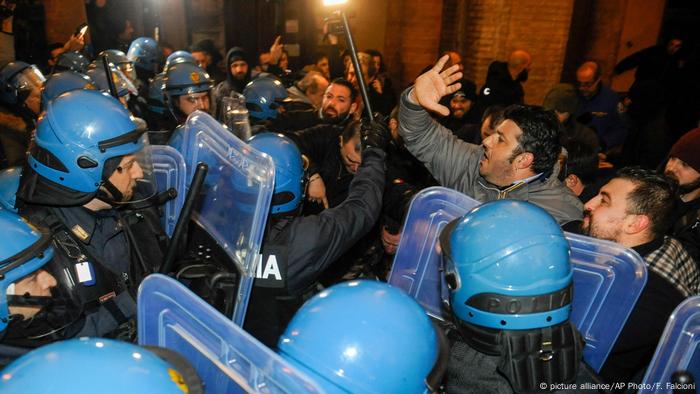 Earlier this week, police clashed with New Force supporters in Macerata after the far-right supporters gave them a fascist salute during an unauthorized protest
'Hate, terror and division'
Protesters also decried political parties' attempts to use migration as a scapegoat for other issues in the run-up to parliamentary elections slated for March 4.
"If there's unemployment, blame the government, not the migrants," protesters chanted during the rally. "The political parties are using populism to create hate, terror and division," said Valentina Guiliodora, who joined the demonstration.
Read more: Italy's extreme right-wing on the rise
Italy has witnessed a resurgence of far-right activity, including growing support for the neo-fascist party New Force (Forza Nuova), in tandem with a wave of migrants reaching Italian shores from North Africa over the past four years.
The Northern League party, which forms part of a right-of-center alliance expected to perform well during the elections, has campaigned on an anti-migrant platform. The far-right party's leader Matteo Salvini said he was "ashamed as an Italian" for the anti-fascist march in Macerata.
ls/bw (Reuters, AFP)