Anyone who wants to know why Angela Merkel has remained Germany's undisputed leader for so long need only listen to what those outside her own party say about her. The Greens — natural opponents of the CDU — are full of praise for the German chancellor. Merkel has done what the Greens were demanding for years: out with nuclear energy, and let refugees and asylum seekers in.
'Always fair, always resilient'
Sigmar Gabriel is the former chairman of the Social Democrats (SPD) and Germany's current foreign minister. In its role as junior partner in the Grand Coalition, the SPD has been pretty much dwarfed by Merkel's CDU, and the Social Democrats seem to have sustained long-term damage as a result. Yet Gabriel has only good things to say about the eternal chancellor. During the last sitting of the lower house of parliament, the Bundestag, before this election, he described her as having been "always fair, always resilient."
Now she's seeking a fourth term. As things stand, it seems Germans are not yet sick of the sight of Merkel, nor have they heard enough of her. She's way ahead in the polls, and the election seems to be in the bag — were it not for the tricky burden of the fourth term.
In 1994, Helmut Kohl also embarked on a fourth term as chancellor. Kohl always had his eye on the history books and on his own place in them. After German unification, the euro project was still on his agenda. Kohl didn't believe Wolfgang Schäuble, the CDU's crown prince at the time, was up to the task of introducing the European single currency. So he stayed on.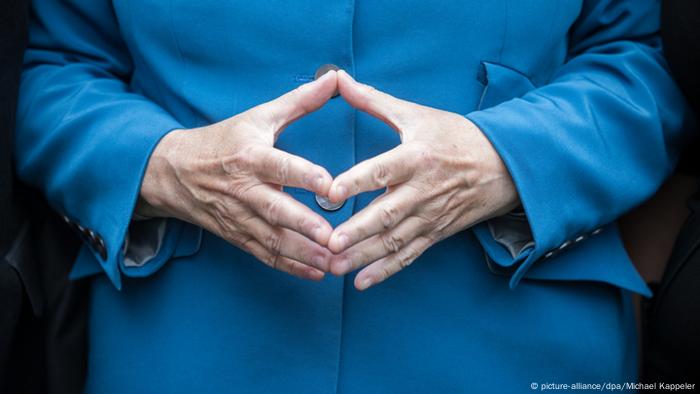 Steady hands: Merkel's signature gesture is widely referred to as the "Merkel rhombus"
Risk of a fourth term
Kohl's last four years — years 13 to 16 — were a long farewell to a leader who had become more monument than chancellor. In the end, people were simply tired of him. The time was ripe for the advent of Gerhard Schröder. In 1961, Konrad Adenauer also began a fourth term. He insisted upon running despite some opposition from within his own party, and according to many accounts, he made the move in order to prevent the then-minister of economics Ludwig Erhard from becoming chancellor. Yet due to an espionage scandal that engulfed his administration, Adenauer only managed half of the four-year legislative period before resigning.
Merkel gave considerable thought to the question of whether or not she should stand again. With good reason. The summer of 2015 was a major turning point. The political earthquake in the CDU/CSU over the one million refugees who arrived in Germany was so great it nearly cost her the chancellorship. However, in almost all social and political spheres she became Mother Courage. The refugee issue has nonetheless been a draining one for her — not least because she has now renewed her assertion that "We can do this" and is confronting her critics.
Her decision to take the risk of standing for a fourth term is often explained as a response to the political agitation beyond Germany's borders: Trump, Brexit and the crisis in the EU, right-wing populism (which is also attracting supporters in Germany), Putin and Erdogan. Merkel is always perceived as a source of stability in uncertain times. As a Protestant, she may also feel she has a duty not to step down when things might get unpleasant. And her husband, Joachim Sauer, is reported to have said — essentially — that wanting to leave the chancellorship of one's own free will was also a form of vanity.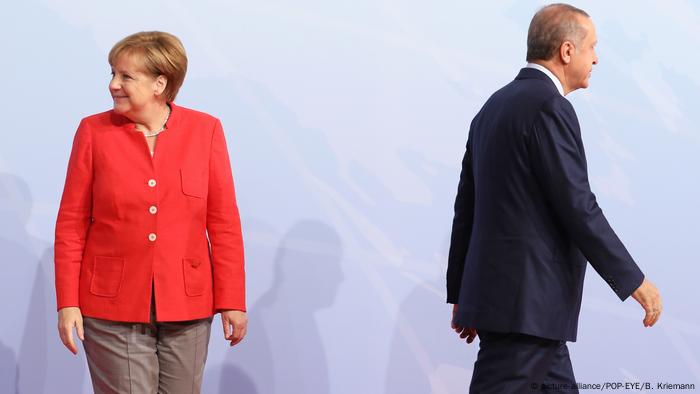 Bowing to no man: Merkel and Erdogan at the July G20 summit in Hamburg
A question of power
Then there's the power factor. At the party conference in December she revealed to delegates that during the months she spent pondering whether or not to stand again, dozens of her party friends told her, "You must!" She supposedly only made her decision on November 9, when it became clear that Donald Trump had won the US elections. Since then, Merkel has been the Anti-Trump.
She is quoted as having said earlier in her political career that she didn't want to end up a "half-dead wreck." As a rational human being, she must have made a personal assessment and decided she was fit enough to do the job in Berlin for another four years. Presumably it helps that she is now celebrated and courted around the world. The New York Times elected her the "last powerful defender of Europe" — an obligation.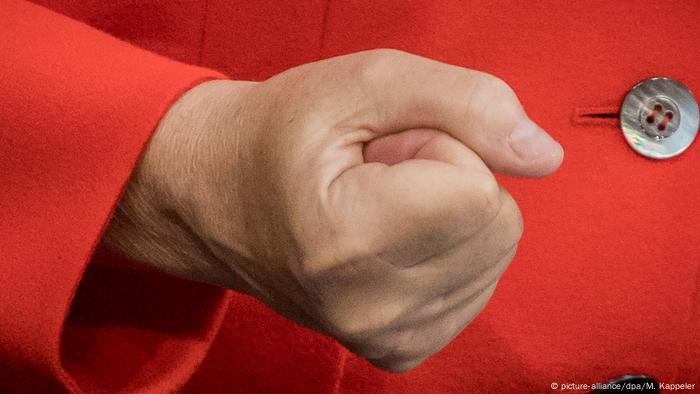 Determined: Merkel is known for taking her time to reach decisions. But once she makes one, she sticks to it.
Read more: Vladdo: Angela Merkel has to do the dirty work and stand up to Donald Trump
Political number three
As federal chancellor Merkel has considerable political scope, even though the chancellor technically ranks number three in the hierarchy of state leaders, after the president of the Bundestag and the head of state, the German president. She, however, is the one who calls the shots. A chancellor's considerable political strength comes from the policy-making powers granted to her or him by the constitution. She determines the political course of the country and bears responsibility for it. In her three terms in office, Merkel has exercised this right to the fullest extent. She has abolished conscription, decreed that Germany would abandon nuclear energy, and opened the borders to refugees.
Political scientists overwhelmingly take the view that the construction of a strong chancellor dependent only on the Bundestag has proven successful. They clearly view the German phenomenon of the long reign in the same way. Germans regularly call for an upper limit to be imposed on the number of years a person can remain in office — yet they keep electing long-term chancellors, as if it were tradition: Konrad Adenauer 13 years, Helmut Schmidt almost nine, Helmut Kohl 16 years, Gerhard Schröder seven. Italy has gone through seven prime ministers during Angela Merkel's time in office to date.
'You know me'
No wonder Merkel is only the eighth incumbent since the Federal Republic of Germany was founded in 1949. Gerhard Schröder (SPD), Merkel's predecessor, was the most prominent voice to argue in favor of imposing a limit on the typical long German chancellorship. Later, though, he backed away from the idea, especially when he decided to stand for re-election in the general election of 2005 after serving two terms as chancellor (1998 to 2005).
There are many reasons why Merkel has reigned for so long. She takes a long time to make up her mind, but once she makes a decision, she sticks to it. Critics describe this as hesitancy. Obviously, though, her style of governance is popular with the electorate, and as a result she doesn't need to do much to promote herself. Four years ago, a simple sentence was enough: "You know me."