The parliament in the Balkan country of Montenegro voted Friday to join the NATO military alliance despite strenuous objections from a vocal minority and from Russia.
Forty-six of the country's 81 deputies voted to join the western alliance while opponents, including those in the parliament, protested outside.
The vote took place in Cetinje, the historical capital about 30 miles (50 kilometers) from the current capital, Podgorica. Outside the vote, protesters voiced their displeasure and burned a NATO flag.
But inside the assembly, Prime Minister Dusko Markovic told the parliamentary session "NATO membership will provide a safer and better life for all citizens in Montenegro."
The Russian Foreign Ministry slammed the vote, saying it was conducted "under the pretext of an imaginary Russian threat."
Russia has strong historical and cultural ties to Montenegro, a small Slavic state on the east coast of the Adriatic Sea.
In a more ominous tone, the Kremlin added that those who voted in favor "are responsible for the consequences of materializing the plans of external powers aiming to deepen the existing lines of division in Europe and the Balkans," the Foreign Ministry said in a statement on its website.
Former Montenegrin President Momir Bulatovic, once a close ally of Serbian strongman Slobodan Milosevic, called Friday "a sad day." Bulatovic told protesters: "I feel humiliated as this decision has been taken on my behalf."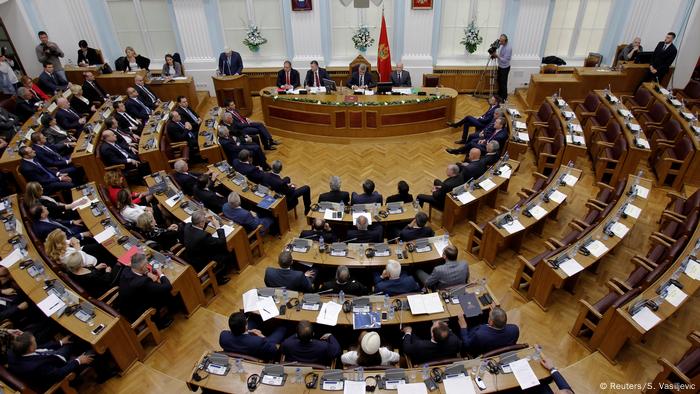 Montenegro's parliament ratifies NATO membership while opponents boycotted the vote
NATO bombing campaign
Antipathy towards NATO runs deep in some sectors of society still bitter about a 1999 bombing campaign. Back then NATO warplanes attacked strategic targets in Serbia and Montenegro, which was then one country, in response to government-sponsored violence against the country's ethnic Albanian minority.
Today, 26 of the 28 NATO member states have already ratified Montenegro's admission. Podgorica hopes to formally join NATO at an alliance summit meeting in Belgium next month.
Montenegro has a population of 650,000 and a military of only 2,000, but it is strategically positioned along the Adriatic coast. The entire coastline, which includes Croatia and Albania, would be made-up of NATO members, the latter two having joined the alliance in 2009.
Serbia still maintains close ties with Russia but has also taken steps towards western integration. Officially, it remains a neutral country.
Protesters burn a NATO flag
Former Montenegrin Prime Minister Milo Djukanovic said approval of NATO membership is one of the most important decisions the country has made in some time.
NATO membership an honor for Montenegro and its history, said the man who led Montenegro to independence from Serbia in 2006.
He said, "After long suffering and roaming through history, [Montenegro] is finally in the position where it logically, historically, civilization-wise and culturally belongs."
bik/sms (AP, Reuters, AFP, dpa)