The Democratic Party of Socialists (DPS) announced late Tuesday night that party leader and current prime minister Milo Djukanovic will step down from office after ruling for more than twenty-five years.
The DPS did not provide a reason for the 54-year old's decision to leave office. It was also unclear whether Djukanovic would remain head of the DPS or abandon politics entirely.
According to reports, the ruling-party management proposed Djukanovic's deputy and former national security chief Dusko Markovic as a possible successor. His nomination is expected to be approved by the DPS's main board later on Wednesday.
Stepping down again
In his step down from power, Djukanovic will end an unchallenged rule that lasted a quarter of a century. He was 29 when he became prime minister in 1991, the youngest premier in Europe at the time. In 1998, he was elected president but returned to the premier position in 2002.
This is not the first time that Djukanovic has stepped down as prime minister. In 2006 and 2010, he gave up the premier's office but remained party leader of the DPS. In both cases, Djukanovic returned as prime minister after a two-year hiatus.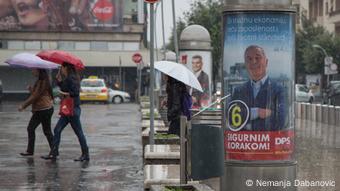 The DPS and Djukanovic positioned the recent election as chance to orient Montenegro towards the West
Elections and opposition
Djukanovic's retreat from office comes shortly after his party won the most seats in disputed October 16 parliamentary elections. Opposition parties contested the results, citing abuses at the polls.
Currently holding 36 out of 81 seats, the DPS requires a coalition in order to rule. The task of building parliamentary partnerships will fall to Djukanovic's successor. Possible governing partners include a smaller social democratic party and national minority parties.
The pro-West Djukonovic presented the recent elections as a chance for Montenegro and its population of 620,000 inhabitants to forge stronger connections to NATO and the EU. NATO extended membership to the former Yugoslav country this past December, but the decision to join has yet to be ratified by the Adriatic nation and the other NATO members.
In contrast to the DPS, the main opposition party, the Democratic Front, opposes Montenegrin membership in the EU and NATO. They have called for closer links with Russia and advocated a referendum on joining the military alliance.
Other critics of Djukanovic accuse him of engaging in corruption, involvement with organized crime, and tactically using geopolitical rivalry to distract from domestic difficulties.
cb/rs (AP, AFP, Reuters)