"The threats Europe face do not stop at national borders. Fragmentation makes us all collectively more vulnerable," said Europol Director Rob Wainwright and EU Commissioner for Migration Dimitris Avramopoulos in a jointly-authored article published Friday.
Over the past year, the EU's law enforcement coordination agency, Europol , has pushed for increased cooperation between the bloc's member states in a bid to curb the rising threat of terrorism on European soil.
Last week, as a new regulation to modernize Europol's ability to tackle criminal and terrorist threats came into effect, the EU agency announced it had coordinated an operation that assessed more than 2,000 online items of extremist content hosted across 52 platforms.
The two-day operation brought together law enforcement agents from Belgium, Greece, Poland, Portugal and the United States to target accounts "used by terrorist groups to radicalize, recruit [and] direct terrorist activities."
However, Europol's director said at a press conference in London that the operation discovered attempts by the so-called "Islamic State" (IS) militant group to develop "its very own social media platform" in a bid to evade authorities, spread propaganda and seek financial support.
Evolution of terrorism tactics
While IS has notably used social media platforms to spread its message and gain followers, Europol's latest revelation shows the militant group's ability to shift its methods and evolve in response to growing pressure from authorities.
Wainwright said Europol's discovery showed that members of IS have continued "to innovate in this space."
But the militant group's strategy to expand its violent ideology isn't solely restricted to online outreach. Although editions of the IS magazine "Rumiyah" have circulated online, its latest publication provides "terror tactics" that can be adopted by the group's sympathizers or supporters.
"Due to its proximity to many conflict zones … and due to its porous borders, firearms are widely available in Europe, facilitating their acquisition by means of gun dealers and underground criminal networks - for those capable of attaining those connections - which are widespread and rampant throughout Europe," the militant group said, according to London-based International Center for the Study of Radicalization and Political Violence (ICSR) research fellow Rajan Basra.
The publication also outlined ways in which to lure potential victims and use resources at hand to carry out attacks on European soil. With such information available online for supporters and sympathizers to act on, the advantages of increased coordination between member states become even more relevant.
Despite IS' gradual loss of territory in Iraq and Syria, analysts have warned that military operations will not mark the end of the group's vision for a proto-state, warning that it would be "wrong to imagine a 'post-Islamic State' world at this time."
"If compelled to, the group's true believers will simply retreat into the virtual world, where they will use the vast archive of propaganda assembled by the group over these past few years to keep themselves buoyant with nostalgia," said Middle East researcher Charlie Winter in a report published in February by the ICSR.
The challenges
Tomas Olivier, responsible for counterterrorism, intelligence and investigations at the Netherlands-based security company Twickelerveld Intelligence and Investigations, told DW that European authorities can only thoroughly combat terrorist threats through increased cooperation between member states.
"Due to the fact that some 'Islamic State' tactics don't necessarily involve organization, command and control, and/or logistics, it will be extremely hard for organizations like Europol to effectively detect the less sophisticated 'melee attack' or 'vehicle attack' with traditional intelligence work or policing," Olivier said.
But Olivier, a former senior officer at the Dutch defense ministry, noted that under Europol chief Wainwright's tenure, the agency has been "rather successful" in combating terrorism, terrorist financing and organized crime.
"International cooperation and liaison, in which the exchange of intelligence happens at an early stage, will remain key [to counterterrorism efforts]," Olivier told DW. "Strategic and tactical targeting at a global scale are the most prominent factors to effectively counter or temporarily neutralize future terrorist threats in Western Europe."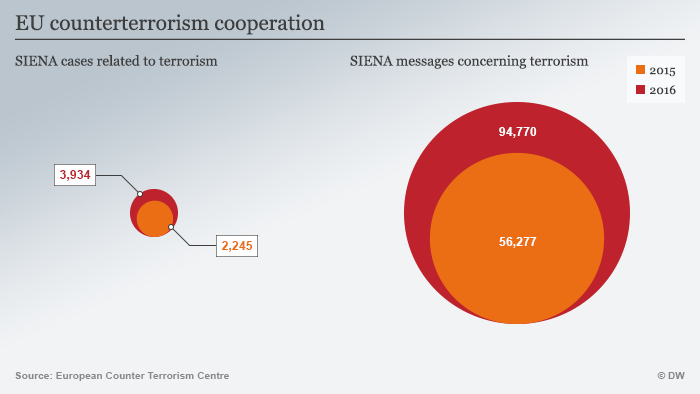 The Secure Information Exchange Network Application (SIENA) is a platform used by EU law enforcement agencies to request and access crime-related information through Europol
'The only option'
Under the new regulation that went into effect May 1, the European Parliament expanded Europol's ability to serve member states' law enforcement coordination needs, including establishing increased oversight and data protection measures.
"Europol's support function has been extended to now include providing operational, technical and financial support to member states' cross-border information-sharing activities, operations and investigations," Europol spokeswoman Tine Hollevoet told DW.
"Cooperation can, of course, always be improved, but member states have acknowledged the added value of Europol. For example, information sharing through Europol has increased ten-fold since 2014," Hollevoet said.
With the increased threat of terror attacks on European soil in the wake of deadly assaults in Berlin, Paris and Brussels, a bolstered Europol that assists member states in combating terrorism and organized crime becomes an instrumental aspect of collective European security.
However, it is up to member states to use the resources available through Europol to actively meet the challenges presented by criminal organizations and terrorist groups.
"The threats we face today in Europe, and beyond, will not go away any time soon. We must be ready," warned Wainwright and Avramopoulos. "Pulling together is the only option we have."