"If we want to have a secure and stable European Union and with it a secure Europe, it's not good if there are holes," Edi Rama told the Frankfurter Allgemeine Zeitung newspaper in comments published on Wednesday. "It's not about how long we still need, it's about how the European Union will continue to develop. In the meantime, we are politically in fairly good form, but the European Union is not at present," he said.
The Muslims of southeastern Europe are one of the world's more moderate Islamic populations, although it is estimated that five to ten percent have become indoctrinated in more extreme forms of Islam, often funded by Middle Eastern donors.
The region has also been a transit zone for migrants making their way to Europe from the Middle East.
Meeting Merkel
"Our European integration remains a major task," Rama said at a meeting with German Chancellor Angela Merkel this week in Berlin.
Merkel in turn said Albania had "undertaken huge reforms" and that Germany had always supported its EU endeavors.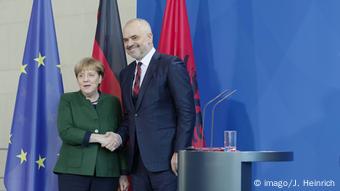 German Chancellor Angela Merkel receiving Edi Rama in Berlin on Monday
"It is important for the reforms to continue. The European Commission has set five priorities and one of them is judicial reform. The implementation of this reform is key to integration. The fight against crime and corruption must be a continuous battle," Merkel said.
The Albanian road to the EU
Albania has a range of insititutional arrangements with the EU and joined NATO as a full member in 2009.
After the application for EU membership was sent by the government in 2009 the Council of the European Union asked the European Commission to prepare an assessment concerning its readiness to start accession negotiations.
Candidacy status was not granted in December 2010, although Albanians were given the right by the EU to travel without visas to the Schengen area.
On 24 June 2014 the Council of the European Union agreed to grant Albania candidate status.
Russian fears
"In addition, we shouldn't forget that there are also other, third, actors, who are playing their game and who could profit if the EU leaves a vacuum there," he said. "I'm talking about Russia, but I'm also talking about radical Islam."
Diplomats and others from the region have been warning for some time that Russia is trying to boost its influence in countries such as Montenegro, Serbia, Macedonia and now also Albania.
Albania - which was one of the few countries of Eastern Europe that was not part of the Warsaw Pact and the Soviet sphere of influence - has traditionally had rather frosty relations with Moscow.
A rich Balkan mix
Rama - a Christian whose wife is a civil society activist of Muslim descent - has been head of the Socialist Party (SPA) since 2005. In June 2013, the SPA and coalition partners won a majority in parliamentary elections.
In the 2011 census, about 59 percent of the Albania′s population declared themsleves to be Muslims, 10 percent Roman Catholic and 6.75 percent Orthodox.
jbh/msh (dpa, Reuters)