The suspense was palpable: Before the big announcement, Albanian Interior Minister Fatmir Xhafaj even recommended to journalists not to switch off their mobile phones.
Then, at the beginning of this week, the good news came: In a large-scale operation across 12 cities, Albanian police had succeeded in smashing a drug ring with connections to politics. According to a tweet by Xhafaj, the operation lasted three days, with 1,500 policemen taking part. Twenty-seven people, including three policemen, were arrested, 100 apartments were searched and 182.5 kilograms (402 pounds) of opium were confiscated.
It was the largest operation of its kind in Albania. A total of four drug gangs, who operating together had organized everything from drug production to smuggling and money laundering, were broken up. Six suspects are still wanted.
Read more: Albania's political system plagued by murky financing
High-level political connections
The Albanian "prosecutor for serious crime" (a section of the Albanian public prosecutor's office) had filed a criminal complaint a month earlier and forwarded explosive material to the police. It consisted of thousands of hours of monitored telephone conversations, undercover on-the-ground investigations, videos taken by drones and other film footage, and thousands of pages of correspondence between various institutions in- and outside of Albania. The investigations were focused on a drug laboratory in the northern Albanian town of Has that was mainly used for heroin production. From there, the drugs were smuggled into the EU with the help of three other Albanian drug gangs.
Properties were then purchased in popular Albanian tourist areas for the purpose of money laundering. According to the public prosecutor's office, this was done with the help of high-ranking politicians. A former member of the ruling Socialist Party (PS), Arben Ndoka, was one of those arrested in this connection.
According to investigative journalist Artan Hoxha, Ndoka allegedly used his political power to forge documents and obtain public land using questionable methods. The land was "bought" cheaply by fictitious owners who existed only on paper and then sold at a much higher price. Twelve administrative officials and local politicians who according to Hoxha had been bribed for this purpose were arrested in March for "stealing 235,000 square meters (23.5 hectares) of public land" in the Albanian Adriatic region around Lezha. Some of them belonged to the ruling PS and others to the opposition Democratic Party or the Socialist League for Integration (LSI).
Arben Cuko, the former director general of prisons, is accused of having connections with the Shijaku group, one of the four gangs that have now been dismantled by police. According to investigations, the former member of parliament for the Socialist Party was given money and a car to transfer a member of the group imprisoned for murder to another prison.
German aid in the fight against organized crime
Until now, politicians and state officials who were accused of involvement in corruption scandals or even drug smuggling have been considered untouchable in Albania. According to the annual report of the United Nations Office on Drugs and Crime (UNODC) for 2017, Albanian gangs are the world's No. 1 heroin and cannabis smugglers and the world's No. 3 cocaine traffickers. But the successful smashing of the drug rings by the Albanian police force and this week's arrests have raised hopes that this could soon change and that even high-ranking politicians will have to answer to the judiciary if they are involved in drug trafficking.
"This is not a show, but a real fight against organized crime," tweeted Xhafaj after the large-scale police operation — and announced that the operations would be continued. It is probably no coincidence that this large-scale operation took place immediately after the visit to the Albanian capital, Tirana, by Dieter Romann, president of Germany's federal police.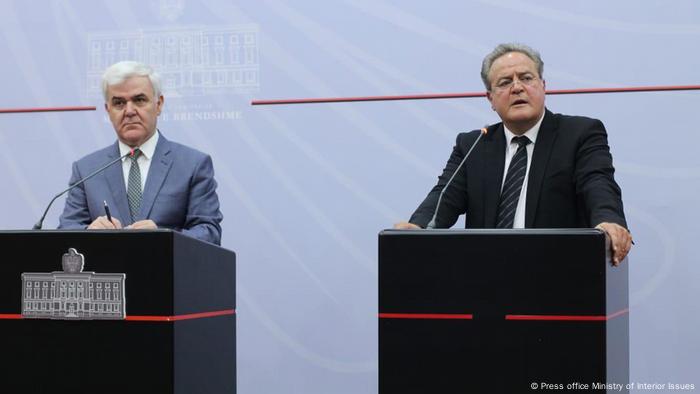 Romann (r.) held a joint press conference with Xhafaj during his visit to Tirana
In February, Albanian police confiscated 613 kilograms of cocaine in the western port city of Durres. The smuggled goods, hidden in banana boxes, came from Colombia and were headed to Germany. Three months later, Bavarian police found 1.8 tons (1.98 US tons) of cocaine, also hidden in banana crates. After arrests in Bavaria, German police also conducted investigations in Albania. Dieter Romann has promised the Albanian authorities more help and information-sharing between the police authorities of both countries in order to fight organized crime better.
Each evening at 1830 UTC, DW's editors send out a selection of the day's hard news and quality feature journalism. You can sign up to receive it directly here.