After weeks of snow and ice, rising temperatures are causing a widespread thaw in Germany. That combined with heavy rain showers means many German rivers have swollen dramatically in the last couple of days. Now a number of regions are bracing themselves for flooding.
Along the Moselle River in western Germany, riverside streets in several small towns and villages were already under water. Emergency services prepared aluminum flood walls and boardwalks in anticipation of further flooding.
In Koblenz, where the Moselle flows into the Rhine, officials said they feared the combination of high water levels in both rivers might lead to the city's worst floods in 10 years.
Meanwhile in Cologne, the Rhine is continuing to rise. Authorities are predicting that by Sunday the water will reach a level of 8 meters (26 feet). That would already mean the flooding of a number of basements. If the water level rises above 8.3 meters all river traffic will be halted. On Friday morning the water level in Cologne was at 3.86 meters, and rising.
Further up the Rhine in Duesseldorf, they are also watching the water gauge closely.
"If water levels threaten to rise to around 8 meters, we will start to implement protection measures in the old town," a spokesman said. However, he added that the water had not yet reached a critical level.
Warnings issued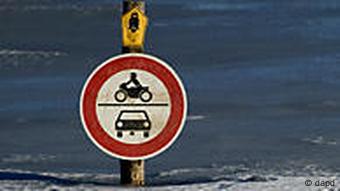 Water levels rose in eastern Germany earlier in the week
The German Weather Service has issued flood warnings for parts of the western, southern and central states of Baden-Wuerttemberg, Bavaria, Rhineland Palatinate, North Rhine-Westphalia, Hesse and Thuringia.
In the central state of Hesse a number of streets near the riverbanks were already under water. A spokesperson for the German Weather Service said "temperatures will continue to increase, causing the potentially dangerous thaw."
Meteorologists are also expecting heavy rainfall in the region. However the rivers Main and Lahn had not yet breached their banks.
Between the western towns of Saarbruecken and Mainz parts of the railway line were also flooded, causing delays for train travelers. Roads were closed in some areas, because of the threat from floodwaters.
In Saxony, rivers are said to be rising around two or three times as high as the usual rate. The regional flooding center is predicting that flooding alerts will be upgraded over the course of Friday.
Author: Joanna Impey (AP, dpa)
Editor: Martin Kuebler