The regions around the German-Polish border were preparing for floods, as the high water levels of the River Neisse pushed northwards towards Brandenburg and the River Spree on Monday.
The Neisse, which marks Germany's border with Poland, has put the states of Saxony and Brandenburg on flood alert after reaching record high levels.
Swollen by heavy rainfall, the Neisse broke through two dikes and flooded villages near the town of Bad Muskau in the eastern state of Saxony. The nearby UNESCO World Heritage site, the Fuerst Pueckler Park, was partially flooded.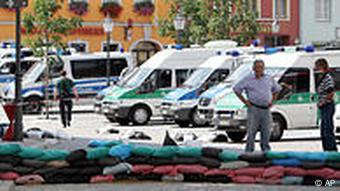 80 people were evacuated from Bad Muskau due to the flooding
The Neisse reached an estimated peak of seven meters (23 feet) around Bad Muskau, compared to a normal depth of just one meter.
Water levels had started to recede in Saxony, but the floods are traveling northward, reaching the Spree River in the state of Brandenburg, which surrounds Berlin.
Flooding across central Europe
The high water levels that now threaten Brandenburg follow several days of floods brought on by strong rainfall in central Europe and a burst dam in Poland. The floods have caused widespread damage and the deaths of at least 11 people in the Czech Republic, Germany and Poland.
Three people died over the weekend in the German city of Chemnitz, after they were trapped in a cellar by rapidly rising water.
Water has reached record high levels in Saxony
In the border town of Goerlitz, where almost 1,500 people had to be evacuated, water levels reached a record of 7.07 meters before falling back slightly on Sunday evening.
Residents were temporarily cut off from the electricity grid, until reconnected on Monday as floods subsided.
Assessing the damage
It is thought that the flooding in Saxony has slowed the advance of the high water levels. As the waters receded in parts of the state, officials said it was too early to put a price on the overall material damage done by the floods.
Visiting the flood-affected town of Bautzen, Federal Interior Minister Thomas de Maiziere said the government would consider financial aid for the affected regions. He also called for cooperation between federal and local authorities.
Author: Catherine Bolsover (dpa/apn)
Editor: Nancy Isenson