"All options are on the table," Bush warned at a press conference after meeting Merkel north of Berlin at the end of his last visit to Germany before leaving office.
The US preferred a diplomatic solution by working with its partners, Bush said. The five permanent members of the UN Security Council and Germany are engaged in efforts to persuade Tehran to change course.
There was "a better way forward than isolation" for Iran, he said, but he cautioned there could be additional UN sanctions on Iran.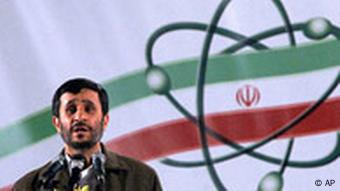 Pressuring Iran leader Ahmadinejad is on Bush's agenda
Merkel stressed Germany's preference for a diplomatic solution to the impasse, but she warned further sanctions could be applied.
Merkel wants better implementation of sanctions
"I believe diplomatic pressure has already taken effect," she said.
Merkel called for sanctions already passed by the Security Council to be better implemented, saying that she preferred the UN route as this included Russia and China, making sanctions more effective.
This did not exclude further action from the European Union, particularly in the banking sector, Merkel said.
The two leaders agreed on the need to push forward with the stalled Doha Round of World Trade Organization (WTO) talks, noting that agricultural prices were becoming a crucial issue for developing countries.
Bush spoke out against trade protectionism, and Merkel highlighted the need for a transatlantic economic partnership -- a theme she pressed under Germany's presidency of the Group of Eight (G8) last year.
Cooperation was particularly needed in setting standards for biofuels, Merkel said in response to concerns that growing crops for conversion to fuels is resulting in higher food prices.
The US is pushing for more German military in Afghanistan
On climate change, Bush again stressed the need for the major carbon dioxide emitters among developing countries to be included in efforts to halt global warming.
Merkel agreed that countries like India and China needed to be included in climate talks, saying that the German initiative in this regard at last year's G8 summit in Heiligendamm would be continued in Japan next month.
"We need a global agreement under the United Nations," she said.
Bush regrets tone in Iraq
The two leaders also discussed Afghanistan, with Bush noting progress in healthcare, education and the economy in what he referred to as a "young democracy" emerging from years of tyranny.
Bush was asked whether he regretted the Iraq War, in the light of an interview with the Times of London, published Wednesday, June 11, that indicated he regretted his rhetoric during the war.
"No I don't regret it all. But I could have used better rhetoric," Bush said. "The decision to remove Saddam Hussein was the right decision."
German press negative on visit
German commentators noted that the Bush visit was remarkable for the complete lack of public protest.
German political and press comment on the 20-hour visit -- Bush arrived from an EU-US summit in Slovenia Tuesday evening -- was overwhelmingly negative.
"I won't miss George W. Bush," Eckart von Klaeden, foreign policy spokesman for Merkel's conservative parliamentary bloc, told Berlin regional public radio.
Ulrich Klose, a spokesman for Germany's other main party, the Social Democrats, the junior partner in Merkel's broad coalition, criticized Bush's foreign policy as "confrontational," saying this had damaged the standing of the US in the world.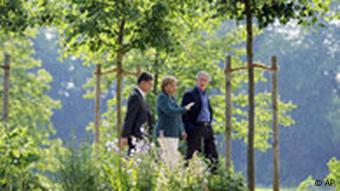 Merkel returned hospitality extended in Crawford, Texas
Even Merkel, who has maintained friendly personal relations with the president throughout, looked ahead to the post-Bush era that begins in January.
Merkel looks to new chapter
"This is his last European trip. A new period will then begin," she said.
Bush arrived on his farewell visit to Germany Tuesday from the EU-US summit in Brdo, Slovenia to spend the night at Schloss Meseberg, the baroque palace north of the capital that the German government uses as a guesthouse.
From Berlin, the president flew to Rome, where apart from Prime Minister Silvio Berlusconi, he was to meet Pope Benedict XVI.
Bush is to pay brief final visits to Paris, London and Belfast in Northern Ireland, before returning to the US.