"The Afghan doctors diagnosed a tumor and operated right away," said Mohammad Nabi from his bed at a hospital in Delhi, pointing to a scar on his neck. After the operation, friends had advised the 56-year-old from Balkh in northern Afghanistan to seek treatment in India. Doctors at the hospital in Delhi told him that he never had a tumor, instead merely swollen lymph nodes. "I was tricked. Unfortunately, that's common practice in Afghanistan," Nabi said, visibly upset.
The operation apparently took a lot out of him, and he appeared exhausted. But he could surely get help in India, Nabi said.
Health tourism booming
Max Hospital in India specializes in Afghan patients
Afghan faces are visible throughout the Indian hospital; some of the Afghan men or women have translators with them. Ever more Afghans are seeking medical treatment in New Delhi - almost all head to Lajpat Nagar, a suburb of the capital city Delhi, which is known as "Little Afghanistan" due to its high concentration of Afghans. The hospitals have adjusted to accommodate the influx.
Ashraf Haidari, Afghanistan's deputy ambassador to India, said that of the approximately 1,000 Afghans who come to India every day, about 70 percent are health tourists. They're looking for treatment in fields ranging from heart health to neurological, orthopedic, gynecological and other problems.
Most have had disappointing experiences with Afghan doctors, Haidari said. The perception is that doctors there make money the first priority, rather than the patient's well-being. "The health system in Afghanistan is lacking, and has low standards," Haidari said. "Many operations cannot be carried out there," he added.
According to information from the Afghan health ministry, patients seeking care abroad is draining the country of around $240 million (176 million euros) per year.
Money and language barriers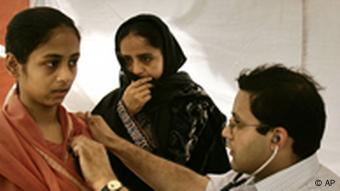 Indian doctors are highly regarded in Afghanistan
For Afghan patients, a journey to India is not only stressful, but also very expensive - the costs of a flight, hotel, translator and treatment can add up to several thousand dollars. As such, most health tourists are well-to-do. Others sell their possessions in order to be able to afford treatment in India.
Nabi was able to save himself the cost of a translator by bringing along his young cousin, who speaks Hindi. "Without him, we wouldn't have been able to understand each other," Nabi said proudly, to which the cousin smiled shyly.
Other Afghans hire translators via word-of-mouth, or turn to the hospital for help. Bhupinder is one of the many translators who has a contract with the hospital. Business is going well, Bhupinder said: He earns about 35,000 Indian rupees (413 euros, or $560) a month. He said that every week, 150 to 200 Afghans visit this hospital alone.
Homa from Herat in western Afghanistan traveled with her whole family. The mother of three was concerned about her 12-year-old son - Afghan doctors had wanted to remove his tonsils, since he had sore throats so often, she said. "They gave him ten different kinds of antibiotics, which only made him weaker," Homa said. Indian doctors told her that her son has allergies, and prescribed him the proper medicine. "He's been doing much better since then," she said happily.
Strengthening Afghanistan's healthcare system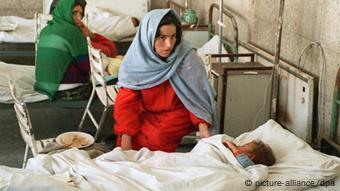 Low standards of healthcare are prevalent throughout Afghanistan
Homa could also have brought her son to neighboring Iran or Pakistan for treatment. But, like many of her fellow Afghans, she headed straight for India - despite frequent dissuasion to the contrary on the part of the Afghan media.
Homa mentioned a recent spot running on Afghan television which warns people that they will get scammed in India, and that it's better to seek domestic treatment. But Homa is skeptical: "It's all propaganda, so the Afghan doctors don't lose their customers."
Gulnash from the Faryab province of northern Afghanistan said that most Afghan patients who travel to India are satisfied because Indian doctors use more advanced methods. The 26-year-old is here with his mentally incapacitated brother in New Delhi.
Gulnash thinks Afghan doctors should study in India. "Then we wouldn't be forced to come to India anymore, and our economy would be stimulated instead," he said.
Both countries have already acknowledged that possibility: Indian hospitals have for a while now been offering training programs for Afghan doctors. And in Afghanistan, the health ministry recently announced plans to improve private-sector health services.
But until the Afghan health system sees improvements, India will continue to be the first choice for quality medical treatment.