Wanda Phelloner from Zambia was six years old when she got a high fever. "I had malaria," she told a health organization worker later. "I had to go to the clinic, I needed some medical attention. But unfortunately, the medicine was not there."
Phelloner did get better, but her case points to how in many African countries, well-researched and curable diseases like Malaria frequently go untreated. Even though there is medication to treat malaria, it's often not available to those who need it, because local pharmacies or healthcare facilities have run out.
That's where African non-governmental organizations came in. Using online tools, in 2009 the groups started a campaign to prevent people from suffering negative effects when especially important medications from running out - a phenomenon also known as a "stockout."
Crowdmapping against stockouts
Within only five days, the campaign had identified more than 250 stockouts in Kenya, Malawi, Uganda and Zambia.
Volunteers ask about the supply of medicines on-site, and then send answers via text message to administrators of the stopstockouts.org platform. The sites are mapped out to indicate to Internet users what is available where.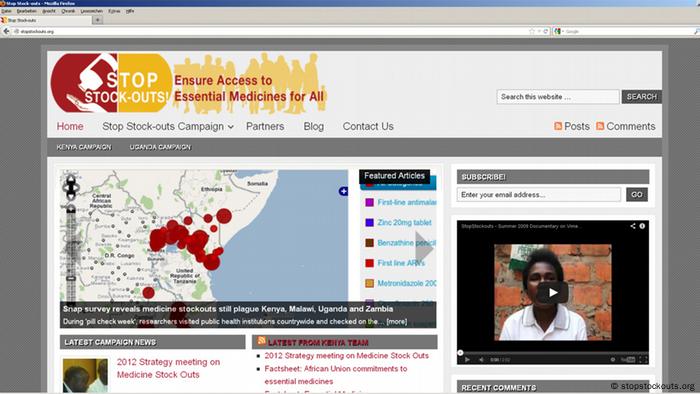 stopstockouts.org provides a real time visualization of where medications are in stock - and where they have run out
"Before that, the government had only said there were no stockouts," said Daudi Were at the fifth annual World Health Summit, held in Berlin October 20-22. Were works for the company Ushahidi in Nairobi, and helped develop the software that stopstockouts.org is based on.
"But now they are presented with evidence, so it started becoming a conversation of where in the process is the problem." Be it budget, procurement, delivery, supply - "the NGOs are now talking with the government from a more informed position," Were said, "so it changed the nature of the conversation."
Crowdmapping is based on the possibilities of organizing information shared by the public. It's especially important in the health field, Were said: "If there's an epidemic, the people in the middle may not have the full picture. But if you aggregate all that information at a national level, it allows the government to have a clearer picture of what's going on in that region."
Wisdom of many
After the earthquake on Haiti in 2010, a platform based on Ushahidi's model showed what kind of help was needed, and where. It gathered more than 40,000 individual messages from those in need, as well as from those helping.
And after the Fukushima nuclear disaster in 2011, the crowdmapping site sinsai.info provided information about radioactivity in the region. Even government agencies and embassies directed people to the website.
Joseph Tucker, a professor and infectious disease specialist at the University of North Carolina School of Medicine at Chapel Hill, believes in the wisdom of the masses. In Guangzhou, southern China, he runs a platform oriented toward homosexual men, to educate them about sexually transmitted diseases like HIV.
Although homosexual men in China are at high risk for HIV and syphilis, they don't get tested routinely. "In order to reach these high-risk populations, we need ways that are acceptable to them, like social media," Tucker told DW.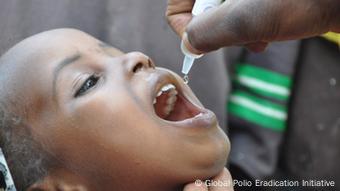 Polio vaccination in Nigeria
"Social media can be a powerful force to get an idea about their preferences for where and how they would like to be tested, and social media can help us to optimize our public health strategies," Tucker said.
But the Internet can also be used to spread disinformation. Heidi Larson, a professor at the London School of Hygiene and Tropical Medicine, explained how in 2003, an official boycott of the polio vaccine in five states of northern Nigeria led to a resurgence of the disease.
Like actual viruses, disinformation can also now be replicated at a logarithmic scale, or go viral. "The kind of rumor networks that used to stay local are now global," Larson said.
Tool to develop targeted strategies
After the United Nations suspended its support of the polio vaccination program in Pakistan last year following attacks against health workers, Larson's institute developed a program that analyzes content on vaccinations in blogs, forums and social networks worldwide. The goal is to find out more about why people have reservations against certain public health measures.
This helps with, for example, figuring out if religion should be taken into consideration as a major factor in planning for a particular region, or if information on alternative treatment methods should be promoted.
Social media is merely a tool - like medicine, Were said: "You can use it for good, or for bad. You have to deploy it properly."