The far-right Alternative for Germany (AfD) party presented a bill to the German parliament on Friday calling for a change to the paragraph dealing with "incitement to hatred" in Germany's Criminal Code.
"The AfD wants just one thing," said the AfD's Jens Maier, presenting the bill to the parliament. "Namely that Germans are also protected from hate speech and mockery. Our draft bill is supposed to close a gap in the criminal code."
Paragraph 130 of Germany's Criminal Code says that a maximum three-year prison sentence — or, as in most cases, a fine — can await anyone "whosoever, in a manner capable of disturbing the public peace incites hatred against a national, racial, religious group or a group defined by their ethnic origins, against segments of the population or individuals because of their belonging to one of the aforementioned groups or segments of the population or calls for violent or arbitrary measures against them."
Read more: AfD slammed in Bundestag debate on the future of Deutsche Welle
Maier went on to claim that the German government does "nothing, or next to nothing" to protect the German population from racism, and that German courts could apply the paragraph to hate speech against Germans if they wanted to, "but they don't do it."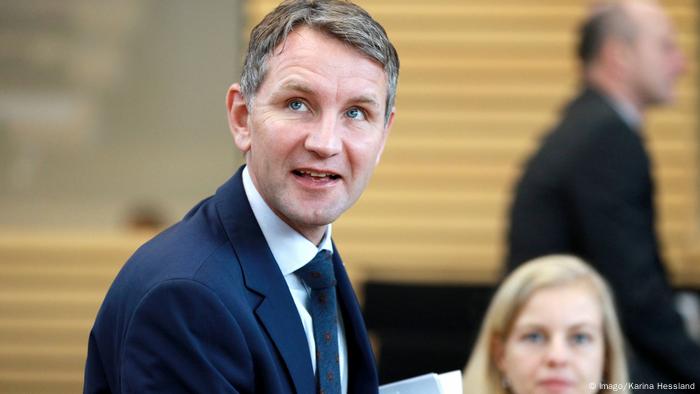 Several AfD politicians, including Björn Höcke, have faced charges under German hate-speech laws
Motion rejected
The legal argument against this, as interpreted by German courts, has usually been that the law is meant to protect minorities, and since "Germans" refers to the entire German population, it cannot be considered a minority. "This is about protecting Germans in their own country; they want to be protected just as much as Ms. Merkel's guests," Maier added, referring to people who sought asylum under Merkel's administration.
The other political parties, including Merkel's conservative Christian Democratic Union (CDU), all opposed the AfD's proposal with more or less vehemence. One CDU member, Ingmar Jung, said there was "not one single piece of evidence" that German courts discriminated against Germans when applying the paragraph.
Read more: What is Germany's constitution, the Basic Law?
Jürgen Martens, of the neo-liberal Free Democratic Party, accused the AfD of invoking a "chimera" to make themselves look like "victims" again. "Of course Paragraph 130 protects Germans too," he added, before arguing that the bill, mixing as it does definitions of entire populations and "majorities" and "significant majorities," was "meaningless verbiage."
Who is German?
Martina Renner, of the socialist Left party, pointed to various speeches by AfD members, including Maier himself, calling for Paragraph 130 to be abolished.
"Stop lying, you want to abolish Paragraph 130," she said. "All you did today was eat humble pie."
"And why do you want to abolish it? Because if it didn't exist, you could continue your verbal attacks on the disabled, refugees, Jews, Muslims, and leftists, unhindered," she added, before arguing that the paragraph had been introduced to counter a wave of anti-Semitism in Germany in the 1950s.
"You love fear, and can't get enough of it," she said.
Read more: Munich court to try Facebook's Zuckerberg for inciting hatred
Sarah Ryglewski, of the Social Democratic Party (SPD), was not the only Bundestag member in the debate to wonder who exactly would be defined as German under the AfD's proposal, given that many, including herself, had roots in other countries. She pointed out that the language reflected the AfD's racially charged worldview.
Maier used to be a civil court judge and has himself been investigated for hate speech when he described Noah Becker, son of the tennis star Boris Becker, as a "half-negro" in a tweet. He later claimed the tweet had been sent by an employee in his office.
Every evening at 1830 UTC, DW editors send out a selection of the day's hard news and quality feature journalism. You can sign up to receive it directly here.