The visit to Sri Lanka on September 7 was the second leg of Abe's South Asian tour - which also took him to Bangladesh - designed to strengthen economic ties with the region. The trip came shortly after the Japanese leader hosted his Indian counterpart Narendra Modi for summit talks in Tokyo which resulted in Japan's pledge to invest 34 billion USD in India and a "special, strategic global partnership" to deepen security cooperation.
During his two-day visit to the South Asian nation, Abe and Sri Lankan President Mahinda Rajapaksa agreed upon "a new partnership between maritime countries" which analysts believe is aimed at keeping open shipping lanes to feed Japan's energy-dependent economy.
The Japanese premier's visit pre-empted a similar trip to South Asia by Chinese President Xi Jinping, who plans to visit India and Sri Lanka later this month. China, which is growing increasingly influential in the Indian Ocean, has bankrolled the construction of a 500 million USD port terminal for Colombo.
During his trip, Abe also urged Sri Lankan leaders to step up efforts to achieve reconciliation with the island's ethnic Tamil minority after the end of a bloody decades-long civil war. Sri Lanka has been under intense international pressure over war crimes allegedly committed during the war.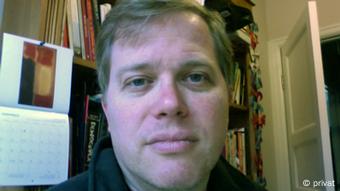 Keenan: 'Japan is unlikely to pressurize the Rajapaksa government into allowing the current UN war crimes investigation team to visit Sri Lanka'
In a DW interview, Sri Lanka expert Alan Keenan says that while Japan has constantly urged the government to make tangible progress towards reconciliation, it is unlikely to pressurize the Rajapaksa government into allowing the current UN war crimes investigation team to visit Sri Lanka.
DW: Shinzo Abe became the first Japanese prime minister to visit Sri Lanka in 24 years. How significant is this visit to bilateral ties?
Alan Keenan: The visit suggests the continuing importance Japan places on its ties to Sri Lanka, but, more importantly, to South Asia as a whole, as Abe's brief stop in the island nation was part of a tour to the region. The visit was almost certainly more important for Sri Lanka, which needs Japan's political and economic support, than for Japan.
What was the main purpose of the visit?
The two leaders discussed a wide-range of issues, though the main focus appears to have been expanded economic assistance and trade. The two governments also discussed increased cooperation on maritime security in the Indian Ocean, whose shipping lanes are crucial for Japanese imports of oil and other key commodities.
For the Sri Lankan government, however, the equally important purpose of the visit was political. Facing a UN probe into alleged war crimes and international pressure on ongoing human rights abuses and lack of post-war reconciliation, President Rajapaksa's government is eager for political support from Japan.
It hopes the Abe government can be convinced that Sri Lanka is making credible progress towards addressing the concerns detailed in the March 2014 resolution by the UN Human Rights Council and that Japan will help insulate it from further pressure at the UN.
How can ties with Japan help improve the Sri Lankan economy and how strong have Sri Lankan-Japanese ties in recent years?
Japan has been a key source of development assistance and economic support for decades and was Sri Lanka's largest donor until displaced by China, which over the past six years has provided unprecedented amounts of development assistance - mostly in the form of loans. Despite this, the Sri Lankan government has not met its ambitious post-war targets for increased overseas direct investment, and it will eagerly accept any new projects from the Japanese government and corporations.
But as is generally true of government-backed international aid, it's a two-way street: government-funded development assistance is also a boon to Japanese corporations and thus another means by which the Abe government can help jump-start its own struggling economy.
How come ties with Sri Lanka have suddenly become so important?
The importance of Japan as an economic and political supporter of the Sri Lankan state is nothing new, as suggested earlier, but the increased economic and political importance of China in Sri Lanka - and throughout South Asia - is clearly a major motivation for Abe's tour of the region and his visit to Sri Lanka.
What is Japan's stance on the issue of reconciliation in Sri Lanka following the civil war?
Japan has consistently positioned itself in the middle between Sri Lanka and its mostly western critics: publicly urging the government to make tangible progress towards reconciliation with Tamil political parties and to improve its human rights record, but rarely putting any real pressure - economic or political - on the Rajapaksa regime.
The president's decision last year to hold provincial council elections in the Tamil-majority north was due in part to unusually strong Japanese pressure, and Japan has urged the government to cooperate with UN mechanisms.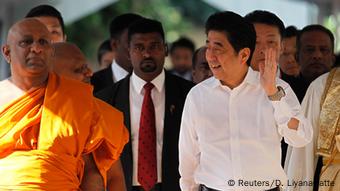 Rajapaksa administration hopes the Abe government can be convinced that Sri Lanka is making credible progress towards, addressing human rights concerns, says Keenan
Do you think Abe's call for reconciliation will have any impact on allowing an international investigation of alleged war crimes?
Even if it wanted to, the Abe government is unlikely to be able to put enough pressure on the Rajapaksa administration to force it to allow the current UN war crimes investigation to visit Sri Lanka. Comments by Abe welcoming recent cosmetic gestures by the Sri Lanka government on human rights and reconciliation moves, however, suggest Japan will maintain its cautious approach.
Critics, on the other hand, will argue it demonstrates the Japanese government continues to place its economic and regional power interests above the robust defense of human rights principles and international law that would be needed to convince the Rajapaksa government to shift its policies from its current authoritarian and Sinhala chauvinist character.
Analyst Alan Keenan is Sri Lanka project director at the International Crisis Group (ICG) in London.