If the vendors and visitors at Berlin's Breitscheidplatz felt a threat on Monday morning, it was of being interviewed. Journalists and cameras teams were omnipresent at the opening of Christmas market where terrorist Anis Amri drove a hijacked truck through crowds of people.
Berlin police say that security has been enhanced, but other than concrete barriers and guards at the entrances, there was little visible sign of enhanced protective measures. Visitors - mostly tourists - all said that they felt no fear. Some even added that coming to the market was a sign of defiance to terrorism.
A religious service was held at the Kaiser Wilhelm Memorial Church before the market opened.
"What happened a year ago is still very much in our minds," Pastor Martin Germer told DW. "At the same time, we want to do our jobs, and we want the Christmas Market to be there for people."
Read more: Help for Berlin Christmas market terror victims 'better late than never'
Germer said that he personally has no fear of a repeat of the 2016 attack.
"I'm not afraid," he said. "If I were, I couldn't cross the street since the statistical probability of getting hurt from that is far higher. We would limit our own lives, if we only had fear."
Foreign vendors put threat in perspective
The vendors, some of whom are from foreign countries with their own experiences of terrorist attacks, share Germer's attitude.
"I'm from Israel," said Zvi. "I've seen 20 or 30 attacks like this, so I'm not afraid."
He says that as far as he can tell security is adequate, although he acknowledges the difficulty in predicting what form a new terror attack might take.
"What you see is unimportant," he told DW. "It's what you don't see that makes a difference."
At a jewelry stand, Michaela, who's from Northern Ireland, says that there's more security in Berlin than where she comes from.
"There's are no concrete pollards at Christmas markets there, although there are maybe more police officers walking around looking for things like unattended bags and the like," she told DW.
Visitors to the market strolled through the rows of stands, taking pictures and sometimes stopping for a coffee or a glass of mulled wine. Vendors spread out their wares. A woman in a head scarf hung up gingerbread hearts reading "I love you." It was difficult to imagine that one year ago this low-key mixture of Christmas commerce and kitsch was the scene a headline-grabbing tragedy.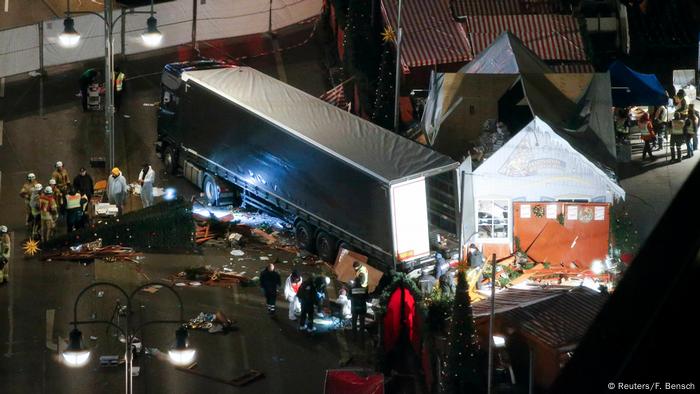 The pictures of the Christmas market attack horrified many people around the world
An attack after a series of mistakes
At 8pm on December 19, 2016, 24-year-old Anis Amri from Tunisia drove a truck through the crowds of Breitscheidplatz market vendors and visitors. Eleven people were killed there, and dozens were injured, many seriously. Earlier, Amri had shot and killed the Polish driver of the truck while hijacking the vehicle.
Amri fled the scene, and a manhunt ensued. On December 23, Amri was killed in an exchange of gunfire during a routine police check in Sesto San Giovanni, Italy.
The radical Islamist movement IS claimed responsibility for the attack, which resembled a similar one involving a motor vehicle used as a weapon in Nice, France on July 14.
Amri entered the EU in 2011, travelling from Tunisia to Italy and posing as a minor. He came to Germany on July 6, 2015. On his arrival, German authorities wrongly entered his name into the system, thereby failing to learn of Amri's history of violent behavior in Italy. It was one of many mistakes that ultimately allowed Amri to take so many lives.
During his time in Germany, Amri used at least 14 aliases to apply for political asylum and social benefits. He was detained by police in mid-2016 on suspicion of having used fake identity documents, and his deportation was prepared. But Tunisia was deemed unlikely to accept Amri back, and a court ordered his release. After that, he went underground, only to resurface on December 19.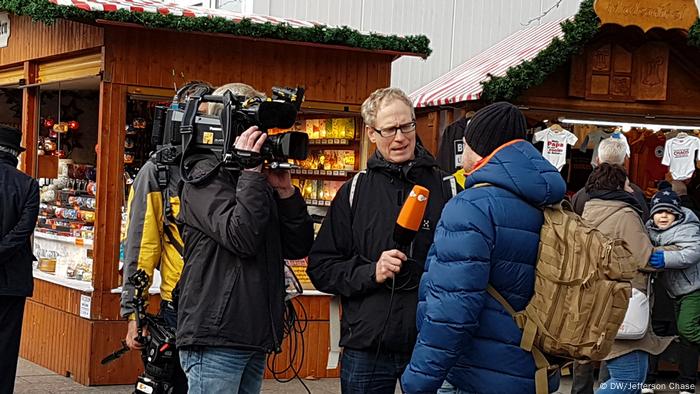 There were a lot of journalists on hand to document the reopening of the Christmas market
Resilience as a response to terrorism
With the festive season starting in Germany, authorities are determined that there will be no repeat of last year's attack. Interior Minister Thomas de Maizière told the Bild newspaper that people should be "alert but not afraid" when visiting the country's many Christmas markets.
He said that the danger of terror attacks was "simply high, anytime and anywhere." But he added "Christmas markets are part of our lives and culture."
At the jewelry stand Michaela shared her thoughts on how communities learn to deal with the reality of terrorism.
"Coming from Northern Ireland, I was used to the threat of terrorism in the past," she said. "You just deal with it. The word I'd use is 'resilience.'"
The Breitscheidplatz Christmas market has bounced back from last year's tragedy. In three weeks, a small memorial will be unveiled to the victims of December 19, 2016. Otherwise the festive holiday market is going ahead almost entirely as it did before the attack.