Ghana is the top African country in the 2018 World Press Freedom Index compiled by Reporters Without Borders, while Eritrea ranks at the very bottom on a worldwide scale.
DW takes a look at the African media landscape and casts a spotlight on some of its worst press freedom violators.
Eritrea
Media freedom is considered non-existent, having collapsed in 2001 when a brutal state crackdown on independent media saw waves of arrests. President Isaias Afeworki is widely regarded as a "predator" of press freedom and uses the national media as his mouthpiece. Writers, broadcasters and artists are censored and information is blatantly withheld from citizens.
Cameroon
The government has called social media "a new form of terrorism" andblocks it frequently. Radio and television broadcasts were blocked for two weeks in March in the run-up to elections. Newspapers publishing reports which displease officials are banned and journalists and publishers detained.
Sudan
Khartoum adheres to so-called pre-publication censorship, detains journalists arbitrarily and openly interferes in news production. The Freedom of Information law of 2015 is dismissed as yet another means to ensure government control over public information. Journalists must pass a test and seek permission to work.
Chad
Journalists risk arbitrary arrest, assault and intimidation. In recent months the government has clamped down on social media platforms and cyber-activists in particular. The internet has been blocked countrywide since March 28. It followed an internet blackout ahead of civil society demonstrations and a protest by the media dubbed "a day without press."
Niger
Independent local and foreign journalists face difficulties as they try to go about their work. Security forces destroy equipment to disrupt media operations. Privately-owned media organizations have no access to advertising.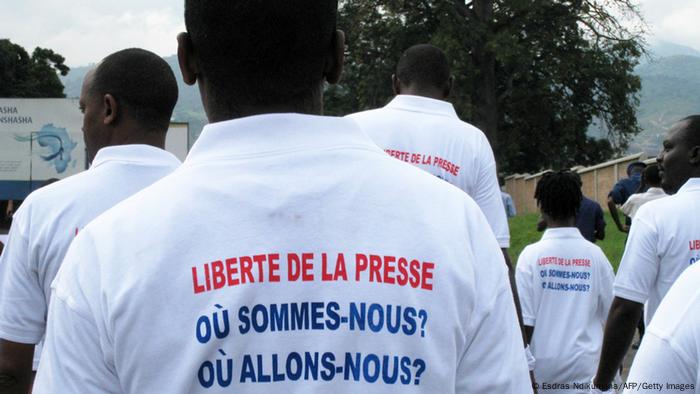 Journalists at a press freedom march in Burundi, where the media face repression and intimidation
South Sudan
Journalists are forced by the government to avoid coverage of conflict.Foreign media have reported being harassed and bannedfrom the young country, where at least 10 journalists have reportedly been killed since 2011.
Democratic Republic of Congo
Media watchdogs say journalists have been murdered, beaten, detained and threatened since Joseph Kabila took over the presidency from his father in 2001. International media outlets complain that the government often jams radio signals or cuts transmission. Protests by the opposition prompt authorites to disconnect or disrupt the internet.
Burundi
State repression towards press freedom and the intimidation of journalists is widespread. State-controlled media is increasingly replacing independent radio stations, most of which were forced to close during an attempted coup three years ago. Hundreds of journalists have fled the country since 2015. Many are now in Rwanda, Kenya and Belgium.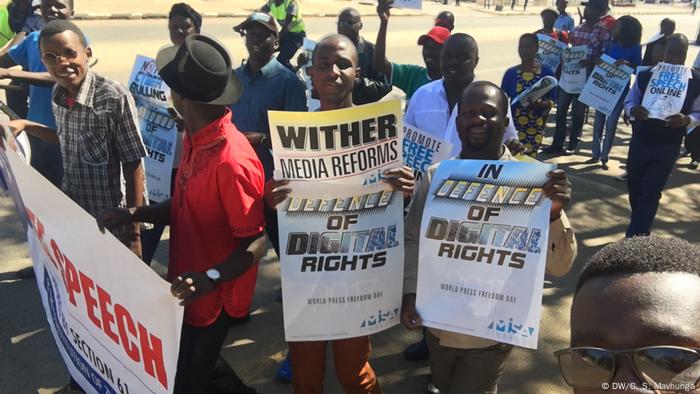 Journalists in Zimbabwe cover a protest of members of the opposition towards the end of the Robert Mugabe era in 2017
Tanzania
Critics say President John Magufuli has deliberately targeted freedom of expression since he came into office in 2015. Journalists have been arrested or have disappeared altogether. Media organizations have been shut down for lengthy periods of time and newspapers barred from publishing. Laws that can be used against the media have been tightened.
Swaziland
The absolute monarchy has a reputation for obstructing access to information and actively preventing journalists from doing their jobs. The media is subject to strict laws and reporters are often taken to court over their coverage. Media self-censorship is considered systematic. One editor recently fled the country after reporting on shady business deals linked to King Mswati III.
Ethiopia
The government has a stranglehold on the media and journalists work under highly restrictive conditions. Along with Eritrea, the country has one of the highest rates of arrested journalists in sub-Saharan Africa. Social media plaforms are sometimes blocked by the state and diaspora print and broadcast media outlets are regularly targeted.