Elijah Alier, managing director of the Media Authority, confirmed the report and said that the journalists reported stories about South Sudan with elements of hate, but he could not outline the names of the journalists who were banned.
"These are people who have been providing information that we consider misleading. It is information that cannot be substantiated, and in such a situation there is no way we can allow such people to come to South Sudan," Alier said. He added that the journalists would be allowed to the country if they were able to report ethically.
Alier, however, refused to give details on what criteria was used to determine who would be banned or whether further restrictions would be put in place. He said the journalists labeled the country as crazy and that they needed to respect the country.
Foreign journalists seeking to visit South Sudan require clearing by the Media Authority before a visa is issued, according to the french agency AFP.
According to Alier, the Media Authority issued over 200 permits to foreign journalists and media houses to operate in South Sudan, and that every journalist could report on any issue, be it corruption, conflict or the humanitarian situation. This however, must be substantiated.
In recent months several foreign journalist reporting for international media agencies such as AFP, Reuters and Voice of America among others have been rejected permits to cover South Sudan by the authority.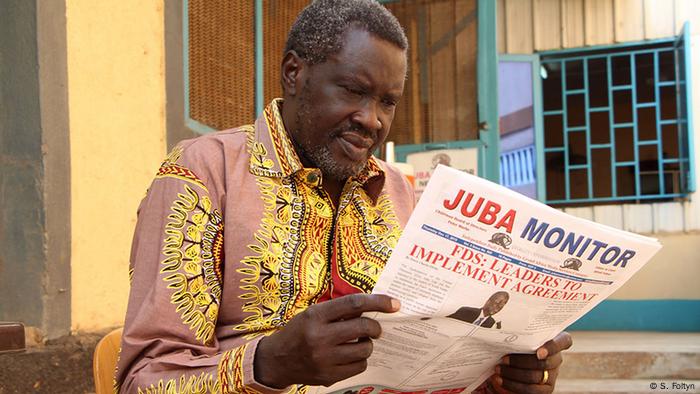 South Sudan veteran journalist Alfred Taban
Criticism towards the Media Authority
Alfred Taban, a South Sudanese veteran journalist, challenged the decision of the Media Authority, saying it was illegal and consequential on the developments in South Sudan. Taban is the chairman of the Association for Media Development in South Sudan (AMDISS). He urged the Media Authority to reverse its decision.
"This is extremely bad and dangerous, because it gives the impression that South Sudan has something to cover up, and it doesn't want the whole truth about what is happening in the country to be known," Taban said. He wants the world to know everything about his country whether good or bad. "It does appear that this Media Authority wants only the good side of South Sudan to be known," he said, adding that that was not realistic.
Taban, who is also the editor in chief of Juba Monitor daily newspaper, said the decision by the Media Authority compromises press freedom in the country: A country that needs an active role in the diversity and plurality of the media to clearly document and put things on record.
The Media Authority, established in May 2015, was formed under the Media Act 2013 for the purposes of regulating both the private and public media organizations across South Sudan and issue broadcasting licenses. The institution was established under the Media Act 2013 with legality of accounting to the national parliament.