The first step was to force domestic non-governmental organizations in Russia to register as "agents." Now Moscow has gone a step further and taken aim at foreign NGOs active in the country. According to freshly passed legislation, cooperation with foreign organizations could be punishable by law.
Since 2012, when the so-called "agent laws" were passed by Russian parliament, all organizations within the country that received foreign aid were forced to register as "foreign agents." On Wednesday, 12 foreign NGOs were placed on a blacklist, reflecting an intensified crackdown in Russia on activities that represent a "threat to constitutional order and national security."
The list includes seven independent organizations based in the United States, including Freedom House and the National Democratic Institute (NDI). Two Polish organizations, including the East European Democratic Center based in Warsaw, and three Ukrainian organizations, including the Ukrainian World Congress (UWC), are on the list. No German NGOs have been blacklisted.
The list is the result of consultations between Konstantin Kosachev, head of the Foreign Affairs Committee of the Duma's Federation Council, the chief state prosecutor, the Foreign Ministry and the Kremlin's domestic intelligence service.
"We decided to place these organizations on the blacklist, because they have used all means in an attempt to interfere in Russia's foreign affairs," Kosachev told Interfax news agency on Thursday.
Concern and anger
The organizations implicated took a very different view of the situation. Freedom House immediately called the legislation a grave mistake. "The Russian government has worked tirelessly to limit human rights in the country," Robert Ruby, director of communications at Freedom House, told DW. The NDI said the laws would further contribute to Russia's international isolation.
Agnieszka Komorowska, chair of Warsaw's East European Democratic Center, called the decision unfathomable.
"We don't really understand why we have been placed on this blacklist," Komorowska said. "For 15 years, we have worked as an NGO for independent media in Russia. Our objective has always been to help the people who live there - and not any political organizations. Our work has never been directed at anyone in particular."
NGOs won't give up
The new legislation has been criticized in Germany, as well. Stefan Liebich, the parliamentary foreign affairs spokesperson for the Left party, reiterated the criticism voiced by the NGOs, saying Russia was further isolating itself on the global stage. Marieluise Beck, the Green's parliamentary spokesperson for eastern European affairs, said the new laws reflected an "increasing repression of Russian civil society in connection with the Kremlin's treatment of its European neighbors." Beck decried Russia's "increasingly harsh handling of those campaigning from abroad for a more democratic, open Russia."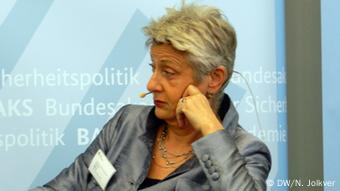 Marieluise Beck: Russian repression of civil society is increasing
The foreign NGOs on the blacklist are aware that the new laws have distinguished them as "unwanted organizations" and that any cooperation with them could be seen as a crime. However, they have said this will not stop them. Robert Ruby of Freedom House said Thursday that his organization will continue to support anyone in Russia who is willing to "fight for democracy."