Lido Said (pictured above) worked as teacher for German and math at an Afghan girls' school. Even though the Taliban condemned schooling for girls as sinful and shameful, Lido continued to practice her profession.
One day, her husband was beaten by unknown assailants because - according to them - he allowed his wife to work as a teacher. He later disappeared and has been missing ever since. Lido felt compelled to leave with her daughter and join her brother-in-law in Russia via Kabul and Uzbekistan. She sold her home and her gold to pay for the journey. Lido recounts how she had to pay a smuggler 4,000 dollars.
She has been living with her child in Russia illegally for over a year now. "Applications for refugee status, or for temporary asylum were rejected," complained Yelena Burtina, the deputy director of the Russian refugee agency Civic Assistance Committee. With the help of the United Nations Refugee Agency (UNHCR), Lido is now trying to seek asylum in a third country. "Chances are slim, but we're trying it," added the human rights activist.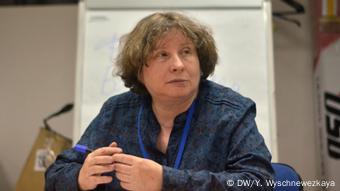 NGO activist Yelena Burtina says chances are slim for asylum in Russia
Next in line after Lido is a Yemeni. In an adjacent room, a woman from Ukraine is telling her story, and waiting in the hall are Syrians, Chechens and Tajiks.
About 50 people visit Civic Assistance every day. Despite the assistance they provide, Burtin regrets that there is little prospect of asylum in Russia.
Right now, only 600 people have been recognized as refugees and temporary asylum is granted only if someone "higher up" has authorized it. "It is part of a political campaign. Right now, we have to offer Ukrainians shelter. During the war in Georgia, it was the Ossetians," said Burtina.
More than humanitarian aid
The Civic Assistance Committee was founded in Moscow in 1990 when Armenians from Azerbaijan were fleeing to Moscow. "Back then we provided humanitarian aid: we procured medication and collected clothing," remembers Burtina. The NGO still did not have its own work space and used the offices of the newspaper "Literaturnaya Gazeta". The unrest in Baku was followed by conflicts in Nagorno-Karabakh, Tajikistan, Abkhazia, and then, the war in Chechenya.
Over time, the organization realized that the refugees were lacking more than food, clothing and shelter. One of their greatest difficulties was communicating with authorities. To help them, Civic Assistance Committee staff studied Russian migration laws.
In 1998, the United Nations Refugee Agency (UNHCR) offered the NGO funding. It sufficed for a modest office and salaries for the staff, which had been volunteering until then. The organization was thus in the position to devote their full attention to the refugees and work on other projects, such as combatting the discrimination of people from the Caucasus in Russian jails. Furthermore, they contribute to the social integration of refugee children. In court, they represent victims of racist violence.
Foreign agent status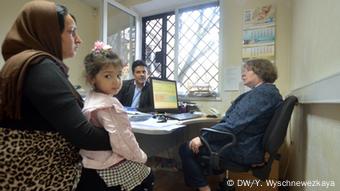 Refugees in Russia have to go through a lot of red tape
At the end of April 2015, the Russian justice ministry put Civic Assistance Committee on their list of foreign agents. According to a law passed in 2012, organizations are classified as foreign agents if they are funded by foreign sources and take part in political activities. The NGO does not deny the funding sources but can their work be called political?
The public prosecutor has ascertained political work in two projects, said Svetlana Gannushkina, head of Civic Assistance Committee. In the first project, experts at the NGO will analyze the extent to which Russian laws facilitate loopholes for corruption. The second project promotes the humanization of the penal system. "We have uncovered cases of beaten, tortured and abused prisoners," disclosed Gannushkina. In her view, the projects cannot be viewed as political activities, and most certainly not as foreign interests.
The human rights activists strongly criticize the fact that their organization has been labeled a foreign agent.
"It is much more difficult to work with authorities, like the federal migration service, the ministry of the interior, border guards, the health ministry and many others. Until now, our queries were at least answered," said Yelena Burtina and added that the justice ministry is planning another law. It will prohibit civil servants from taking part in the endeavors of foreign agents and thus, poses a threat to the entirety of the NGO's work.