According to Volkswagen's finance chief Hans Dieter Pötsch, the German-based car manufacturer could be forced to drastically slash jobs if trade unions aren't willing to back the company's cost-cutting initiatives.
"If we end up nowhere, which means no movement (in the negotiations) ... this would be an extreme negative for the employment situation in Germany," he said in the Thursday edition of Wall Street Journal Europe.
Asked how many jobs the company might have to cut, Pötsch responded "30,000 plus." Although that number represents about 17 percent of the company's 176,000-strong German workforce, VW is committed to keeping as many jobs in Germany as possible, Pötsch stressed.
Worry over job loss in Germany
The state of Lower Saxony, which has a significant stake in the company's shares, expressed concern that VW could be removing jobs from Germany. "We hope of course that all the positions will remain in Germany, but we will not get involved in tariff negotiations," said a speaker for the state executive office in Hanover.
A VW spokesman tried to play down the figure, insisting that the "30,000-number is based on a purely mathematical model for a scenario when the cost situation does not improve." It is based on "pure theory," he said.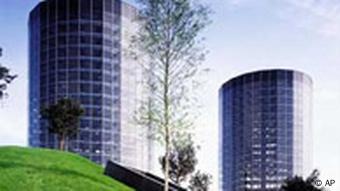 Volkswagen headquarters in Wolfsburg, Germany: die AutoStadt
Faced with falling sales, a bitter price battle among the competition and a weak US dollar, the Volkswagen is seeking a two-year wage freeze and increased flexibility of working hours for its German employees during the upcoming round of tariff talks. The company's board members have argued that the hold on wage increases as well as the introduction of a lower company pay scale for new employees are necessary in order to bring down VW's personnel expenditures by two billion euros over the next six years.
"Unacceptable" cuts
For its part, the powerful IG Metall labor union is calling for wage increases of four percent and job guarantees for employees at VW's six production sites around country. The union, Germany's largest, reacted angrily to Pötsch's newspaper interview, saying the comments could lead to an escalation of the wage negotiations, scheduled to begin next week.
"It's completely unacceptable" that a VW board member is "pouring oil onto the fire of the wage dispute," said IG Metalls chief negotiator Hartmut Meine. "It is also irresponsible to play with peoples' fears for their jobs," he said.
"Employees are not abstract numbers. It is unusual that a finance chief makes a comment about the wage round, especially before the talks have even started."
The union vowed to "fight now more than ever to push through their demands."