In view of the "unfavorable conditions" in the auto sector, "our 2004 operating profit before special items could amount to only €1.9 billion ($2.3 billion) instead of the original target of €2.5 billion," Volkswagen said in a statement.
VW saw its profits for the first half slump as the first six months of the year were "marked in particular by sluggish automobile demand in key markets and by the still unfavorable exchange rate situation."
As a result, VW's operating profit before special items fell by 19.8 percent to €979 million in the January-June period. At the bottom line, net profit was down 35.7 percent at €383 million.
Although overall sales rose slightly, Europe's largest car manufacturer sustained a decline in unit sales in the United States where rivals were offering massive discounts to hold on to market share at a time when demand for new cars was shrinking.
China sales also drop
In the all-important Chinese market, where VW is market leader, the company's sales fell for the first time by 4.2 percent to 310,657 units. The decline was attributable to increasing competition, notably from VW's arch-rival General Motors, and the sharp increase in sales incentives from rivals.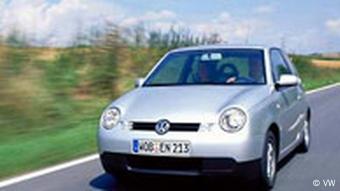 VW Lupo FSI
Looking ahead, VW said it was unlikely it would see "any substantial improvement through the second half of 2004, mainly because of ongoing weak demand in key markets, unfavourable exchange rates, and the current high price of oil."
Moreover there was unlikely to be any let up in competitive pressure in key markets, such as the US, Europe and China.
"We therefore forecast that growth in deliveries to customers in the second half of 2004 will be similar to that in the first half of the year," VW said. As a result, "our expected sales volume for the year as a whole, though up on the previous year, will fall well short of our original expectation."