Ramzi Jaber remembers being shocked when he found out about the huge amount of data regarding Palestinians' daily lives that was collected by human rights groups, international organizations as well as Israeli and Palestinian groups.
"I thought if I don't know about this, how can I expect others to," he told DW, adding that the question drove him to wonder how technology and storytelling could be used to turn the data into something people would remember, share and do something about.
"You don't remember numbers or statistics. You remember stories," he said. "We create the visualizations so people can use them as tools to advocate for something."
A structural engineer by training, Jaber didn't have any experience in designing infographics, but that didn't keep him from co-founding Visualizing Impact and its first project Visualizing Palestine with architect Joumana al Jabri in 2012.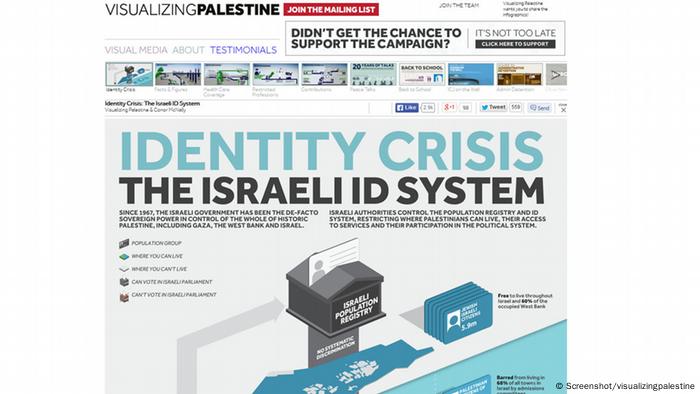 In the early days there was a lot of trial and error, "probably more error than trial," Jaber admitted, but over the last two years, a team of researchers, designers, data architects and developers involved with the project Visualizing Palestine has created over two dozen infographics on topics ranging from water distribution to employment and Middle East peace talks as well as education.
Evidence and emotion
The work was impressive enough to win Deutsche Welle's 2014 The Bobs - Best of Online Activism award in the Best Social Activism category.
"The issue of Palestine is an extremely emotional and polarizing one," said Georgia Popplewell, managing director of Global Voices Online and a jury member at The Bobs. "This organization is trying to bring some facts without sacrificing emotion."
Visualizing Palestine's work has appeared in major international media and, published under a Creative Commons license, has been shared widely online in social media networks. The visuals state all the data sources they use and Jaber takes pride in the fact that Visualizing Palestine's graphics are based on verifiable facts.
"No one has come and said that this is not true, this is taken out of context. Or here's other data that proves our work is wrong," he said. "We can't tell the entire story in an infographic, but we can give a glimpse. We always strive to make sure that the stories are in context."
Visualizing x
Visualizing Palestine is currently based in the cities of Beirut, Lebanon and Amman, Jordan. The project was funded by donations, grants and work commissions from companies, NGOs and international organizations and has been successful enough that it's planning to expand, Jaber said.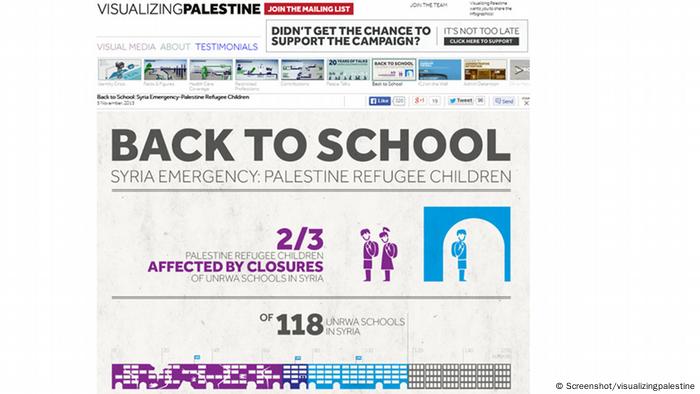 "People started asking why isn't there a Visualizing Egypt, why isn't there a Visualizing Syria, why isn't there a Visualizing Woman," he said, adding that the response convinced the team to start making infographics on how to make infographics.
Jaber said he wants Visualizing Impact to adopt the TED conference model of opening to new regions via smaller TEDx workshops and create a "Visualizing x" system for infographics. Initial plans include starting Visualizing Egypt this year and Visualizing Syria next year.
Regardless of the countries their work focuses on, Jaber is sure there will be plenty of issues to keep the Visualizing projects running.
"There is a huge need for data visualization in the social fields," he said. "We want to work on these issues around the world. That is something we consciously have a mission for."