Ali Abdullah Saleh, Yemen's former president, said Saturday he was willing to talk with Saudi leaders as his coalition with Iran-backed rebels appeared to be crumbling.
Saleh's overture came as his fighters battled Houthi rebels for a fourth day in the capital, Sanaa.
"I call on our brothers in neighboring countries ... to stop their aggression and lift the blockade ... and we will turn the page," Saleh said in a televised speech.
"We vow to our brothers and neighbors that, after a ceasefire is in place and the blockade is lifted ... we will hold dialogue directly through the legitimate authority represented by our parliament."
His comments were welcomed by the Saudi-led coalition, which said in a statement that it was "confident of the will of the leaders and sons" of Saleh's General People's Congress (GPC) party to return to Arab fold.
Saudi leaders have fronted a coalition of Sunni Arab nations that have been fighting Saleh and the Iran-backed Houthi rebels since early 2015. The Arab states recently imposed a total blockade on Yemen after a rebel missile was shot down near Riyadh, the Saudi capital.
Sanaa has been rocked by an eruption of violence this past week between Saleh's supporters and the Houthi rebels. Dozens of fighters have been killed and injured, and residents now fear a new front in an already brutal war.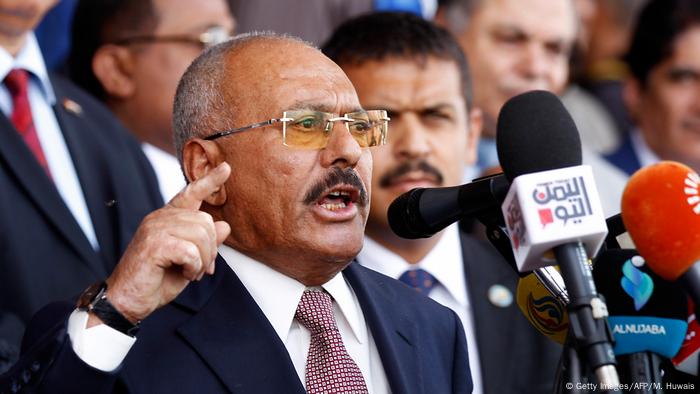 Saleh ruled Yemen for more than three decades until he was forced to step down in 2012
Accused of betrayal
Saudi-owned Al Arabiya television reported that at least 80 people have been killed in this week's clashes between forces loyal to Saleh and Houthis. Tensions between the former allies have grown in recent months, with Saleh supporters accusing the Houthis of trying to monopolize power.
The coalition accuses Saleh, who heads the GPC, of betraying his Arab neighbors by joining forces with the Houthi rebels. The Houthis are widely believed to have the support of Iran, with whom Saudi Arabia has been waging an increasingly tense political struggle for regional influence.
Meanwhile, Houthi leader Abdel-Malek al-Houthi called for dialogue with Saleh and his rebel forces to end the growing violence between the two factions.
In televised comments, al-Houthi called on Saleh to "be more mature" than his forces and to "let the General People's Congress seek with us judgment of the sane and elders in this country. The wrongdoer then should be held responsible."
Yemen is one of the Arab world's poorest countries. Since 2015, it has been locked in a devastating civil war pitting Saudi-backed government forces against Iranian-supported rebels.
Yemen has become a humanitarian catastrophe, with more than 10,000 people killed in the fighting and at least 2 million displaced. A cholera outbreak has infected nearly 1 million people. The country is on the brink of famine.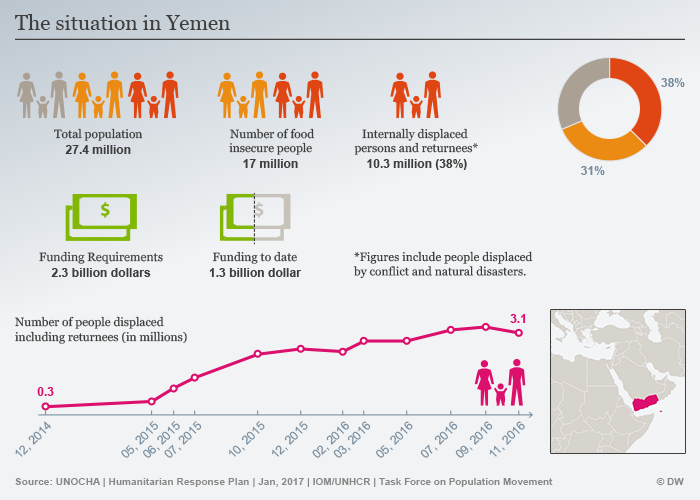 mm,bik/cmk (dpa, Reuters, AFP)