The last of the Boeing 777's recovered fragments were loaded onto trains and trucks in the village of Pelahiivka, for transport to the city of Kharkiv on Sunday under the supervision of Dutch investigators and European security officials.
"Despite the complex circumstances and local safety situation, the team was able to work as planned," said a statement issued by authorities in the Netherlands. "A few parts of wreckage were too big for transport by train and arrived in Kharkiv by truck yesterday."
The week-long recovery operation had been long delayed by fighting between pro-Russian separatists and Kyiv government forces around the crash site.
The plane plummetted from high altitude over eastern Ukraine on July 17.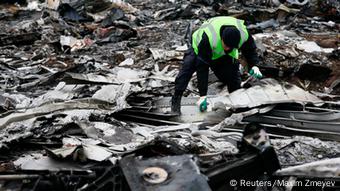 For weeks, the area was deemed too volatile for the recovery mission
All 298 passengers and crew were killed. Two-thirds of the victims hailed from the Netherlands; the Dutch government is now leading the investigation.
Wrangle over cause
The cause of the crash is under review, with NATO and authorities in Kyiv suspecting a surface-to-air missile fired from rebel-held territory in Ukraine. Russian media have instead suggested a Ukrainian air force fighter shot the plane down.
Preliminary findings released in September pointed to the plane being shot out of the sky. Multiple high-speed objects had pierced its fuselage, prompting an abrupt end to cockpit activity. The broad debris field had always indicated that the 777 broke apart at altitude.
Fighting continues
Sporadic fighting continues in eastern Ukraine, despite a ceasefire agreement reached in September. The Associated Press on Sunday reported rocket fire in both directions late on Saturday night in the west of the rebel-held city Donetsk.
On Saturday, Ukraine's Defense Minister Stephan Poltorak claimed that 7,500 "representatives of Russian armed forces" were present in the east of Ukraine - after a warning from NATO earlier in the week of a "very serious build-up" of Russian troops at the border.
In Moscow, Foreign Minister Sergei Lavrov claimed that the West's handling of the conflict in Ukraine suggested a push to force regime change in Russia.
Since fighting flared in March in eastern Ukraine, more than 4,200 people have been killed in the conflict, inluding the 298 aboard Flight MH17.
msh/ipj (AFP, AP, Reuters)