Germany's RPR1 radio station received some 12,000 answers to its question "What would you do for 100,000 euros?" But it was Marko Hilgert's answer that stuck out from the rest: Throw it out the window.
"It was just a crazy idea," Hilgert said. "I never thought I'd actually win."
But enough listeners liked the idea and voted for him, and probably for their own chances at collecting some of cash as well, the radio station said.
The 49-year-old trailer truck driver had the chance to make the dreams of free money come true in the western German city of Kaiserslautern on Friday, when he climbed into a bucket truck and showered the town's square with 75,000 euros ($96,825) in 5-euro bills over the course of several hours. He'll be keeping the remaining 25,000 euros to pay off part of his mortgage.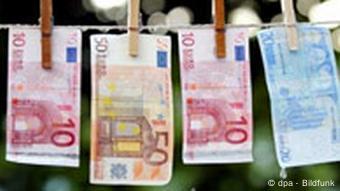 Cash usually isn't this easy to come by
In a country where pushing and shoving can ensue whenever stores put "sale" signs in their windows, city officials in Kaiserslautern put the square under strict surveillance, checking people who wanted to take part for weapons as well as "collection aids" like bags or sticky gloves.
More than 3,000 people are reported to have taken part.
"The conditions have been met and we do not have any security concerns," Kaiserslautern spokeswoman Sandra Zehnle said, adding that only adults who registered would be allowed to try and catch the cash. "For us this is an event just like any other."
Mainz' high horse
Hilgert had originally wanted to toss the money out of a window in the city of Mainz, where he grew up, but that proved to be impossible for "technical reasons," said Markus Biagioni, a Mainz city spokesman.
"We have an air conditioning system. The city hall's windows can't be opened," he said. "Here in Mainz we don't have any experience throwing money out the window. Besides, it would be more sensible to use the money for social purposes."
But few share the city of Mainz' haughty nature -- including the city's residents who have been placing irate calls to Biagioni for nixing their chance at free money. Dozens of other towns and mayors offered to host the event, according to RPR.