Day 2 of the Winter Olympics delivered an Olympic record, a major upset in the luge and an earthquake, as the drama of the Games continued.
After a 4.7 magnitude quake hit eastern South Korea — the epicentre was around 260 kilometers from the Games — and the heavy winds that saw the women's slopestyle qualification postponed died down, the sporting drama got underway.
The day ended with heartbreak for Germany as luge star Felix Loch (pictured above) missed out on a medal of any color in his pursuit of a record-equalling third straight men's singles gold. In his final run, Loch threw away a huge lead as a tiny error in judgement cost him big. Austria's David Gleirscher took gold, and Germany did get a medal — Johannes Ludwig took home bronze.
All of this came after the day had started brilliantly for Germany. Arnd Peiffer beat France's Martin Fourcade to win the men's biathlon 10km sprint. Peiffer won a relay silver in 2014, but went one better in Pyeongchang. It was Germany's second biathlon gold in as many days after Laura Dahlmeier took home gold in the women's sprint.
"I don't know how this could happen," Peiffer said afterwards.
Sven Kramer didn't just win his third consecutive Olympic gold in the men's 5,000 meter speed skating event, he did so in record time. Kramer came from behind to beat favorite Ted-Jan Bloemen from Canada and set an Olympic record in the process.
"I think my secret is that I'm really enjoying the sport and I really love what I'm doing," Kramer said modestly afterwards.
Perrine Laffont won France's first gold medal of the Games, beating defending champion Justine Dufour-Lapointe to win the freestyle women's moguls.
One of the biggest stories of the early morning was seventeen-year-old Red Gerard winning the slopestyle snowboarding event, becoming the first Winter Olympic medallist born this millennium.
Be sure to join us tomorrow, when medals will be decided for eight events including biathlon, figure skating and freestyle skiing. Thanks for your company.
As it happened
15:09 — Women's Ice Hockey: Canada added to that 3-0 second-period lead to beat the Olympic Athletes from Russia 5-0. That result powers them to the top of Group A, a superior goal difference putting them ahead of the US.
14:55 — Luge: David Gleirscher takes the gold medal in men's individual luge, preventing Germany's Felix Loch, a two-time gold medalist, from completing his Olympic hat trick.
14:33 — Luge: Huge mistake from Felix Loch! He is now off the podium after leading in total time for the first three rounds.
14:30 — Women's Ice Hockey: Behind three second-period goals — from Rebecca Johnson, Haley Irwin and Melanie Daoust — Canada takes a 3-0 lead over the Olympic Athletes from Russia.
14:25 — Freestyle Skiing: France's Perrine Laffont has won gold in Ladies' Moguls, with Justine Dufour-Lapointe of Canada winning the silver and Yulia Galysheva of Kazakhstan the bronze.
14:22 — Women's Ice Hockey: Canada strike again in the second period to take a 3-0 lead over the Olympic Athletes from Russia. Meghan Augusta picks up the puck off of a turnover in the neutral zone and Melanie Daoust, who one-times her finish for the goal.
14:03 — Canada doubles their lead over the Olympic Athletes from Russia with a power play goal from Haley Irwin.
13:59 — Women's Ice Hockey: Canada takes the 1-0 lead as Rebecca Johnson one-times a shot in front of goal. The Olympic Athletes from Russia still only have five shots in the game.
13:43 — Women's Ice Hockey: Canada and the Olympic Athletes from Russia are scoreless at the first intermission. Canada registered 15 shots in the first period, OAR only five.
13:23 — Luge: Felix Loch leads the field in the men's individual luge going into the final run (begins 14:00 CET). Crhis Mazdzer had the fastest third run with a time of 47.534 seconds.
13:21 — Biathlon: Germany's Arnd Peiffer has secured the victory in the 10-kilometer sprint!
Here are the top 10 results:
Arnd Peiffer (Germany): 23:38.8 *Gold
Michal Krcmar (Czech Republic): 23:43.2 *Silver
Dominik Windisch (Italy): 23:46.5 *Bronze
Julian Eberhard (Austria): 23:47.3
Erlend Bjoentegaard (Norway): 23:56.2
Benedikt Doll (Germany): 23:56.4
Simon Schempp (Germany): 24:00.2
Martin Fourcade (France): 24:00.9
Lukas Hofer (Italy): 24:09.8
Erik Lesser (Germany): 24:10.7
13:00 — Women's Ice Hockey: Canada and the Olympic Athletes from Russia face off in their preliminary round game.
12:15 — Biathlon: The Men's 10-kilometer sprint is underway! Each athlete will start staggered and the man with the best time will wind the gold.
11:00 — South Korea is investigating the cyber breach that occurred at Friday's opening ceremony. Read the full story
10:48 — Women's Ice Hockey: The United States beats Finland 3-1 in their first game of the preliminary round. Monique Lamoureux, Kendall Coyne and Dami Cameranesi scored for the United States after Finland's Velna Hovi opened the scoring in the first period.
10:46 — Women's Ice Hockey: Dami Cameranesi scores on Finland's empty net to increase the US's lead over Finland to 3-1.
10:02 — Speed skating (Oval): Sven Kramer has won the gold medal in the Men's 5000m after setting an Olympic record.
Here are the full results:
Sven Kramer (Netherlands) — 6:09.76 *Gold *Olympic Record
Ted-Jan Bloemen (Canada) — 6:11.616 *Silver
Sverre Lunde Pedersen (Norway) — 6:11.618 *Bronze
Peter Michael (New Zealand) — 6:14.07
Lee Seung-Hoon (South Korea) — 6:14.15
Jan Blokhuijsen (Netherlands) — 6:14.45
Bart Swings (Belgium) — 6:14.57
Nicola Tumolero (Italy) — 6:15.48
Seitaro Ichinohe (Japan) — 6:16.55
Patrick Beckert (Germany) — 6:17.91
Alexis Contin (France) — 6:18.13
Moritz Geisreiter (Germany) — 6:18.34
Simen Spieler Nilsen (Norway) — 6:18.39
Nils Van Der Pool (Sweden) — 6:19.06
Bob De Vries (Netherlands) — 6:22.26
Ryosuke Tsuchiya (Japan) — 6:22.45
Livio Wenger (Switzerland) — 6:24.16
Havard Bokko (Norway) — 6:24.51
Davide Ghiotto (Italy) — 6:29.25
Andrea Giovannini (Italy) — 6:30.71
Emery Lehman (United States) — 6:31.16
Adrian Wielgat (Poland) — 6:31.06
10:00 — Women's Ice Hockey: United States take a 2-1 lead over Finland in the second period thanks to goals from Monique Lamoureux-Morando and Kendall Coyne.
9:46 — Women's Ice Hockey: United States takes the 2-1 lead in the second period after Kendall Coyne slaps a terrific pass from Hilary Knight into the back of the net.
9:41 — Women's Ice Hockey: United States has leveled the score in the second period. Jocelyne Lamoureux-Davidson keeps the puck on the forecheck from Finland long enough for her sister, Monique Lamoureux-Morando, to collect the puck. Lamoureux-Morando cuts across from the left wing and, after two blocked attempts, sticks the puck into the back of the net.
9:10 — Women's Ice Hockey: Finland leads the United States 1-0 after one period. Venla Hovi scored just before the horn to give Finland the lead.
8:31 — Cross Country Skiing: Norway sweep the podium in the 15km+15km skiathlon. Simen Hegstad Krueger takes the gold with a time of 1 hour, 16 minutes and 20.0 seconds. Martin Johnsrud Sundby takes silver and Hans Christer Holand takes bronze.
8:10 — Cross Country Skiing: The men's 15km+15km is now in the last 9 kilometers! Hans Christer Holund (Norway) is currently leading the pack.
06:48 Canada cruising in Figure Skating Team event
We highlighted Tessa Virtue and Scott Moir's sensational performance as part of the Figure Skating Team event earlier in the live blog, but they aren't the only Canadians who have dazzled. Canada are currently six points clear of OAR in second and on course for Gold.
06:20 Women's Slopestyle becomes second cancelled event
The Snowboard Women's Slopestyle qualification heats have followed the Men's Downhill event in being cancelled for today due to high winds.
It is understood that it will be rescheduled for 03:00 CET on Monday.
05:49 Styling it out!
We're down to the final five in the Figure Skating Team event. Canada have a commanding lead, but Japan, Italy, OAR and the United States are still in the mix.
05:20 Women's Slopestyle delayed
If the Snowbaord Men's Slopestyle final left you wanting more then fear not. We've got the qualifying for the Women's Slopestyle final coming shortly, but unfortunately to start of the event has been delayed by half an hour.
So instead of getting the action underway 05:30 CET, we'll have to wait until 06:00 CET.
04:48 Back to the ice!
We've already enjoyed some Curling action, but our attention now turns to the Figure Skating.
In the team event, reigning world champions and three-time Olympic medallists, Tessa Virtue and Scott Moir, dazzled to strengthen Canada's hold on the competition. We're in the early stages of the event. Teams are composed of one man, one woman, one pair and one ice dance couple.
We'll eventually be left with the five best teams, with the medals being decided tomorrow.
The first day of the team competition, which included the men's and pairs short programmes, concludes when the women skate their short programme later on Sunday.
04:31 Gerard reacts to shock Gold medal win
Just a few months ago Red Gerard was quoted saying: "I don't even know what the Olympics is". Now the 17-year-old has left an indelible mark on them.
04:23 McMorris' incredible story
Just to stick with the Slopestyle for a little while longer, it's worth noting that heading into Run 3, Mark McMorris was on course to claim Gold.
In the end he had to settle for Bronze, but given that he fought his way back from life-threatening injuries. In a backcountry fall, he fractured his jaw, left arm, pelvis, multiple ribs, suffered a collapsed left lung and ruptured his spleen.
04:15 One down, five to go
17-year-old Red Gerard claimed Gold in the Men's Slopestyle final, but there are still more medals on offer on Day 2 and plenty of mouthwatering action still to look forward to. Give yourself a pat on the back if you're still staving off sleep!
Cross-Country Skiing; Men's 30km Skiathlon (07:15)
Speed Skating; Men's 5,000m (08:00)
Luge; Men's 3rd & 4th run (10:50)
Biathlon; Men's 10km sprint (12:15)
Freestyle Skiing; Women's Moguls (13:05)
Reminder: The Men's Downhill has been postponed until Thursday due to high winds.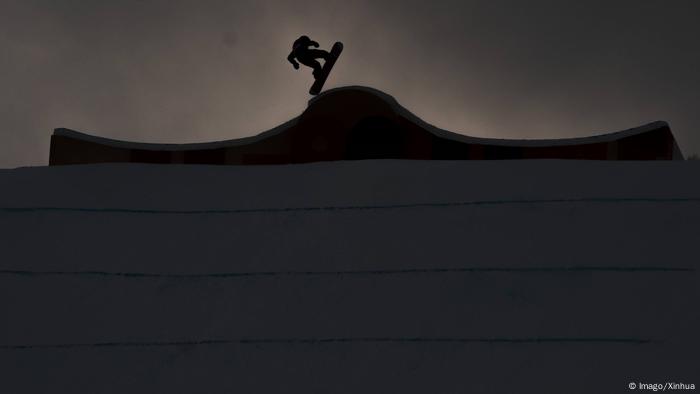 The Snowboard Men's Slopestyle final threw up thrills and spills right to the last.
03:56 Playoff required in Mixed Doubles Curling
A decision has been made regarding the Mixed Doubles Curling semi-finals. As you may remember, Canada, Switzerland and Olympic Athlete from Russia all safely made it through.
China clinched a 9-3 win over Norway in Round Robin Session 7, meaning that the two teams have finished level and must play-off for a spot in the final four at 12:05 CET. Drama!
Final results:
Norway 3-9 China
Finland 7-5 United States
Switzerland 9-8 Olympic Athlete from Russia
Canada 7-3 Republic of Korea
03:31 Gold for 17-year-old Gerard!
Congratulations, Red Gerard, who claims the first medal of the day in the Men's Slopestyle final.
After two poor runs, the 17-year-old pulled it out of the bag on his final run with a score of 87.16. He even hit a double-cork 1260 and becomes the youngest American to win an Olympic Snowboarding medal.
Canadian Max Parrot has to settle for silver despite a stunning final run, while compatriot Mark McMorris claims third.
03:12 Curling to be confirmed!
Update from the curling: China, who needed a win to progress, collected a resounding 9-3 win over Norway, who themselves are now in danger of going out.
However, so complex are the permutations, the official Olympics website has not published the final table yet....
02:49 Gearing up for a big Run 3
Changes at the top of the leader board in the Men's Slopestyle final!
Norway's Staale Sandbech took top spot with a score of 81.01 after landing now one, but two 1440s.
However, Mark McMorris, who suffered a life-threatening crash just last year, stomped his third run to score 85.20 moving him up into gold medal position.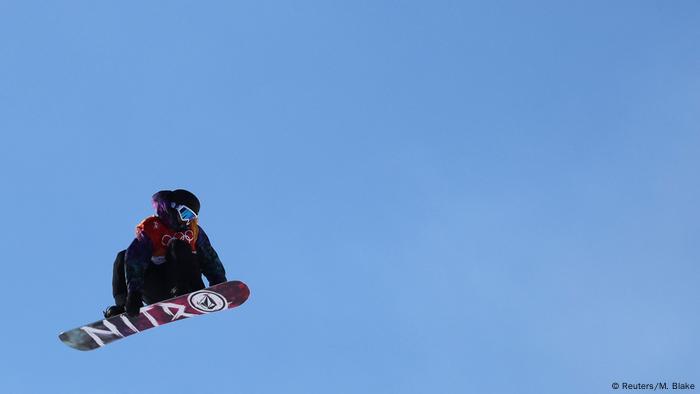 Torgeir Bergrem of Norway lays down his second run in the Men's Slopestyle final.
Garcia Knight is now in third thanks to his first run score, but there were some solid combinations landed on Run 2.
With things so tightly poised, expect some massive tricks to be thrown out in the final round.
02:22 Garcia Knight lays down marker
After Run 1, New Zealand's Carlos Garcia Knight has set the early pace in the slopestyle final, registering a score of 78.60.
Norway's Marcus Kleveland sits in second, just ahead of Canada's Mark McMorris.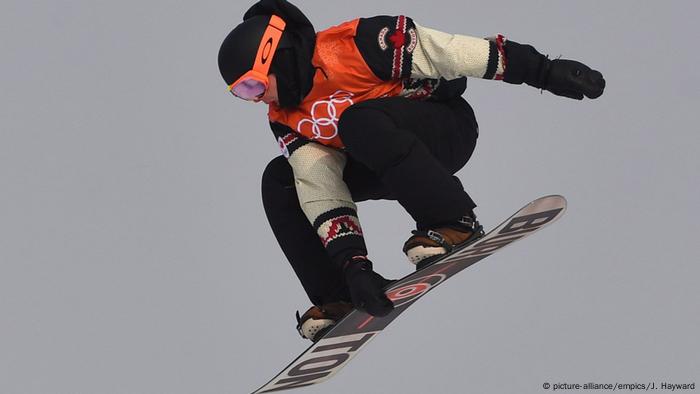 Canada's Mark McMorris hits big air in the Phoenix Snow Park.
We've seen some BIG tricks, including a 1440 and a 1620 - four and a half rotations!! - but none of the riders have put down a flawless run so far.
Expect big things from the next two runs now the benchmark has been set.
02:00 First medal up for grabs
The Snowboard Men's Slopestyle - the first medal event of the day - is about the get underway at the Phoenix Snow Park.
There are 12 men involved, with Canada and Norway boasting four finalists apiece. Each rider will take to the slope three times. The best score from the three runs counts and the man with the highest score will be the Olympic champion.
After qualifying for the finals, Norwegian snowboarder Marcus Kleveland appeared pretty laid back: "I'm not going to work on anything. I'm just going to go home, eat some pizza and relax for tomorrow!"
01:50 Halftime in the curling
If you're new to curling, basically, the idea is to get your stones as close to the centre of the target as possible.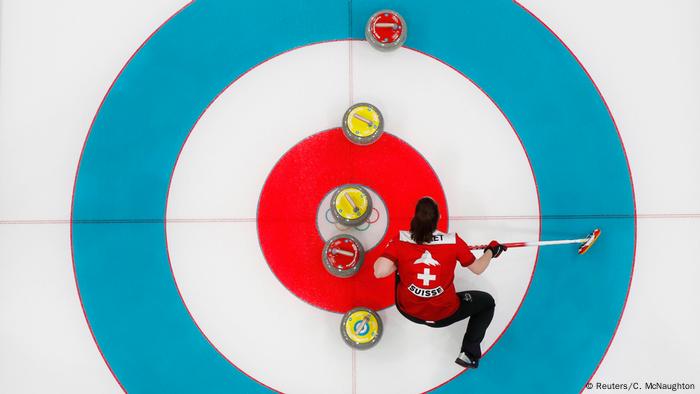 Six nations are battling it out to join Canada and Olympic Athlete of Russia in the semi-finals.
There are eight ends in a mixed double match. The team with the most points at the conclusion, wins.
Here are the scores at the halfway stage.
Norway 2-4 China
Finland 2-2 United States
Switzerland 2-7 Olympic Athlete from Russia
Canada 4-2 Republic of Korea
01:40 Men's downhill event rescheduled
An update on the news we brought you earlier regarding the Men's Downhill event.
Having been postponed due to high winds on Sunday, the event will now take place on Thursday 03:00 CET.
As a result the Super-G event will be moved to Friday at the same time.
01:15 Curling kicks-off the action
The first event of the day is Round Robin Session 7 in the Mixed Doubles Curling. Canada currently lead the way with five wins from six, but Norway, Switzerland and the Olympic Athlete from Russia are hot on their heels with four, while Finland will be looking for their first win of the competition. Here are the match-ups:
Norway vs China
Finland vs United States
Switzerland vs Olympic Athlete from Russia
Canada vs Republic of Korea
00:59 BREAKING: Men's Downhill postponed
The men's Olympic downhill event has been postponed. The Jeongseon Alpine Centre was closed because of high winds a few hours before the scheduled start, while gusting winds of up to 39 knots (72 kilometres per hour) were forecast for Sunday.
It is yet to be confirmed when the first race of the 11-event Alpine program will take place.
Read more: Recap all the action from Day 1 of the Winter Olympics
00:45 Good morning!
The Winter Olympics got underway in fine fashion on Saturday and, with Germany sitting atop the medals table after taking two golds, Day 2 in Pyeongchang offers the chance for yet more drama, glory and medal-winning exploits.
If you, like me, are up at the crack of dawn to catch the action from South Korea then buckle up! We've got seven medal events to get our teeth stuck into starting with the Men's Slopestyle Snowboard. Here's an overview (all times CET):
Snowboard; Men's Slopestyle (02:00)
Alpine Skiing; Men's Downhill (03:00)
Cross-Country Skiing; Men's 30km Skiathlon (07:15)
Speed Skating; Men's 5,000m (08:00)
Luge; Men's 3rd & 4th run (10:50)
Biathlon; Men's 10km sprint (12:15)
Freestyle Skiing; Women's Moguls (13:05)