The sound of nature is all around at the Brauneberg-Mandelgraben vineyard in Germany's wine country, near the Luxembourg border. Emerald lizards are sunbathing while various rare bird species can be found in the slate walls and between the vines.
The Karp-Schreiber winery in Brauneberg is part of the Moselle biodiversity project. The variety of species and habitats is finely balanced here. Natural environments are important for wine production.
"It's good for nature and the wine," says winemaker Jobst Karp, whose wine has won several awards.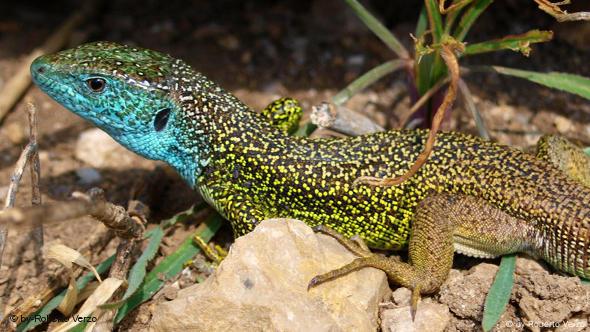 The eastern green lizard is among species that can thrive in a vineyard when some habitat is provided
Wine is nature
Bees have returned to the Moselle valley, with some 150 species counted, along with many types of butterflies. The diversity project aims to harmonize the habitat of animals and plants with the tradition of viticulture in the region, using steep-slope viticulture.
The spaces of earth between the vines, known among winemakers as alleys, are green and blooming. Slate walls have been built between the rows of vines, creating additional habitat for reptiles and amphibians.
Ecosystems with a high level of biodiversity are more resistant to the challenges of climate change. Soil in these environs holds water better, preventing erosion. It's an environment hostile to pests.
In addition, colorful and lively vineyards attract tourists, which is becoming increasingly important for German steep-slope wine-growing regions such as the Moselle.
Germany promotes biodiversity in the vineyard
German Environment Minister Svenja Schulze also wants Germany's vineyards to be more colorful and diverse. The ministry supports winegrowers financially. A total of around €4.4 million ($4.7 million) is available for the project over a period of six years. Ever more winegrowers, Schulze said in a statement, have recognized "that the biodiversity of their areas is declining sharply, and they are ready to do more for biological diversity."
The approximately 100,000 hectares on which wine is grown in Germany comprise an "indispensable cultural landscape" upon which plants, insects, reptiles and birds must be specifically protected, the government says. In its federal program for biological diversity, the German Environment Ministry works together with the Fair'n Green, a system for sustainable viticulture, and Geisenheim University, which specializes in viticulture.
Pilot project for sustainability
Ilona Leyer from the university is particularly proud of one project: her vineyard laboratory at Assmannshäuser Höllenberg, a well-known winery. Leyer is a professor of applied ecology and is deeply passionate about her project.
The vineyard was completely redesigned at the beginning of 2018, with steep vertical slopes becoming horizontal transverse terraces. The terraces were then greened and replanted with vines. "This is a step toward the paradigm shift that German viticulture needs," explains Leyer.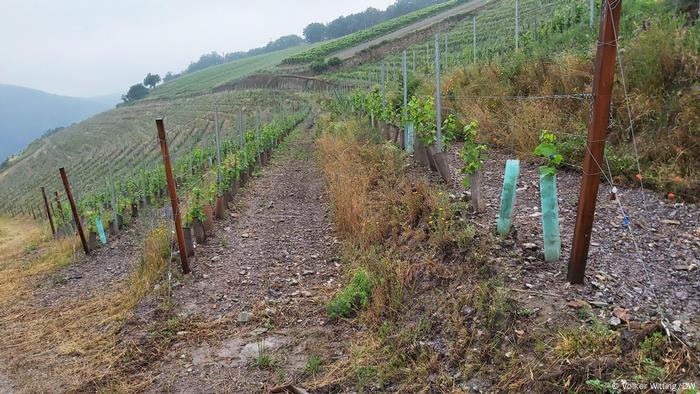 Horizontal transverse terraces like these at the vineyards in Höllenberg offer better protection against extreme weather
In the past few decades, labor-intensive viticulture on steep slopes has declined sharply and the landscape has become less productive due to fallow land. "Viticulture has become more monotonous; you can hardly find habitats such as transverse walls, seams and ditches," explains the scientist.
The biodiversity that existed in vineyards just a few decades ago is fading. In addition, too many pesticides and fertilizers are used. But in Höllenberg, it's a different story. Animals and plants have returned. "The vineyard is alive and biodiversity is coming back," says the scientist.
Protection against extreme weather
Transverse terraces have other advantages: They are easier to cultivate with machines than steep slopes, which require a lot of strenuous manual labor. They also offer more protection in extreme weather, such as heavy rains, such as recently occurred in Rhineland-Palatinate and North Rhine-Westphalia.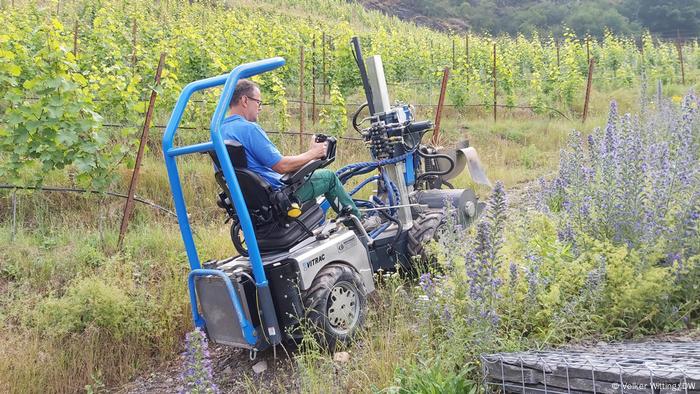 Steep slopes are harder to access with machines that reduce strenuous manual labor
Water may collect in the alleys, seeping into the ground instead of rushing into the valley or rivers, as is the case with steep slopes.
But the Höllenberg vineyard is only a pilot project. Experts do not expect a rapid boom in the cultivation of transverse terraces in former steep slopes. For a start, vineyards would have to be redesigned and replanted in a complex and expensive way using large machines.
Sustainability in the vineyard — and the cellar
Winemaker Theresa Breuer knows what she wants. The energetic woman with muscular upper arms wants to work sustainably in the vineyards and in the cellar. "For us, working sustainably in the vineyard, but also in the social environment with our team, has long been a topic where we have already taken our first steps," says the winemaker from Rüdesheim am Rhein.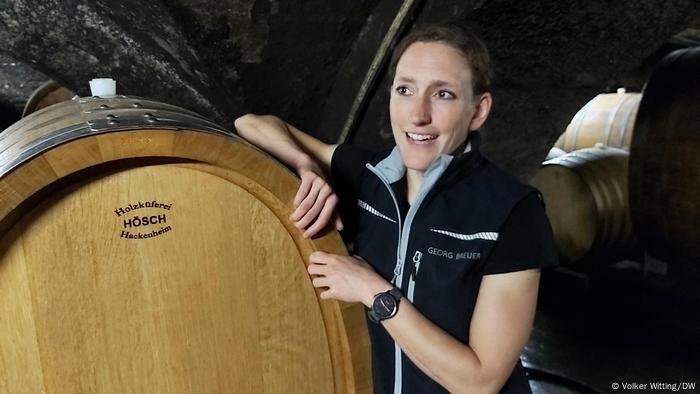 Winemaker Theresa Breuer has been prioritizing sustainability both in the vineyards and in the cellar
She has joined the Fair'n Green association. The logo is included on every bottle filled by the Georg Breuer winery. The association is also supported by the environment ministry, and has set itself the goal of taking economic, ecological and social aspects of viticulture into account.
The Breuer winery is amongvaround 80 companies that are participating. The association's 10 advisors are on hand to provide help and advice to the winemakers.
How do I better control the use of pesticides? Do I still need them? How can my business shift to green electricity? How much CO2 emissions can I save by using lighter cylinders? The association advises winegrowers on all these questions.
This article was researched with the help of the German Wine Institute (DWI) and has been adapted from the original German