It is not a question of if, but when. Most experts agree that North Korea's latest nuclear test in September 2016 will not be the last. And although no one can predict when the next test is coming, the rumor mill is heating up. Right now there are many factors coming together indicating that the isolated country could soon make the ground rumble by setting off a new device.
North Korea's leader Kim Jong Un celebrates his birthday on January 8, and there previously have been two nuclear tests corresponding with birthdays in North Korea's ruling family. The first was in February 2013, a few days before the birthday of ex-dictator Kim Jong Il, who had died a year earlier.
The second test was on January 6, 2016, when North Korea said they had successfully detonated a hydrogen bomb for the first time. This claim was doubted internationally and experts assumed the test was merely of a "conventional" device.
Experts are also looking with concern at the inauguration of US President-elect Donald Trump on January 20. This could present a welcome opportunity for Kim to demonstrate strength with an act of provocation.
Kim's New Year's speech broadcast on state television also lent credibility to this speculation. "We are in the end phase of preparations for an intercontinental ballistic missile test launch," he said, adding that North Korea would "soar" as a "military power of the east that cannot be touched by even the strongest enemy."
Is there substance to the speculation?
Along with North Korea experts, the press, especially in South Korea, is currently preoccupied with speculation over the intentions of its neighbor. "Who can keep North Korea under control?" asked a commentary at the end of December published in the South Korean daily "Chosun Ilbo," asserting that North Korea could take advantage of the political chaos in the South to carry out further provocations. In the current political climate, this would present a volatile situation for the South.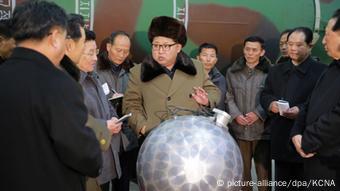 Kim Jong Un talks with nuclear research scientists in March 2016
"What will Seoul do if the North conducts another nuclear test in the coming months? The current provisional government is in no condition to deal with this kind of situation."
After Kim's New Year's speech, another commentary published in "The Korea Times" asked what consequences the international reaction at another nuclear test would entail. "Let's say, that during US President Trump's first week in office, a North Korean long-range missile is launched over Japan and lands off the California coast or on Hawaii." The commentary outlines four possible responses: military, rhetorical, appeasement or none of the above.
"The right answer for the moment is the fourth option, because the first three have failed as they were not conducted as part of a larger plan. The fourth option would give us time to reset our strategy."
Caution is advised
Amidst speculation and strategic forecasting, maintaining a cautious tone is also advised in South Korea. Cha Du-Hyeogn, responsible for crisis information for former South Korean President Lee Myung-Bak, published a commentary on the news website NK News in which he advised against jumping to conclusions. "It is a forced interpretation to think that North Korea will soon conduct another intercontinental ballistic missile test," he said. "We shouldn't forget that North Korea conducted a range of nuclear and ballistic missile tests in 2016 and none of this was mentioned in Kim's 2016 New Year's speech."
Sungtae Park, an international security specialist at the US Council on Foreign Relations, recently wrote in "The Diplomat" that the strategy of the new US administration will play a decisive role for North Korea.
According to Park, the most important factor is the place North Korea takes on the Trump Administration's list of priorities. If North Korea outranks other foreign policy objectives, and if Trump is willing to use sanctions and even military force against North Korea, according to Park, there is still the problem of diplomacy. "Is the US ready to send a top negotiator to North Korea who would meet for talks with Kim Jong Un without preconditions?" he said, adding that this would be the only way to create new space for diplomacy.
Time to change strategy?
North Korea expert Rüdiger Frank, professor of East Asian Studies at the University of Vienna told DW after the last nuclear test in September 2016 that an entirely new approach was necessary. He said that the attempts of the international community to prevent North Korea from developing further nuclear weapons were a "colossal failure."
"We saw how sanctions were tightened again and again, both diplomatically and economically," said Frank. "In March 2016, the severest sanctions so far were applied, which affected nearly every sector of North Korea's foreign commerce. And still, the North Koreans continued."
From this perspective, one could conclude that the entire strategy since the first nuclear test in 2006 has been wrong. "If we continue like this, we shouldn't wonder when there is a sixth, seventh and eighth test," said Frank.
No one can say right now if a sixth North Korean nuclear test is imminent or if they will take advantage of political transformations in the US and South Korea to fire missiles. In any case, North Korea's young dictator will celebrate his birthday on Sunday, January 8. He is said to be turning 32 or 33 but his real age is shrouded in mystery, as are his intentions for his beleaguered country in the coming year.