A crowd of up to 100,000 gathered before the seat of Romanian government in Bucharest on Friday to protest government corruption and demand early elections. Many of the protesters were Romanian emigrants who usually live and work abroad. Angry with the left-wing Social Democratic Party (PSD) and its leader, Liviu Dragnea, expats had organized themselves on social media and traveled home in order to attend the rally.
Read more: Opinion: What is happening in Romania is not democracy
A small group of protesters attempted to storm the government building and clashed with police. The security forces responded with overwhelming force, using tear gas and water cannon. More than 450 people were injured, including a DW correspondent who was beaten by police. Several gendarmes were also injured. The scale of police violence prompted another, smaller rally in Bucharest on Saturday, with protests also held in other Romanian cities.
Why are expats upset with the government?
Romanians living abroad are predominantly protesting the PSD and Dragnea, accusing him of corruption and skewing the country's laws to sort out his own legal troubles.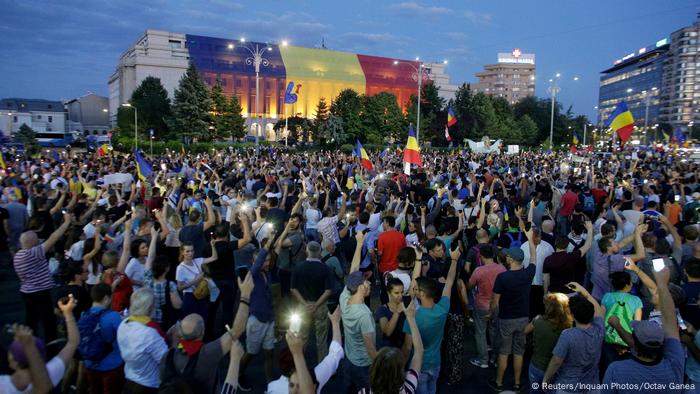 More protests like this one are expected
The 55-year-old Dragnea is widely considered the country's most powerful politician. However, he was kept out of the prime ministerial seat by a conviction for electoral fraud and serves only as the parliamentary speaker. He was also given a three-and-a-half-year sentence for abuse of office in June, although the verdict is not final.
The PSD and Dragnea came to power after winning an election in December 2016. Since then, both the cabinet and the lawmakers have attempted to push through legal measures that would ease penalties for graft and abuse of power — presumably to Dragnea's, benefit as well. The popular anti-graft prosecutor Laura Codruta Kovesi was fired in July after her agency prosecuted three ministers, several lawmakers and hundreds of lower-ranking state officials for corruption.
Read more: Romania's Liviu Dragnea faces fresh corruption probe
What prompted expats to return for the protest?
An exceptionally large number of Romania's 20 million citizens live outside of the country, which joined the EU in 2007. According to UN data, 3.4 million moved away between 2007 and 2015 alone. The money they send home plays a key role in keeping the economy of the impoverished country afloat.
PSD members and supporters are angry over emigrants' rejection of the ruling party and anti-PSD rallies that expats have been staging in Western Europe. Recently, party officials have upped the ante by describing expats as "thieves, beggars and prostitutes" and mercenaries of George Soros working to destabilize Romania. The attacks prompted an angry response among the expat community.
ARD correspondent Srdjan Govedarica shared this video clip from Friday's protests on his Twitter account, describing how tear gas was repeatedly used and how protesters were driven from the square but returned again and again.
What happens next?
Tensions remain high in Romania, and were further stoked after one state official said on Facebook that protesters "should have been shot" instead of soaked with water cannon. Separately, PSD lawmaker Catalin Radulescu threatened to bring "a million" PSD supporters to Bucharest and "stamp out" government opponents, according to the Austrian Der Standard.
Romanian President Klaus Iohannis publicly slammed the "brutal intervention of the police" on Friday. Protesters support Iohannis, an ethnic German who won nearly 90 percent of expat votes while running against a PSD favorite in 2014. Iohannis has been opposing the PSD's moves and refusing to sign off on the party's legal initiatives, but his means are limited.
Read more: Romanian President Klaus Iohannis says he won't seek to topple government
Dragnea dismissed calls to resign after the violence on Saturday.
"I want to assure all Romanians that parliament will not allow anybody to dissolve democracy, suspend individual rights and freedoms, change the outcome of the elections, and overthrow order in the Romanian state through violence," he wrote in an open letter.