Eintracht Frankfurt forward Ante Rebic improved his stock greatly after helping Croatia get to the World Cup final.
Several top teams around Europe were reportedly vying for his services, including Manchester United, Tottenham Hotspur, Sevilla and Bayern Munich.
But rather than join one of the big boys, he re-upped with the German Cup champions, extending his contract one year until June 2023.
"Financially there were substantially better offers. But I feel very, very comfortable here," Rebic told a press conference in Frankfurt on Friday.
The Eagles don't normally hold onto their better talents, and this pre-season was no exception. In July, the club was forced to part ways with goalkeeper Lukas Hradecky and midfielders Omar Mascarell, Kevin-Prince Boateng and Marius Wolf. Even their head coach, Niko Kovac, left for greener pastures with Bayern.
For that reason, Rebic's extension came as a very pleasant surprise.
"For us, it is an Eintracht Frankfurt milestone to achieve that," Fredi Bobic, a member of the club's management board, said on Friday.
With three competitions to deal with and a new coach in Adi Hütter to integrate, it was important for Frankfurt to hold onto the player that perhaps defines their fierce identity the most.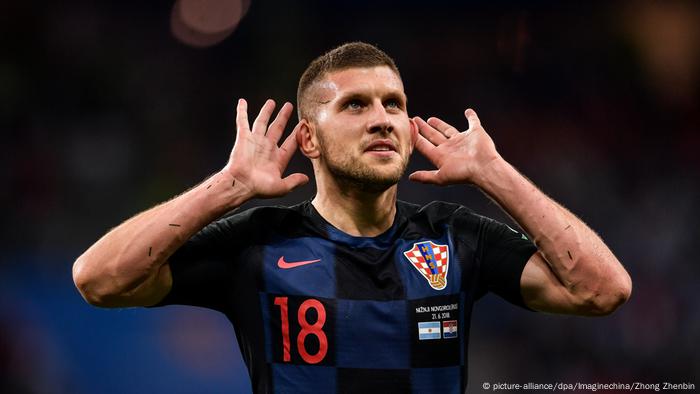 Ante Rebic was a key player for Croatia at the World Cup
'An important player in my system'
If you are looking for a forward that bangs in goals week after week, Rebic is not your guy. He had as many goals (nine) last season as yellow cards and only recorded three assists.
But he is a gritty competitor, a willing defender and effective in several areas of the pitch. He led Frankfurt's aggressive defense from the front, winning 1.5 tackles per game in the Bundesliga — more tackles per game than Bayern's Jerome Boateng had last season.
Other players, including some of the ones they lost, did not have that kind of impact last season. Kevin-Prince Boateng, who joined Sassuolo in Italy's Serie A over the summer, had a similar nasty streak to Rebic, but he didn't have the same intensity the Croatian did.
Rebic also tends to show up when the stadium lights shine the brightest. He scored a brace in the German Cup final to help the Eagles vanquish Bayern and also scored in Croatia's upset over Argentina at the World Cup.
Perhaps most importantly for Hütter, who is about to begin his first season as a Bundesliga coach, Rebic is very versatile, featuring in four different attacking positions for Frankfurt last term.
"He lines up willingly on the left, where he can cut inside. He can play up front on his own or play with two strikers," Hütter said on Friday. "His drive, pace and presence makes him an important player for my system."
Hütter has a lot of new players to integrate into his team, including Bundesliga veteran Nicolai Müller and Portuguese attackers Chico Geraldes and Concalo Paciencia. But Rebic is a player the Swiss coach may be able to lean on, especially as his side battles in the grueling Europa League group stage.
Frankfurt will be hard pressed to repeat the success they had last season, but if they do, Rebic is surely going to be one of the reasons why.