As Majit Gacinovic raced 80 yards, unopposed, towards an empty Bayern net, an entire stadium held its breath.
Moments earlier, Bayern had been awarded a corner despite calls for a penalty. It was too late to squabble as goalkeeper Sven Ulreich made the long journey to the opposition penalty area. It would prove to be a fatal move.
The corner was cleared, releasing Gacinovic on the egde of his area. Coretin Tolisso was skinned as the Frankfurt midfielder charged towards an empty half. The resulting finish was a remarkable feat of stamina and composure; a fitting end to a thrilling, bruising battle in Berlin's Olympic Stadium.
Living up to the billing
This game had been built-up so much more than a mere cup final. In both dugouts, coaches were facing their final matches in charge. Jupp Heynckes bows out with a bitter defeat, while his successor, Nico Kovac, celebrates one last hurrah with his fearless underdogs.
Frankfurt took an early lead thanks to a spell of aggressive pressing, forcing the usually composed James Rodriguez into an uncharacteristic mistake. It wouldn't be his last. The Colombian conceded posession in his own half, before Frankfurt midfielder Kevin-Prince Boateng picked out Ante Rebic on the run. He slotted home expertly to give his side the lead.
Lewandowski fired Bayern level in the 53rd minute after Joshua Kimmich's low cross found him in the penalty area. The Pole had enjoyed a frustrating evening until that point but rediscovered his scoring touch to drag his side back into the game.
Neither team let up. Bayern went close several times, with Lewandowski at the heart of the action on every occasion. Frankfurt refused to be cowed. Kovac's men continued to press, hunting in packs in the hope of forcing a second error.
The plan worked. James again was at fault as the ball was turned over deep in the Frankfurt half. Danny da Costa's first time ball over the top surprised everyone but Rebic, who controlled the ball and dinked it beyond a helpless Ulreich.
Wild end to affairs
The referee, complicit in an evening of wild entertainment, insisted on consulting the VAR in order to investigate a possible Boateng handball. It was deemed innocuous enough and the goal stood.
Frankfurt were on the verge of a first piece of silverware since 1988 when Javi Martinez was brought down in the area. The resulting protests were the first incident in a series which led to Gacinovic's glorious gallop towards the empty Bayern net.
Frankfurt fans stormed the pitch to celebrate with their heroes, as Bayern players surrounded the referee. Their protests fell on deaf ears.
Dramatic to the bitter end: Frankfurt are German Cup champions.
+++++++RELIVE EVERY MOMENT IN OUR MINUTE BY MINUTE REPORT+++++++
FULL TIME! Bayern 1-3 Frankfurt
FRANKFURT ARE THE GERMAN CUP WINNERS 2018!
FULL TIME! Bayern 1-3 Frankfurt
A lot is being made of Bayern not staying out on the itch to see Frankfurt crowned champions and Lothar Matthäus has weighed in: "It was a decision that didn't show respect. Bayern need to ask themselves what went on there. I don't think it was a fair way of going about things."
FULL TIME! Bayern 1-3 Frankfurt
I wouldn't be surprised if Rob lost his voice commentating the game! A thrill-a-minute alongside Steffen Freund.
FULL TIME! Bayern 1-3 Frankfurt
The scenes at the full time whistle.
FULL TIME! Bayern 1-3 Frankfurt
Captain David Abraham and Alexander Meier lift the German Cup, Frankfurt's first piece of silverware in 30 years!
Congratulations to the Eagles - worthy winners!
FULL TIME! Bayern 1-3 Frankfurt
Disappointing display from Bayern.
FULL TIME! Bayern 1-3 Frankfurt
Frankfurt's heroes are heading onto the stage to collect their trophy.
FULL TIME! Bayern 1-3 Frankfurt
Bayern bottle job? That's football. The women fail to topple favourites Wolfsburg, while the men fall short of doing the double as favourites.
Jupp Heynckes' final game in charge doesn't have a fairytale ending.
FULL TIME! Bayern 1-3 Frankfurt
Rebic was the Man of the Match on the pitch, but the Man of the Night is Niko Kovac, who claims a first title win of his coaching career.
Lothar Matthäus says he's "left Frankfurt on the perfect note" ahead of his move to Munich in the summer. Bayern have got a taste of what's to come, but his accomplishments with the Eagles are nothing short of extraordinary. Two cup finals in two years and, on the back of tonight's win, Frankfurt will qualify for next season's UEFA Europa League.
FULL TIME! Bayern 1-3 Frankfurt
Man of the Match Ante Rebic to Sky Sports Germany: "I'm delighted that we've won the cup, the first trophy for Frankfurt in 30 years. I was pleased to score twice. I'm the Man of the Match, but the team is the most important. I scored twice, but I'd never have done it without the team."
FULL TIME! Bayern 1-3 Frankfurt
It all comes full circle!
FULL TIME! Bayern 1-3 Frankfurt
Frankfurt sporting director Bruno Hübner talking to Sky Sports Germany: "We talked before the game about doing something historic. Niko Kovac put on a tactical masterclass today. We played incredibly well and will enjoy every second of this moment."
FULL TIME! Bayern 1-3 Frankfurt
Lothar Matthäus is perplexed as to how Bayern weren't awarded a penalty in the dying minutes of extra-time.
It's a talking point no doubt, but do to is Bayern's inability to convert chances from open play.
90+6' - GOAL! Bayern 1-3 Frankfurt
It all happened so fast. Felix Zwayer checks the monitor and doesn't give the penalty.
Bayern take the corner, Gacinovic breaks free and with Ulreich at the other end of the pitch, the Serbian international runs the length of the field to tap into an empty net. AND IT'S ALL OVER!
FRANKFURT HAVE WON THE GERMAN CUP FINAL!
90+3' - Bayern 1-2 Frankfurt
Ulreich is up for the last corner. Scramble in the box and Bayern want a penalty!
90+3' - Bayern 1-2 Frankfurt
Bayern keep pumping the ball into the box to no avail. the delivieries aren't good enough.
At the other end, David Abraham breaks down the other end and holds off challenges to take precious seconds off the clock.
90' - Bayern 1-2 Frankfurt
FOUR MINUTES ADDED ON! Is there a twist left in the tale?
87' - Bayern 1-2 Frankfurt
Sandro Wagner has entered the fray, while Hummels and Süle are both staying forward to add numbers to Bayern's attack. Can Frankfurt hang on to clinch their first piece of silverware since 1988 and with it European qualification?
82' - GOAL! Bayern 1-2 Frankfurt
The man of the moment, Ante Rebic bags his brace!
Boateng wins possession in midfield and when the ball is hoofed forward, the Eagles striker is onto it in a flash, racing clear of Hummels and Süle to poke the ball beyond Ulreich.
Hold on though, referee Felix Zwayer has gone to VAR. He looks at his monitor. The goal STANDS though!
80' - CHANCES AT BOTH ENDS! Bayern 1-1 Frankfurt
For the second time tonight, Bayern hit the crossbar. Mats Hummels' header beats Hradecky, but comes back off the bar before Frankfurt scramble the ball the clear to Ante Rebic.
Up against Süle and Kimmich, the Eagles striker tries to curl one to the far post and fires wide.
79' - Bayern 1-1 Frankfurt
That moment.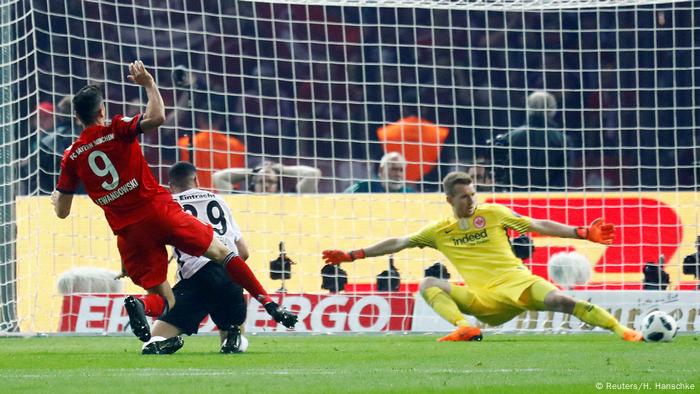 Robert Lewandowski levels the scores on the night for Bayern against Frankfurt.
76' - HOW DID IT NOT GO IN? Bayern 1-1 Frankfurt
Bayern are the team looking likeliest to score here. Ribery times a pass perfectly for James. The Colombian works the channel before flicking the ball towards the back post.
Lewandowski and Russ both appear to get a touch as the ball sails a whisker past the frame of the goal. So close!
72' OVER THE BAR! Bayern 1-1 Frankfurt
He hit the bar with his first free-kick, fired wide with his second and it wasn't a case of third time lucky for Lewandowski as he curls this one well over the bar.
69' - WHAT A CHALLENGE! Bayern 1-1 Frankfurt
Bayern look set to make it 2-1 after a lovely dummy from Thomas Müller plays in substitute Corentin Tolisso. The Frenchman's first touch shows just enough of the ball to Makoto Hasebe who makes a stunning last-ditch tackle to deny the chance.
65' - SAVE! Bayern 1-1 Frankfurt
A Frankfurt corner is cleared to the edge of the area where Omar Mascarell is ready to send a first-time volley fizzing towards goal. Ulreich can only parry and Frankfurt have another corner... and another...
62' - Bayern 1-1 Frankfurt
This is ridiculous for a right-back. What a season Kimmich has had.
59' - WIDE! Bayern 1-1 Frankfurt
Mats Hummels get on the end of James' corner, but glances his header wide of the target.
In the aftermath, Marius Wolf has been replaced by Mijat Gacinovic. Fresh legs for the counter?
55' - CHANCE! Bayern 1-1 Frankfurt
Kimmich again finds a pocket of space in behind. I just wonder if that's something Bayern and Jupp Heynckes' picked up on.
Süle played him in for the goal, but this time it's a diagonal pass from Matt Hummels that releases the right-back. Unfortunately for Bayern his devilish drilled cross doesn't get the vital touch from a teammate.
53' - GOAL! Bayern 1-1 Frankfurt
Bayern are level. The German Cup's top scorer adds another to his account as Robert Lewandowski's sixth goal of the season makes it all square.
Kimmich gets in behind Frankfurt's backline and has time and space to pick out a teammate, finds the Pole with his pull back and, well you know the rest...
Frankfurt are playing with fire letting Kimmich in behind like that.
50' - OFFSIDE! Bayern 0-1 Frankfurt
Thomas Müller thought he had gotten in behind, but is denied by the offside flag. The pace has changed a bit in the second half.
47' - HALF CHANCE! Bayern 0-1 Frankfurt
Kevin-Prince Boateng turns a long-range header on target, but it's an easy save in the end for Sven Ulreich.
SECOND HALF! Bayern 0-1 Frankfurt
Right. After the silliness subsides, we're back underway.
Frankfurt are 45 minutes away from getting their hands on silverware for the first time since 1988, but writing Bayern off is one of the most foolish things anyone could do right now!
SECOND HALF! Bayern 0-1 Frankfurt
We were ready to get underway, but there's a significant amount of smoke coming from both ends of the stadium.
HALF TIME! Bayern 0-1 Frankfurt
Too soon?
"In Heynckes' position I'd bring on Wagner. Or has he stepped down already?"
HALF TIME! Bayern 0-1 Frankfurt
It's not going to script, but...
HALF TIME! Bayern 0-1 Frankfurt
Frankfurt will be loving life as they go in at the break a goal to the good against Bayern. Niko Kovac's gameplan has taken great effect with Kevin-Prince Boateng and Ante Rebic's industry on the counter and a tight backline causing the Bundesliga champions all sorts of problems.
That being said, Frankfurt's threat has come in fits and bursts, while Bayern's has been more consistent. Jupp Heynckes' men have created plenty of chances, they just haven't been able to convert. Rebic's goal in the 11th minute is the difference at the break.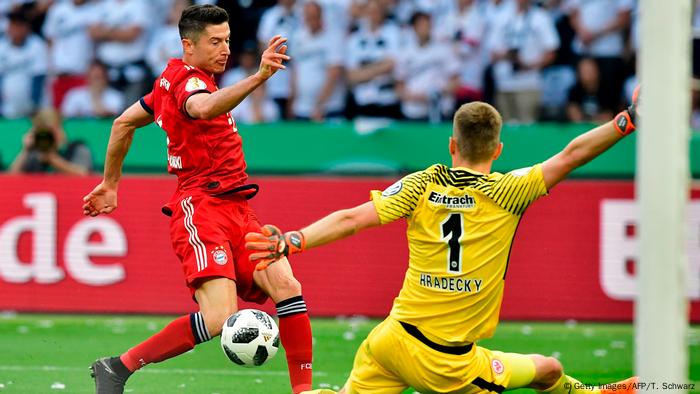 Bayern have 45 minutes left to find their finishing touch in front of goal against Frankfurt.
41' Bayern 0-1 Frankfurt
I maybe wouldn't go as far as the Eagles Twitter account... Bayern have had chances, but Frankfurt are nevertheless deserving of their lead.
37' - WHAT A CHANCE! Bayern 0-1 Frankfurt
Frankfurt break down the left with Rebic. His first touch is heavy, but gets him into space to take on Süle, beats the young center-back one-on-one and instead of going for goal, squares for what would have been a golden chance.
The problem was Jonathan de Guzman wasn't expecting a pass! Oh what could have been, but Rebic is running the show for Frankfurt.
34' WIDE! Bayern 0-1 Frankfurt
Danny da Costa brings down Franck Ribery. Having hit the bar with his first effort, Lewandowski again fancies his chances this time from a little further out.
However, the result is worse as he fails to find the target. It wasn't far off, but he set the standards pretty high!
33' SAVE! Bayern 0-1 Frankfurt
Lukas Hradecky is called into action and makes a comfortable save from Thomas Müller's snapshot.
30' - Bayern 0-1 Frankfurt
Niko Kovac's charges appear to have collected themselves following that flurry of chances. Bayern are really starting to turn the screw though. Right now it's all a waiting game. Bayern are waiting for Frankfurt to expose a vulnerability. Frankfurt, meanwhile, are waiting to counter again.
26' - CHANCE! Bayern 0-1 Frankfurt
I shouldn't have praised Frankfurt's pressing game because Bayern are starting to find the cracks. Lewandowski combines to great effect with Müller, but get his angles wrong with a cute finish which drifts agonisingly across the face of goal.
25' - CHANCE! Bayern 0-1 Frankfurt
Just as I write that, Müller's cross finds Kimmich who can't quite find the target with his header. This is a thrilling encounter!
24' - Bayern 0-1 Frankfurt
Frankfurt's pressing game is definitely making Bayern think. The Eagles are closing down the ball deep in Bayern's half, but are also keeping things very tight at the back when forced to absorb pressure.
21' - Bayern 0-1 Frankfurt
DW's Matt Pearson gives his analysis of the opening goal.
18' - CHANCE! Bayern 0-1 Frankfurt
James Rodriguez is playing a blinder so far for Bayern, creating at ease and providing pin-point deliveries.
His latest, from a free-kick, sees Thomas Müller flash a header just wide of the far post.
15' - Bayern 0-1 Frankfurt
Ante Rebic has taken an unintentional blow to the head, meaning we've got a short break in what has been an action-packed start to this German Cup final.
11' - GOAL! Bayern 0-1 Frankfurt
That's how quickly the game can change. Bayern hit the woodwork at one end, Frankfurt open the scoring at the other.
Ante Rebic catches James in possession, plays a quick one-two with Kevin-Prince Boateng before slotting past Sven Ulreich with Niklas Süle and Mats Hummels caught wide. The underdogs are ahead!
8' - WOODWORK! Bayern 0-0 Frankfurt
Bayern have a free-kick right on the edge of Frankfurt's box. Lewandowski won it, Lewandowski takes it, but it cannons back off the woodwork and, with no one in the right place, Eintracht survive the scare. Wonderful technique. There was just millimeters in it. Hradecky was beaten.
7'- Bayern 0-0 Frankfurt
The Colombian playmaker is involved again as he tries to find Joshua Kimmich in behind, but Hradecky is quickly off his line.
5' - Bayern 0-0 Frankfurt
First sight of goal for Bayern. James Rodriguez chips in a teasing ball that floats over the head of Robert Lewandowski. Müller fires well off target on the follow up.
3' - Bayern 0-0 Frankfurt
...according to Christian, the fans are dominating proceedings off the pitch as well.
2' - Bayern 0-0 Frankfurt
A very promising start from Frankfurt who have enjoyed plenty of possession in Bayern's half with the passes whizzing between the lines.
KICK OFF! We're underway in the Olympiastadion. Will Bayern clinch the double in Heynckes' farewell or will Niko Kovac get one up on his future employers to get Frankfurt back into Europe?
19:58 - What a sight!
19:57 - As one of the premier Bundesliga commentators out there, it's nice to see that Derek has his priorities in the right place and is setting a fine example to his Twitter followers. It's time for the German national anthem.
19:54 - No matter where in the world you are, it's enough to give you the tingles. You've got to love cup finals!
19:51 - There's a special atmosphere brewing at the Olympiastadion in Berlin!
19:49 – Ribery joins an elite group in the German Cup history books.
19:45 - Frankfurt have conceded just once in the German Cup this season, a goal which came in extra-time of their Round of 16 2-1 win over Heidenheim.
However, they'll have to be on top of their game to keep out Robert Lewandowski, who tops the scoring charts in the cup this season with five goals to his name.
19:41 - What a day to be in the capital and what a co-commentator to have for a cup final!
19:39: A German Cup final showdown!
19:34 - TEAM NEWS!
Both sides suffered defeat on the final day of the 2017/18 Bundesliga campaign and both have made changes to their starting line-ups.
No Neuer for Bayern as Ulreich keeps his place. Elsewhere, Heynckes' brings David Alaba and Javi Martinez back into his starting line-up, in place of Rafinha and Corentin Tolisso. A full strength line-up, injuries aside of course.
Kovac, meanwhile, makes a trio of alterations with Makoto Hasebe, Jonathan De Guzman and Ante Rebic coming in for Gelson Fernandes, Mijat Gacinovic and Sebastian Haller. Will Rebic be able to capitalize on the counter?
19:30 - This isn't the first times these sides have met at this stage of the competition after facing off in the final back in 2006. Claudio Pizarro scored the only goal in a game which featured Marco Russ and Alexander Meier.
There's no getting past the fact that Frankfurt are the underdogs. They haven't beaten Bayern in any competition since March 2010, but we've outlined three keys to victory if they're the upset the odds.
Click here to find out what Jonathan Harding thinks the Eagles need to do to win.
19:25 - It's cup final day in Germany and we've got talking point aplenty before a ball has been kicked!
FC Bayern Munich are out to do the double and reclaim their title in Jupp Heynckes' final game in charge of the German record titleholders.
Niko Kovac wants to get one over his future employers with an Eintracht Frankfurt side looking to go one better than last season as they attempt o get their hands on silverware for the first time since lifting this title in 1988.
Welcome one and all to DW's live coverage of the German Cup final!