This year's FIFA World Cup will take place in 12 football stadiums across Russia. Some were completely refurbished ahead of the tournament; others were built from scratch. And it's already clear that many Russian regions will struggle to foot the bill for running and maintaining them once the games are over.
In a meeting with Russian President Vladimir Putin in late 2017, the governor of Kaliningrad, Anton Alikhanov, requested state support to help pay for the upkeep of the region's football arena, which has a capacity of 35,000 spectators, after the World Cup.
Several weeks later, Putin promised to assess whether state funding could be provided to pay for the maintenance of football arenas in Volgograd, Yekaterinburg, Kaliningrad, Nizhny Novgorod, Rostov-on-Don, Samara and Saransk.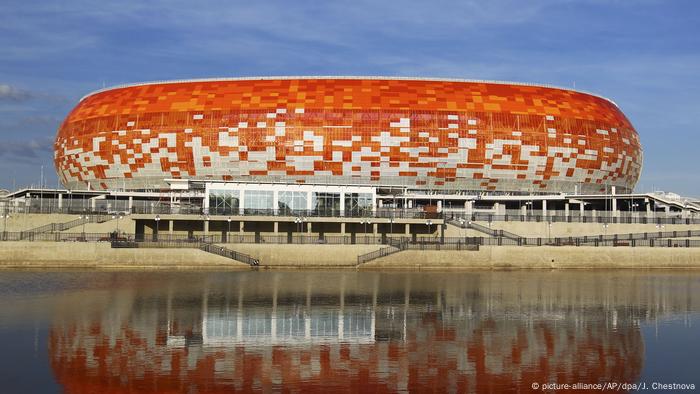 The top-of-the-line stadium in Saransk is set for kickoff
Facing huge costs
The initial plan had been that as of 2019 each region would be responsible for its own arenas. But local authorities estimate that this would create costs of 200 million to 500 million rubles (€2.6 -6.5 million/$3.2-8 million) — a tremendous financial burden for seven of the cities hosting World Cup matches.
Several do not even have teams that play in Russia's top football division. The most successful squads in Volgograd, Kaliningrad, Nizhny Novgorod and Samara play in the country's second tier. This season, home games in those regions drew just 1,000 to 5,000 spectators. Saransk's team plays in the third division; Sochi does not even have a professional squad. So generating sufficient money through ticket sales will prove challenging at best.
And even the more-elite clubs Yekaterinburg and Rostov, which respectively attract some 4,500 and 9,000 fans per match, will struggle to generate enough income to cover the hefty running costs of their huge football stadiums.
Billing Moscow?
The FIFA World Cup could, therefore, place a huge financial burden on Russian cities for years to come, as a study by the consulting firm AECOM found. Local authorities are alarmed. In February, they again called for state support at a session convened at the Federation Council in preparation for the football tournament. It was suggested that Moscow manage the venues' administrative matters and pay for their maintenance.
Representatives from Republic of Mordovia, where Saransk is located, suggested establishing a Russia-wide management association to centrally coordinate the utilization of football arenas and pay for their upkeep. And Nizhny Novgorod wants the Russian state to provide funds for its stadium for three years after the tournament is over. Overall, it has been estimated that annual maintenance costs for Russia's football arenas could total 2 billion rubles.
Late last year, President Putin decided that the post-tournament plan written for the venues in 2015 would be revised. The document, which is yet to be officially ratified by Putin, says upkeep of training facilities and arenas will cost more than 13 billion rubles through 2023. The lion's share, 12.4 billion rubles, will be covered by the state. Another 900 million rubles will have to be contributed by the regions. Consultants working for PricewaterhouseCoopers highlight that while bidding to host the 2012 Summer Olympics, London was already thinking about how venues could be used after the major event. In Russia, however, there seems to be a lack of advance planning.
South Africa and Brazil, which hosted the World Cup in 2010 and 2014, respectively, faced similar challenges to the ones that Russia faces today. Both nations installed temporary stands that were later dismantled to avoid permanently burdening cities with oversized arenas. A similar approach is being pursued in Yekaterinburg, where the stadium capacity of 35,000 will be reduced to 23,000 after the World Cup. But, even after South Africa and Brazil strategically downsized their arenas, many of the ones custom-built for the World Cup remain unprofitable.