1. This will be the 21st World Cup.
2. The first qualifier was played on March 12, 2015 between Timor-Leste (the national team of East Timor) and Mongolia. Timor-Leste won 5-1 on aggregate but the games were later awarded to Mongolia after it was revealed that Timor-Leste had fielded ineligible players. However, the decision took so long that Timor-Leste had already progressed, so Mongolia were not reinstated. Perhaps it was an omen…
3. This will be the penultimate World Cup with 32 nations. From 2026 onwards there will be 48 teams.
4. Iceland and Panama have qualified for their first ever World Cup.
5. One hit wonders. The list of teams to play one World Cup makes for great reading. It's a long one, but here are some of the nations not often heard of in world sport, let alone on its biggest stage: Wales, Jamaica, Cuba, Kuwait, Iraq, Indonesia, Haiti and Canada.
6. The distance between the easternmost (Kaliningrad) and westernmost (Ekaterinburg) host cities in Russia is about the same as the distance between Moscow and London (2,424 kilometers, 1,500 miles).
7. Brazil are the only nation to have played in every World Cup and have won the most titles (5). Number six could follow in Russia.
8. Germany are aiming to become the first nation to win back-to-back titles since Brazil in 1958 and 1962.
9. Germany have scored the most goals at the last three tournaments (18 in 2014, 16 in 2010 and 14 at home in 2006).
10. Russia's Oleg Salenko holds the record for most goals in a World Cup game (five vs. Cameroon in 1994). Perhaps Thomas Müller has a new record in his sights…
11. Around 3.2 billion people watched the last World Cup. That's nearly half the planet's population. Football eh?
12. Of all current players, Germany's Thomas Müller has the most goals (10) and assists (6) in the World Cup.
13. Every World Cup has been won by a coach who is the same nationality as his team. Is this where you've been going wrong all these years, England?
14. Tim Cahill, Rafael Marguez and Cristiano Ronaldo could score in their fourth World Cups.
15. Speaking of Tim Cahill, he has scored has scored 45 per cent of Australia's World Cup goals (five of 11). Blimey.
16. Russia (not the USSR) have never made it out of the group stage at a World Cup. Perhaps home advantage will help?
17. 2018 will be Nigeria's sixth World Cup. No African country has qualified as often since the Super Eagles made their debut in 1994.
18. South Korea have qualified for their 10th World Cup – more than any other Asian country.
19. The last eight Belgium goals at World Cups were scored after their 70th minute. Surely Kevin and Eden would like to start a bit better in Russia.
20. Iran have qualified for back-to-back World Cups for the first time in their history.
21. Is the world ready for Iceland's Viking claps?
22. Iceland are the smallest nation to qualify for a World Cup (just 334,000 inhabitants). Size doesn't matter.
23. The Netherlands have made the most World Cup appearances without ever winning it. They won't get a chance to do so in Russia. Oh Oranje…
24. Italy failed to qualify for the first time since 1958 and are the only previous winners not to qualify.
25. For the first time since 1986, the US men's national team didn't qualify for the World Cup. More awkward was that Fox Sports paid a reported $400 million (€324 million) for broadcasting rights. Still, the US women's team are involved in qualifying for 2019 in France and the three-time World Cup winners probably won't miss out (they're defending champions).
26. Some US fans have taken the men's team's absence at the tournament in Russia well, offering scarves for US fans that say: "Undefeated: Can't lose if you don't play" – certainly one way to look at it!
27. Some other familiar World Cup nations that will be watching from home this summer include: Chile, Turkey, Cameroon, Ghana, Algeria, Ecuador, Venezuela and the Republic of Ireland.
28. This is the first time a tournament has taken place across two continents – Europe and Asia.
29. Russia vs. Saudia Arabia is the curtain raiser on June 14 at the Luzhniki Stadium in Moscow at 1700 CET.
30. The Luzhniki Stadium has almost the same capacity as the Signal Iduna Park and will be remembered by many European football fans as the stadium in which Manchester United beat Chelsea in the 2008 Champions League final. Fit for the big game, the Luzhniki will also host the World Cup final.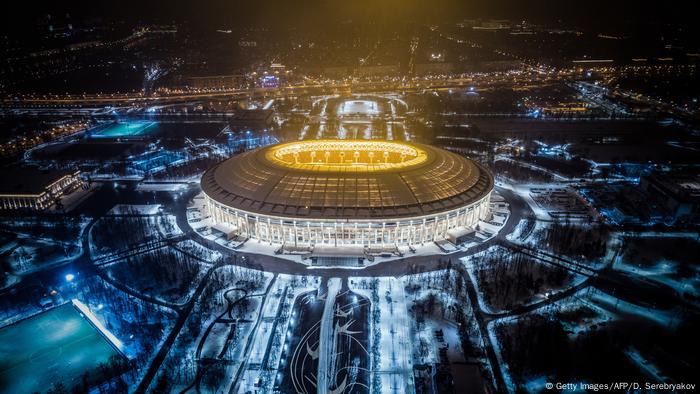 The Luzhniki stadium will host the first and last game of the tournament - and is fittingly perhaps the most impressive of all the venues
31. In terms of dates: The Last 16 starts on June 30th, the quarterfinals on July 6 and the semifinals on July 10. Mark those dates in your diary.
32. The 2018 opener will make history, perhaps not for intended reasons, as it becomes the first World Cup opener to be played by the two lowest-ranked teams in the competition (Russia 65th, Saudia Arabia 63rd).
33. Ekateringburg's stadium has seating outside the stadium so as to keep up with FIFA's regulation of World Cup venues having at least 35,000 seats. How good can the view be?
34. Panama's president declared a national holiday on October 11th after the nation had qualified for the tournament. Imagine what might happen if they make it out of the group stage…
35. Sochi's Olympic stadium – the Fisht Olympic Stadium – was used to open the Winter Olympics in 2014, and will be a venue at the 2018 football tournament. This is only the second stadium ever to have done both – Stadio Olimpico in Turin, Italy is the other.
36. Referees will also have the right to stop or abandon a game if racist or other discriminatory incidents occur.
37. Apparently, there will be over 17,000 volunteers (around 2,000 more than in Brazil) at the World Cup in Russia – from over 176,000 applications. Interestingly enough, 64 percent of the volunteers are female. Volunteers include the captain of an oil tanker, a world champion dragon-boat racer and a man from New Zealand who will have to travel over 16,000 kilometers for the honor. World Cups eh? Everyone gets involved.
38. A deaf cat called Achilles who resides at a St. Petersburg museum is to predict the outcomes of World Cup games, after getting all but one right at the Confederations Cup last year. How cool is that?
39. Russia's agricultural department has warned of an extreme plague of locusts during the 2018 World Cup. Don't forget to pack your mosquito nets!
40. Ticket prices range from €85 ($105) to €892 for the final. Russian residents will be able to obtain cheaper tickets with prices starting at €19. This is higher than four years ago – with the cheapest group stage matches in Brazil costing €69 and the most expensive final tickets costing €730.
41. Slowly but surely ticket applications are increasing. Germany's football fans are particularly keen on watching their team live (go figure!) – After the hosts they have made the second most ticket requests (338,414).
42. The World Cup is expected to cost Russia close to $12 billion. This is still less than Brazil spent four years ago, but is over half a billion more than they expected to spend. Who knows what the final bill will look like?
43. There will be 12 stadiums in 11 different cities (two in Moscow) in Russia this summer. Nine were built just for the tournament. Costly.
44. Hard to imagine now but: every match in the first World Cup was hosted in one city. In Montevideo, Uruguay, 13 teams played out the 1930 tournament.
45. Aged 45, legendary Egyptian goalkeeper Essam El-Hadary is set to become the oldest player ever at a World Cup. He played and captained in all but the final game of qualifying, has 156 caps for his country and Russia will be his World Cup debut. Age ain't nothing but a number.
46. Apparently, if Neymar wins the World Cup with Brazil, he'll get $50,000 from Nike. Throw in another $200,000 (from Nike) if he wins Player of the Tournament and the 26-year-old could have quite the year in 2018. First though, he has to get fit.
47. Despite a swathe of young talent, Norman Whiteside's record as the youngest ever player to feature at a World Cup - 17 years, 41 days, back in the 1982 tournament - will not be broken.
48. Germany and Spain are the only two nations who have managed to win all 10 qualifying games ahead of a World Cup. Spain did it in 2010, Germany did it to qualify for this tournament.
49. Winning the World Cup final means $38 million in prize money. To be fair, losing it means $28 million so, that's some consolation. Just making the group stage is worth $8 million. All in all, there's 12 per cent more prize money on offer than for the 2014 tournament. Where does it all come from?
50. If Germany win, each of their players will get €350,000. Not bad.
51. As revealed by The Guardian, FIFA's former medical chief investigating alleged Russian state doping of footballers had his work terminated in November 2016. What if the Russian team does better than ever?
52. World-famous coach Jose Mourinho will be the expert for state-funded Russian network RT at the tournament. Perhaps he'll be scouting a few players too…
53. VAR will be used at the World Cup for the first time after the IFAB (International Football Association Board) approved the use of the technology on a permanent basis. Expect more controversy.
54. Not all technology is bad though. Team doctors will also have access to cameras so as to improve player safety. So VAM and VAR now? Think I prefer VAM.
55. A fourth substitute will be allowed in extra time. All this pressing is just tiring the players out, clearly…
56. The chance to see Lionel Messi (30) and Cristiano Ronaldo (33), perhaps for the final time at a World Cup. Honestly, what a joy it is. Iran head coach Carlos Queiroz has said Messi should be banned for the tournament until it can be proved he is human. Fair enough.
57. Farewells? This could be the last time we see the likes of Luis Suarez (31), Andreas Iniesta (33), Luka Modric (32), Thiago Silva (33), Rafa Marquez (39), Vincent Kompany (31), Jakub Blaszczykowski (32), Keisuke Honda (31), Falcao (32).
58. Sixty-four matches of football in just under a month. Yes.
59. Amazing kits. Nigeria's has become the latest item for modern hipsters.
60. The iconic makers of the black-and-white ball of the 1970s have made the ball for the 2018 tournament. Apparently there's a chip in the ball that allows fans to interact with it using their smartphones. I don't know what to say. The main thing is, we won't have a repeat of the 1930 World Cup final where Argentina used their ball for the first half (and led 2-1) before the Uruguayans used their ball for the second (and won 4-2).
61. Another Iceland entry you say? Yes, but this really is amazing. Goalkeeper Thor Halldorsson is also one of the country's most famous filmmakers. He even made the music video for Iceland's 2012 Eurovision entry. Talented man.
62. Russia is the world's largest country in terms of area, spanning across 11 time zones. Only four will be relevant for the World Cup though. Still, four time zones…
63. Miroslav Klose holds the record for most World Cup goals (16 across four tournaments). Another record Thomas Müller is keen to break, I think…
64. All of Denmark's 27 World Cup goals have been scored from inside the box. Best to start thinking outside the box then?
65. Worth mentioning that perhaps Morocco should also do some thinking. None of their 12 World Cup goals has come from a set-piece.
66. Reports of state-sponsored doping in Russian sport, the country meddling in foreign elections and huge question marks over racism, homophobia, and LGBT and human rights abuse, have set the scene for this tournament to be the most politically charged ever. Apparently, Vladimir Putin doesn't really like football. Perhaps it's best the US didn't qualify…
67. In preparation for the tournament, the Russian government has spent millions on eliminating the public health threat of stray animals by killing stray dogs in all 11 of the Russia cities set to host games. Radio Free Europe/Radio Liberty has reported that between $107-$142 is being paid for each dog corpse. The same was done ahead of the 2014 Winter Olympics.
68. From lions to jalapenos with a moustache, there have been World Cup mascots since the 1966 tournament. After an armadillo in Brazil, Russia's is, rather unsurprisingly, a wolf called Zabivaka (The goal scorer). Probably forget all about him after the first game, but still. Mascots.
69. One million international fans are expected to visit Russia for the World Cup and with so many anticipated, Russia's has done away with visas for football fans (so long as they have valid ID).
70. Warning for Germany: The last two defending champions were knocked out in the group stage. Surely not again?
71. The Golden Ball – the award for the tournament's best player – has been awarded to an attacker on all but two occasions. The first-ever winner was Uruguay's defender Jose Nasazzi in 1930; the other non-attacker to win was Germany goalkeeper Oliver Kahn in 2002. Another year for the attacker in Russia?
72. Teams with amazing nicknames like "The Atlas Lions," "Taeguk Warriors" and "The Soccceroos."
73. In 2001, Australia beat American Samoa 31-0 on their way to qualifying for the 2002 tournament. For context, the highest score in qualifying this year was a 15-0 win for Qatar against Bhutan. Goals are harder to come by these days.
74. Germany and Sweden are in the same group. In 1958 they played against each other in the semifinal, with the Swedes winning 3-1. Afterwards, the wheels of Swedish cars in Hamburg were slashed and a popular Swedish dish was removed from restaurant menus. Let's hope things are a bit more civil this time around, eh?
75. Germany released their final 23-man squad on 4. June. The biggest surprise was the omission of the Premier League's Young Player of the Year Leroy Sane. Will the decision come back to haunt Löw?
76. The irrelevance of player values. France have the most expensive squad (€1.08 billion), followed by Spain (€1.04 billion) and Brazil (€952 million). Panama the cheapest (€8.28 million), but World Cups have seen some of the greatest upsets in football history.
77. Group D (Argentina, Nigeria, Iceland, Croatia) is one very exciting group.
78. India qualified for the 1950 World Cup but withdrew after FIFA said they couldn't play barefoot. Having never qualified since, they are the only country to qualify but never play a game. Barefooted football. Is that the way to level the playing field against Messi perhaps?
79. There were more goals scored in the 2014 World Cup by substitutes (32) than in any other tournament. More super subs this time around?
80. According to Google data since 2004, the Internet's average interest in Kim Kardashian is as high as that of the World Cup. Must be because everyone is watching the football rather than tweeting about it? I hope so anyway…
81. The Panini sticker collection went on sale March 22nd. Have you got yours?
82. Kalachs (baked bread, often with stuffed pastries), Chudu (crescent-shaped pie), Pyshki (sweet donuts) and Black Sea Fish. There's a whole host of new foods for visiting fans to try in Russia – and those visiting Sochi will get special lunch boxes with Black Sea cuisine. Finger-licking good!
83. France's Just Fontaine holds the record for most goals scored at a single World Cup (13 in 1958). Can that record be broken in Russia?
84. The architects who designed the Kazan Arena also designed Wembley and the Emirates.
85. The highest.scoring game was in 1954 when Austria beat Switzerland 7-5. There were two hat tricks and it was 5-4 at halftime. Defending wasn't a thing back then, I don't think.
86. There were eight hat tricks in the 1954 World Cup. Yeah. Think defending will be more of a thing in Russia…
87. Nine months after the World Cup in South Africa, the birth rate went up. The same was true after Germany hosted the competition back in 2006, with a 30 percent rise in some parts of the country cited. So, whoever wins, lots of babies in April 2019? Happy hormones.
88. Winning the World Cup trophy is one of those unforgettable moments, but when the party is over FIFA takes the real trophy and hands over a cheaper replica. I guess FIFA doesn't trust anyone with the real thing. How ironic…
89. Only heads of state or World Cup winners are allowed to touch the real trophy.
90. We'll have to wait a while before we get a new World Cup trophy. The "three wins and it's yours" rule doesn't apply to the current trophy. In 2038, there will be no more space for winners to have their names engraved so expect a new one in around six World Cup's time.
91. Germany have the most finishes at a World Cup in the top two (8), three (12), four (13) and eight (17). In Russia, they're aiming for that No. 1 spot again.
92. Mexico have qualified for the World Cup the most times (16) without winning it. Not sure that will change in Russia, but it's not always about the winning, is it?
93. Zimbabwe were supposed to be a part of African qualifying for 2018, but were expelled after not paying an outstanding debt to their head coach. Silly.
94. Indonesia were in Group F in Asian qualifying, but were disqualified for governmental interference.
95. Egyptian excitement. Perhaps the best and most dramatic qualifying campaign of all the teams was Egypt's. Needing a win in their final game, Egypt conceded an equalizer in the 88th minute. In injury time, they won a penalty and Mo Salah converted to win the game and seal the country's World Cup qualification for the first time since 1990.
96. Not one English referee was appointed to officiate at the 2018 World Cup. Do they know something we don't?
97. Peru return to the World Cup for the first time since 1982 – the longest absence of any team playing in Russia.
98. Uruguay's head coach, Oscar Tabarez, will be at his fourth World Cup – more than any other coach at the tournament.
99. The amazing tournament poster, which is a throwback to legendary Russian goalkeeper Lev Yashin. He played in the 1958 and 1970 World Cups and is still the only keeper to win the Ballon d'Or.
100. One more amazing Iceland team fact to finish. Winger Johann Berg Gudmundsson played in the most famous "Counter Strike" tournament in Iceland when he was younger. Is there anything this team can't do?