The name Srebrenica stands recalls the worst war crime in Europe since the Second World War. In July 1995, Bosnian Serb army units attacked the eastern Bosnian town and murdered more than 8,000 Muslim Bosniaks, mainly boys and men.
Srebrenica: party of a contested region
The entire eastern Bosnian region, which includes the city of Srebrenica, was heavily disputed from the start of the Bosnian war (1992 - 1995). Muslim Bosniaks formed nearly three quarters of the community in this region bordering Serbia. Bosnian Serb troops led by General Ratko Mladic attempted to bring the region under Serb control. The idea was to expel Muslims from the area using "ethnic cleansing" and establish Serbs as the majority.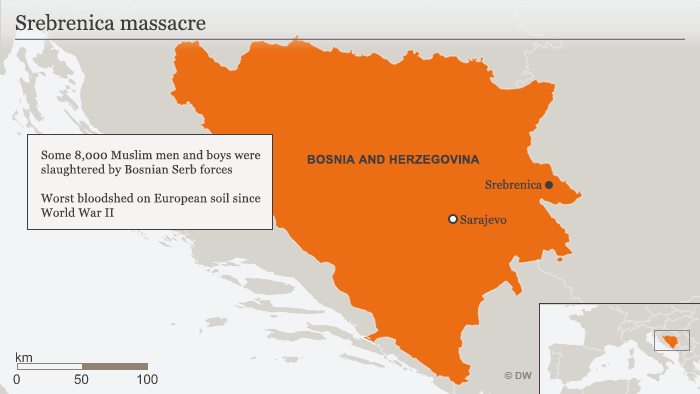 When Bosnian Serb leaders announced their imminent intention to attack and seize control of the Srebrenica enclave following numerous military confrontations, the United Nations (UN) reacted. On the basis of a Security Council resolution, the UN established a protected zone that included the city of Srebrenica and the surrounding area.
Military protection was mostly provided by the Blue Helmet soldiers from the Dutch battalion, "Dutchbat". However, this was a relatively small and badly equipped unit. At first there were 600 soldiers and by the end around 400. They carried light firearms for self-protection.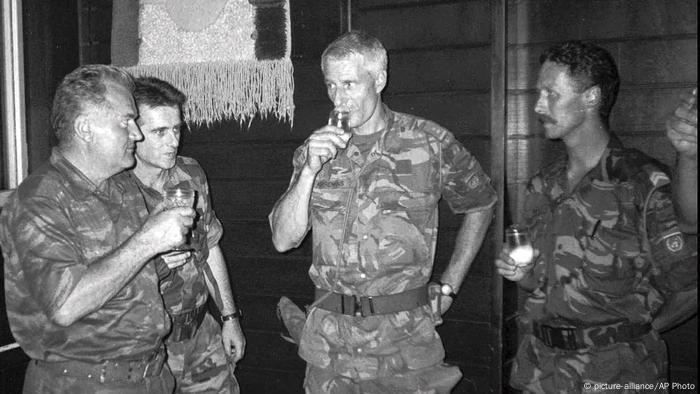 Ratko Mladic (left), Bosnian Serb military general, seen with Dutch military commander Ton Karremans (second from right), shortly before the Srebrenica massacre
July 1995: Serb troops act as Dutch ones stand by
When Serb units attacked the UN safe area at the beginning of July 1995, the Dutch commander of the Blue Helmets, Thomas Karremens, called for NATO military air support – which failed to materialize. On July 11, the Bosnian Serb troops marched into the safe area and into the city of Srebrenica, where Dutch troops offered no resistance, handing over all observation posts and guarded barriers.
In the neighboring village of Potocari, also in the safe area, 20,000 to 25,000 Bosniaks gathered, hoping to find refuge from the advancing Serbian troops – and protection provided by the Blue Helmets. Several thousand Bosniaks managed to get inside the UN military compound.
But already in Potocari, right before the eyes of the Dutch soldiers, the Serbs began separating Bosniak boys and men from the women and old people. The women were then bussed to Bosniak-held areas. The approximately 8,000 men, however, became victims of a mass execution that took place in nearby abandoned factory sites and forests. They were buried in mass graves, some of which still have not been discovered. The International Criminal Tribunal for the former Yugoslavia in The Hague declared this genocide.
What was particularly incriminating for the Dutchbat soldiers was that they assisted with the deportation of over 300 Muslim boys and men who had sought sanctuary from the Serbs in the Dutch military compound. These Bosniaks were all subsequently murdered.