Can RB Leipzig make it nine in a row?
Not very much seems to stand in the way of the top-of-the-table energy-drink peddlers ninth consecutive victory as they travel to cellar dwellers Ingolstadt on Saturday. Newly-promoted Leipzig have a habit of getting the first goal (even when it happens to comes on an undeserved penalty after a dive in the area) and in their last four road games they have gradually increased their number of goals scored, from one to four. Could this mean that they can be expected to put five past Martin Hansen's side on Saturday?
This is former Ingolstadt coach Ralph Hasenhüttl's first trip back to the city where Audi is based, a club he took over in last place in the second division in 2013 before leading them to promotion to the Bundesliga two years later - and an 11th-place finish last season. He left in tears but just now it looks like he couldn't have made a better choice.
His former team has already made a coaching change, sacking Markus Kauczinski and replacing him with the virtually unknown Maik Walpurgis after Matchday 10. Walpurgis seems to have brought slight improvement to the Bavarians, who have taken four points from his three games in charge.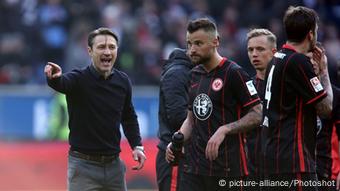 Hoffenheim could pose a real challenge to Kovac and co
"Even if we are the underdogs it can happen. But for it to happen everything must work perfectly on Saturday," Walpurgis said.
Armed with new contract, Kovac gets a shot at the top four
Eintracht Frankfurt have soared far above the relegation zone after surviving the relegation playoff last season. They are currently fifth in the Bundesliga, a performance the club deemed impressive enough to hand head coach Niko Kovac, as well as his brother Robert, a two-year contract extension.
But Kovac now faces one of his sterner tests of the season: having to best coaching wonder-boy Julian Nagelsmann to earn a spot in the top four. Frankfurt are unbeaten at home this season and have only dropped points to Bayern Munich and Hertha Berlin in Commerzbank Arena. If Frankfurt want their storybook season to have the happiest of endings, Hoffenheim is one of the teams they will have to vanquish.
Cologne try to prevent mid-season spiral
Like Frankfurt, Cologne have enjoyed unexpected success this season, but their season momentum has shifted going into the winter break. They were unbeaten in their first seven games, but Cologne have now lost three of their last six. Their latest lost was their worst, when Hoffenheim put four past them in Sinsheim last weekend.
The Billy Goats now host Dortmund, fresh off their Champions League comeback at the Bernabeu on Wednesday. It will be hard to right the ship since Marcel Risse, a consistent starter for coach Peter Stöger in the previous two seasons, is out for a long time with a torn ligament in his knee. More dropped points could sink Cologne deeper into mid-table, stalling the progress they seemed to have made earlier in the season.
Will Wolfsburg be able to contain Lewandowski this time?
Wolfsburg's last trip to Munich was marked by Robert Lewandowski banging in five goals in nine minutes off the subs bench at the start of the second half. The feat was a shock as Wolfsburg were in third place at the time of their trip to Munich last September, but another Lewandowski goal fest would be less of a surprise with the way Wolfsburg have played this season.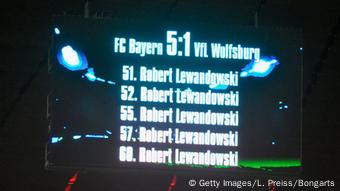 This is what Wolfsburg had to experience in their last trip to the Allianz Arena
After an underwhelming start to the season, the three games before the winter break have become critical for Wolfsburg, a team that sits one place above the relegation zone. Though their goal concessions record is respectable compared to teams in the drop zone, they are prone to surrendering leads quickly like they did in their 3-2 loss against Hertha Berlin last week. Preventing Bayern, and Lewandowski, from scoring will be even tougher, and a week of headlines about want-away star Julian Draxler will have done little to calm the Wolfsburg waters.