Cologne's state penitentiary (Justizvollzugsanstalt - JVA) is a sprawling complex of razor wire and CCTV-topped, brick and concrete buildings that houses 1,169 inmates - 318 of whom are women. I have visited the facility every week for the last several years to teach some of those women English as part of a job preparation course.
The women I teach, 11 per semester, range in age from 17 to 70 and are in prison for various crimes, from aiding and abetting tax evasion to accessory to murder. Most, however, were sentenced for drug-related charges, primarily breaking and entering, robbery, fraud or parole violations.
Challenges of prison education
Teaching at the JVA is anything but ordinary. Just to enter the facility, pick up students and escort them to the classroom can take up to an hour - and sometimes even longer, if sections of the prison are on lockdown.
As a mixed gender facility, the JVA poses other logistical challenges. One often encounters groups of male prisoners in close quarters while escorting female inmates to class. Contact between inmates is prohibited, and the desire for interaction with the opposite sex only worsens the situation.
I often field questions about my marital status. And once, while writing on the chalkboard, 29-year-old Kim asked, "Hey Mr. Shelton, do you always wear Levi's?" General laughter. One of the other girls then chuckled, "What are you looking at Kim?" "What do you think?" she responded. More laughter.
Escorting students to class can be a lengthy process
Fighting drug addiction to learn
Students apply to be in the class. They have varying levels of education and many, especially those with drug dependency problems, have no academic skills whatsoever.
At the beginning of last semester, one polite young woman told me, "I dropped out of school at age 14, when I became a heroin addict, and have spent 10 years in jail since." She is 26. Her story is not uncommon.
Addiction treatment can also impede learning. The JVA administers methadone, a detoxification opioid, to fight drug addiction. Although it helps combat heroin dependency, methadone fogs the mind, making students listless and worsening their already tenuous ability to concentrate.
Many of the women I teach are pleasant and hard-working. But there are also schemers and troublemakers. Problems range from subtle attempts at manipulation to explosive confrontations. As one guard told me: "It's just a mirror of what goes on outside."
Revealing vocabulary lessons
Lessons can evoke myriad emotions from students, from humorous to devastating.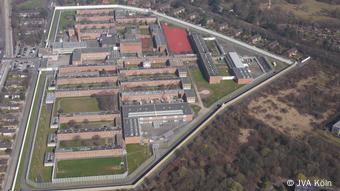 Of the 1,169 inmates at the JVA, 318 are women
Drafting a couch surfing advertisement for her cell, one student wrote: "I have a small flat in a large historical building in Cologne. It is very safe, we have 24-hour security and the doors are always locked. The room features an en-suite toilet and the showers are just steps away. Meals are delivered three times daily, and there is even laundry service. It doesn't have a balcony, but it has a big garden. You can visit neighbors there, but it is very private because tall walls keep out strangers."
Even vocabulary lists can be revealing: "love, poison, alone, mistake, senseless" were five words that a student recently presented as part of her weekly homework. Another wrote: "summer, sunshine, freedom, caress, potato."
Some subjects can be far touchier, even painful for students. After I gave a homework assignment on family, Jenny pulled me aside, saying, "Can I write about something else? I don't want to write about my family. My father was an unemployed son-of-a-bitch and a drunkard, and my mom was a prostitute."
Another shy, young 20-year-old from Eritrea completed the assignment but wrote, "I am going to tell you about my cellmate Denise's family because all of my relatives were killed in the war with Ethiopia."
A ladder out of prison
When I began my first semester, I had no idea how challenging the job would be. I naively thought I could just walk in and help, but I quickly realized I couldn't.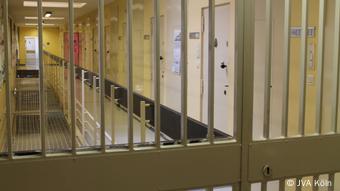 Classes at the JVA can give inmates the possibility to earn advanced qualifications
At best, I might help one or two students a semester. I am happy when I run into former students and hear they are doing well in their new classes, and my most rewarding moments have come from seeing the tenacity of those women who have difficulty learning but refuse to give up.
Prison education goes beyond academics to socialization and overcoming self-doubt. Students who perform well in our course can enroll in more demanding courses and eventually earn advanced technical college certificates. In teaching, I hope to instill a desire to learn, help students gain confidence and prepare them for a better life when they leave.
Contested classroom cash
JVA Students receive monthly merit-based payments, causing some people to picture a cushy prison life. Critics argue that jail time should be about punishment, not subsidized education.
But students at the JVA are paid to study because school is considered work. They must meet strictly monitored requirements, and unexcused absences, disruptive behavior and failure to complete homework mean no payment and can quickly lead to expulsion.
It is true that inmates are in the JVA because they broke the law. But one must ask whether they - and society as a whole - would better served by a system that deals with issues like addiction in a more differentiated fashion.
Despite modest and oftentimes disheartening success rates, education is worth the effort. It crucially helps women who have had difficult lives and made bad decisions get themselves turned around. Denying education would not only be illegal - it would be utterly fruitless.