Last week, Austrian and Italian police have checked the motorway and train station at Brenner, the sleepy village at the Brenner Pass. A police officer at a temporary border crossing erected during meetings of EU interior ministers said the checks were random. The officers glanced inside the vehicles, which they slowed down to a maximum speed of 30 kilometers per hour (18 mph) on the highway and 10 kilometers per hour in the town's center. They only rarely stopped the cars, usually small trucks or vans. An Italian officer said protesters looking to disrupt the meeting of EU interior ministers, or maybe migrants without the proper documentation, could hide in those.
Protecting the interior ministers was the official reason given to the European Commission, which had to approve the border controls. At the nominally seamless Schengen border between Italy and Austria, systematic checks are only permitted in exceptional cases.
Traffic jams of up to 400 meters (1,300 feet) would form on the main village road in Brenner when cars were pulled over, officers said. Otherwise, the villagers and tourists visiting the Brenner Outlet Center, the real attraction at the border pass, took little notice of the numerous police officers.
"Why do this because of the interior ministers' meeting in Innsbruck?" said Max Kobl, a local greengrocer. "That's so far away."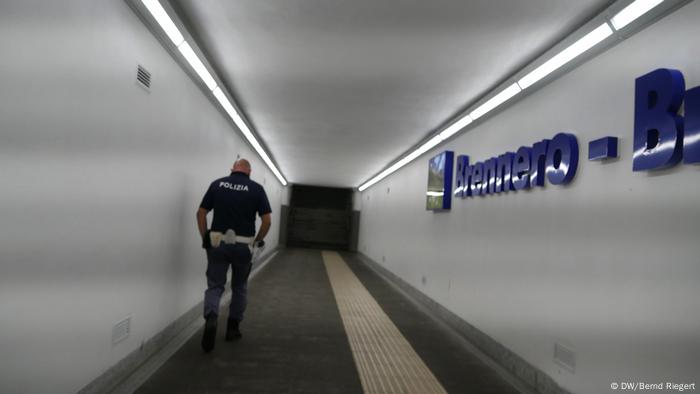 Police at the cross-broder train station said apprehensions had historically been low
Unnecessary measures?
In front of the train station, police officers drank coffee and smoked cigarettes in the midday sun. Things were hardly hectic. The train goes to Innsbruck every half hour. Checks are carried out on the Austria-bound platform, to see whether anyone who appeared unauthorized to be in the European Union was trying to board the train. Most of the station is on the Italian side, where the trains from Bolzano and Merano arrive, and the freight trains that stop there were also being examined. The police officer on the platform couldn't remember the last time he removed someone from a train for riding with nonpermitted migration status.
After four days of controls, according to a report by the Austrian news agency APA, 100 officers apprehended 46 people at the border crossings at Brenner and Kufstein. Twenty-six of them did not have valid passports or identity cards. Seven migrants were found on a freight train, and two people were suspected of being human traffickers. During the same period, seven people registered themselves with the police in order to file asylum applications in Austria.
Günther Platter, the governor of Austria's Tyrol state, criticized the border controls. He said reimposing borders within the Schengen zone would not so much combat migration as it would harm local economies and reduce tourist traffic.
Daily at 1830 UTC, DW's editors send out a selection of hard news and features. Sign up to receive it here.