The US ambassador to the European Union announced on Monday that Washington's decision to demote the EU's embassy in Washington, D.C. would be ended "effective immediately."
Gordon Sondland said that the US Department of State "will again recognize the European Union's representation in Washington as equivalent to that of a bilateral mission in the Diplomatic Corps Order of Precedence."
"The EU is a uniquely important organization, and one of America's most valuable partners in ensuring global security and prosperity," Sondland said.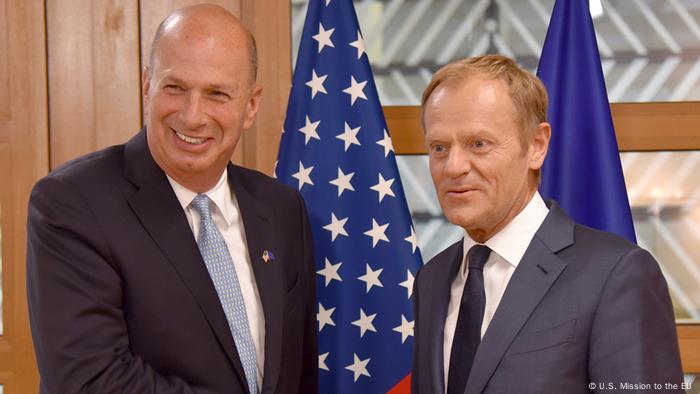 US Ambassador Gordon Sondland with European Council President Donald Tusk
"Europe's security and success are inextricably linked to that of the United States, and this level of engagement and cooperation should be recognized appropriately in all settings," he said.
The downgrading, which was first reported by DW, is believed to have been implemented in late October or early November.
It gave the EU a lower status for occasions such as invitations and seating at events — protocols that can have great significance in diplomatic affairs.
Read more: Trump administration downgrades EU mission to US
Despite the soothing in terms of protocol, there remain issues for the EU and US to resolve.
EU trade chief Cecilia Malmstrom is in Washington this week to meet her counterpart Robert Lighthizer for talks on car tariffs. She said "there is full support" from EU member states to respond if the Trump administration imposes tariffs on cars and car parts.
Washington's reversal of that decision comes as Stavros Lambrinidis, the EU's former human rights representative, takes up his post as the bloc's ambassador to the US.
kw/amp (AP, dpa)
Every day, DW's editors send out a selection of the day's hard news and quality feature journalism. Sign up for the newsletter here.