The collector who bought the machine at one of Bucharest's flea markets put it up for sale at the city's Artmark auction house with a starting price of 9,000 euros. It was sold to an online bidder for 45,000 euros ($51,620) on Tuesday.
"The collector bought it from a flea market. He's a cryptography professor and [...] he knew very well what he was buying," Cristian Gavrila, the collectible consignment manager at Artmark, told the news agency Reuters.
The Enigma was a type of enciphering machine used by the German armed forces to send messages securely during the second world war, in which Romania was an ally of Nazi Germany.
Historians believe Romania could house many other cryptographic machines not yet discovered.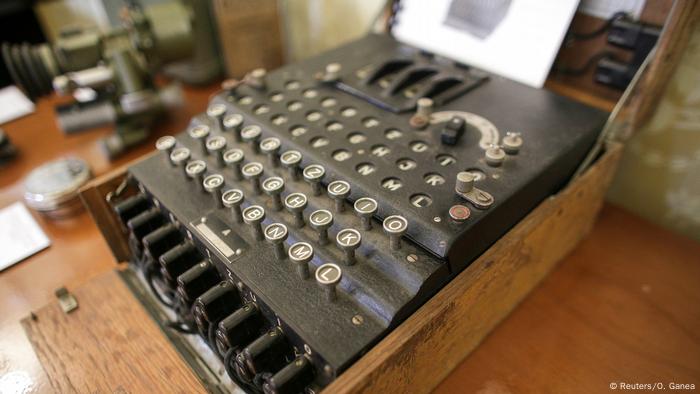 An Enigma cipher machine on display at an auction house in Bucharest
Polish mathematicians worked out how to read Enigma messages in the mid-1930s and shared the information with the British, as German invasion became imminent in 1939.
Britain's Government Code and Cipher School (GC&CS) at Bletchley Park, north of London, became the center for Allied efforts to keep up with changes in Enigma output.
British mathematician Alan Turing played a key role in cracking intercepted coded messages, assisting the Allies in defeating the Nazis in several important battles.
Some believe the contribution of the machine was to shorten the war by two years as the Germans were convinced that Enigma output could not be broken, so they used the machine for communications on the battlefield, at sea, in the sky and within the secret services.
The Enigma I was used by both Germany's army and air force and was later adopted by its navy. About 20,000 machines of this type were manufactured by various manufacturers, but only a handful are believed to have survived.
Christie's New York Books set a world auction record of $547,500 (500,000 euros) with the sale of a 'four-rotor Enigma cipher machine, 1944,' to an online bidder in June.
The Enigma I is an electromechanical cipher machine developed in 1927 by Chiffrier­maschinen in Berlin for the German Army (the Reichswehr, later Wehrmacht).
jbh/gsw (Reuters)