A fractious US Senate on Monday rejected rival Republican and Democratic bills to strengthen background checks and even block gun sales to people on the government's expansive terrorism watch list.
The four bills - two on background checks and two on preventing suspected terrorists from purchasing weapons - failed to muster the 60 votes needed to clear the Senate.
The gridlock underscored the difficulty of passing gun legislation in Washington, even as pressure mounts on lawmakers following the deadly shooting at an Orlando night club last week.
Gunman Omar Mateen was on the US government's terrorism watch list and had been under FBI investigation, but was nonetheless able to purchase a semi-automatic assault rifle used in a shooting rampage that killed 49 people.
The fact that Mateen pledged allegiance to the so-called "Islamic State" during his attack provided proponents of gun control the justification of national security and terrorism to push for curbs on firearms.
Gridlock
During Monday's debate, Democrats deemed the Republican proposals too weak, while Republicans said the Democratic bills were too strong and violated the US Constitution's Second Amendment right to bear arms. The debate also highlighted the continued power of the National Rifle Association, which lobbied hard against the Democrat's proposals.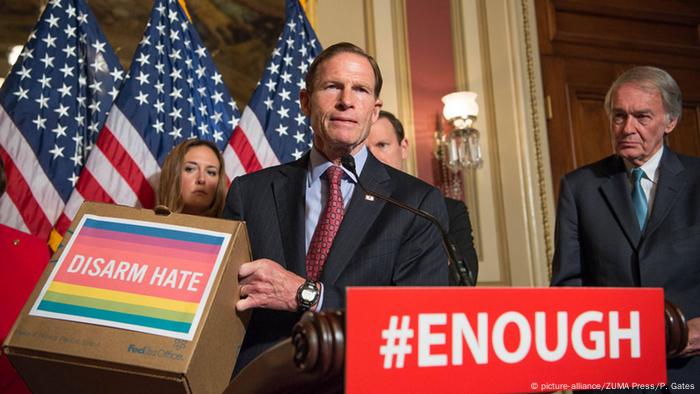 Democratic Senator Dianne Feinstein's bill would have prohibited people on the terrorism watch list from purchasing firearms. For Republicans, Feinstein's bill was too sweeping.
The terrorism watch list includes nearly 1 million people, many of whom are completely innocent. Republicans argue many people would be stripped of their gun rights without due process under the Feinstein proposal.
Republicans countered with their own bill sponsored by Texas Senator John Cornyn, which would have only restricted sales of a firearm to a person if a prosecutor could convince a judge within three days that the individual was involved in terrorism.
Chris Murphy, a Democratic senator from Connecticut who forced Monday's vote after a 15-hour filibuster last week, put forward a bill that would have required background checks on the purchase of all guns. The current law contains a loophole that does not require a background check for a gun purchase made online or at a gun show.
The Republicans' counter bill would have increased funding for background checks and imposed tighter gun restrictions on people with mental health issues.
Tough slog through the House
Meanwhile, a group of senators were aiming to floor a narrower bipartisan bill later this week. The bipartisan measure on blocking sales to people on the government's no-fly list - about 80,000 people - could also fail to muster enough support.
Even if a bill clears the Senate, gun control would face stiff resistance in the much more conservative House of Representatives, which would need to pass any legislation before sending it to the president's desk.
The debate over gun control comes as more Americans say they are open to at least moderate gun controls in the wake of the Orlando shootings. A CNN/ORC poll published on Monday showed support for stronger gun control increase to 55 percent, a jump of 9 percent from last week.
Support for prohibiting people on the terror watch list or no-fly list from purchasing a firearm was above 85 percent for both Democrats and Republicans.
However, only 54 percent of respondents supported stricter controls on banning assault weapons.
cw/cmk (AP, Reuters)