The manufacturer of the gun used in a 2012 massacre at Sandy Hook Elementary School, which killed 26 people in Connecticut, should be held liable for selling the military style assault rifle, lawyers for nine of the victims' families argued in a courtroom packed to overflowing on Monday.
Bushmaster Firearms LLC, the manufacturer of the gun used in the massacre, initiated the hearing and sought to have the civil suit against them dropped.
"It's not the role of this court or perhaps a jury to decide whether civilians as a broad class of people are not appropriate to own these kinds of firearms," James Vogts, an attorney for Bushmaster's parent company, Remington Arms told the courtroom.
Judge Barbara Bellis rejected a similar request by the gun manufacturer and other defendants in April, but did not rule Monday.
In addition to the murdered children, all less than 8 years old, six adults were killed at the elementary school before the 20-year-old gunman Adam Lanza turned the gun on himself on a December morning in 2012.
Prior to the shooting spree he killed his 52-year-old mother, who had purchased the assault rifle, at home.
Vogts argued for the gun manufacturers that the 2005 federal Protection of Lawful Commerce in Arms Act (PLCAA) absolved them of responsibility for the massacre and prohibited the lawsuit.
Military assault rifle is legal
Vogts said the rifle used in the Newtown shooting was legally made by Remington, legally distributed by Camfour and legally sold by Reiverview Gun Sales to Nancy Lanza, the gunman's mother.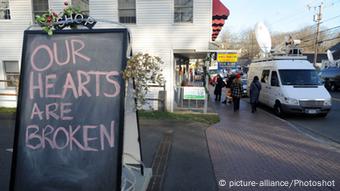 Newtown, Connecticut was in mourning after the 2012 massacre
Bellis asked Vogts if the Remington lawsuit was based on similar legal grounds as lawsuits against cigarette manufacturers. Vogts said that lawmakers should set gun policy and that the arms industry is already heavily regulated.
"A personal injury case in front of a jury is not the place for a new policy to emerge on who should own firearms and what type of firearms," he said.
But the lawyer for the plaintiffs, families of nine of the victims who died in the attack, argued that the AR-15 assault rifle should never have been sold to the gunman's mother because it had no civilian purpose.
"It was Remington's choice to entrust the most notorious American killing machine to the public," said the families' attorney Joshua Koskoff, who rejected Vogts' claim that the lawsuit amounted to an attempt to ban assault weapons.
"It's not our job to ban things. That's a legislative decision," Koskoff said. "But just as it's not our job to ban things, it's not the legislature's job to decide when there is a tort claim."
bik/cmk (Reuters, AP)