The US has for the first time imposed sanctions on Iran's civilian space agency as well as two research organizations, which it accused of developing ballistic missiles.
The US State and Treasury departments made the announcement on Tuesday, alleging that the Iran Space Agency, the Iran Space Research Center, and the Astronautics Research Institute were advancing Tehran's missile program under the cover of a civilian mission to launch satellites into orbit.
The Trump administration said that a recent explosion on a launch pad was a sign of missile work.
"The United States will not allow Iran to use its space launch program as cover to advance its ballistic missile programs," said US Secretary of State Mike Pompeo.
The US under Trump has put increasing pressure on Tehran since Washington withdrew from the internationally-arranged Iran nuclear deal and reinstated economic sanctions.
Read more: US imposes sanctions on Iran's foreign minister
What do the sanctions mean?
Under the new sanctions, all US citizens and residents would be held criminally responsible for engaging with Iran's space program.
Any foreign companies and governments, as well as international space cooperation organizations, can be subject to penalties if found to have any involvement with the Iranian space institutions.
The White House would also freeze any of the Iran space agency's assets in US jurisdictions, though it is unlikely there would be any given the current state of the relationship between the two countries.
"These designations should serve as a warning to the international scientific community that collaborating with Iran's space program could contribute to Tehran's ability to develop a nuclear weapon delivery system," Pompeo said.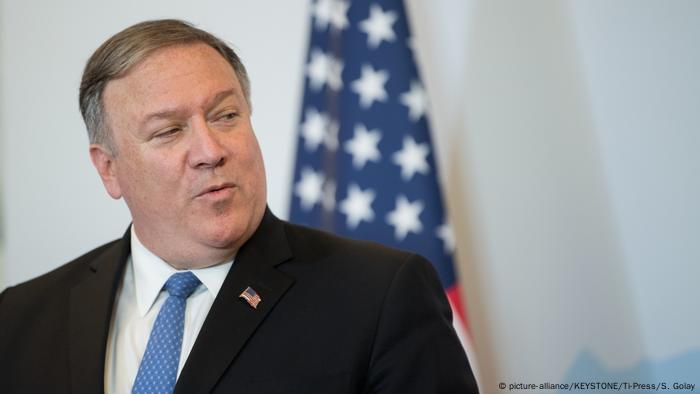 US Secretary of State Mike Pompeo alleges Iran's space program is a "cover to advance its ballistic missile programs"
Read more: US waives Iran sanctions on civil nuclear projects
Iran: Explosions a 'technical error'
Tehran denied that its space activities were a cover-up for missile development.
Pompeo, however, argued that Iran's attempt to test a space launch vehicle on August 29 at the Imam Khomeini Space Center highlighted "the urgency of the threat."
Following the explosion, US President Donald Trump had tweeted a surveillance image depicting its apparent aftermath, declaring that the US had nothing to do with the incident.
Iranian state spokesperson, Ali Rabiei, said on Monday that the explosion was "a technical matter and a technical error."
Iran insists the space agency is developing rockets to launch satellites into space.
The explosion had been Iran's third failed attempt involving a rocket at the Iranian center, raising suspicions of sabotage.
In January and February, satellites Payam and Doosti also failed to launch.
Iran is preparing to launch the Nahid-1, a communication satellite. The US alleges that the satellite launch defies a UN Security Council resolution which states that Iran should not conduct any activity related to ballistic missiles capable of delivering nuclear weapons.
mvb/se (AFP, AP, Reuters)
Each evening at 1830 UTC, DW's editors send out a selection of the day's hard news and quality feature journalism. You can sign up to receive it directly here.